Transport
Getting there
By Car

By Train
From
Via
Time
Time
Calais
A16, A28, A29, A13, A84, N176, N12
6 hours
Change at Paris (station change), TGV to Guingamp, TER to Paimpol
6.30 hours
Paris
A10, A11 to Le Mans, A81 to Rennes, N12
5 hours
TGV to Guingamp, TER to Paimpol
3:30 hours
Dieppe
N27, A29, A13, A84, N176, N12
4:45 hours
NOT POSSIBLE
Le Havre
A13 to Caen, A84, N12
4 hours
via Paris, TGV to Guingamp, TER to Paimpol
7:45 hours
Cherbourg
N13, A84, N176, N12
3:30 hours
Change at Paris (station change), TGV to Guingamp, TER to Paimpol
8 hours
Marseilles
A7, A47, A72, A89, A71, A85, A28, A81, N157, E50, N12
11 hours
via Paris (station change), TGV to Guingamp, TER to Paimpol
8 hours
Air: Paimpol has no airport, and physically, the closest international airports are in Jersey and Guernsey, but that will require travelling by boat to reach the mainland.
The Dinard/St. Malo airport is 123 km (1 ½ hour driving) away, the Brest Bretagne airport is 132 km away (1 hour 35 minutes) and Rennes airport is 145 km away (1 hour 40 minutes).
Ferry: There are no international ferry operators to or from Paimpol. The closest city that offers ferries to the UK mainland is Roscoff (116 kms, 1 ½ hours drive), and Cherbourg (322 km, 3 ½ hours drive).
Bus: There are no long distance bus operators going to Paimpol. You will need to take one of the long distance operators to Saint-Malo or Brest and take regional buses to get to Paimpol.
Within Paimpol
The inner city is quite narrow, with many streets reserved for pedestrians. There is a large open parking area alongside the port, and a little further away, some 200 meters from the harbour, there's another open space.
Some of the main streets offer street parking (paid), but it's difficult to find a place. Another place to park is at the railway station.
Driving through the old city centre is no advised. Most of the interesting streets can not be used by cars.
Restaurants
There are some 50 restaurants in Paimpol, most offering local Brittany-style food. Don't be surprised to see restaurants offering Island-style food; there's a long tradition between Paimpol and Island. As is the case in most Brittany, you will find many creperies.
There are NO Michelin starred restaurants in Paimpol. However, there are plenty of good restaurants to be found.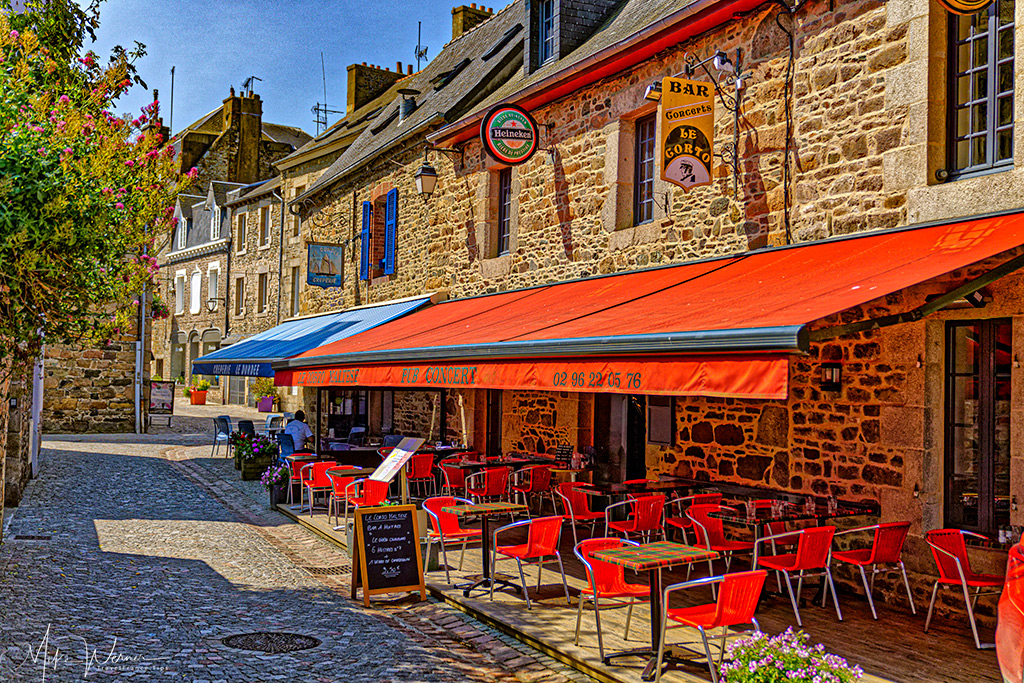 We ate at the Theo Jasmin restaurant, located next to the fish market, and were very pleasantly surprised by the quality of the food. In fact, it was delicious.
Hotels
There are some 40 hotels and B&B's available in Paimpol, but no luxury ones. 3-Stars is about the maximum.
Things To See/To Do
Related Posts