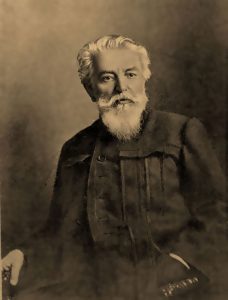 Movement(s): –
Alexander Karlovich Beggrov (1841 – 1914) was a Russian landscape and marine art painter of Baltic German origin, notable for his seascapes and Saint Petersburg cityscapes.
Alexander Beggrov was a son of Karl Beggrov (Beggrow), a German painter who spent all his career in Russia. He decided to become a naval officer, and in 1863, he went into the navy.
In particular, in 1871-1872 he participated in the round-the-world journey. Still as a naval officer, in 1868 he started his art studies under the supervision of Alexey Bogolyubov.
In 1873, Bogolyubov moved to France, and Beggrov, who wanted to continue his art studies, enrolled in the Royal Academy of Arts, where he studied under Mikhail Konstantinovich Clodt for a year.
In 1874, he retired from the navy and moved to Paris, where he mainly continued to work under the guidance of Bogolyubov. He also got to know Russian artists working in France, including Ilya Repin.
In 1875, Beggrov returned to Saint Petersburg, and in 1878, he joined the Society for Travelling Art Exhibitions. In 1879, he travelled by sea to Greece, and from there to France, where he stayed for two years. Subsequently, Alexander Beggrov moved back to Russia and settled in Gatchina. In 1903, his wife died. Last years of his life, Beggrov was terminally ill. In August 1914, he committed suicide.
Click here to read Beggrov's full bio on Wikipedia.
We found only two of his paintings he made in France (a "⇠" next to the city means we published his works on our site, just follow the link):
Related Posts
10000

Alexander Beggrov, a Russian artist/painter, who travelled all over the world for the Russian Navy. He only painted one painting in Le Havre.

89

Here are all the artists featured on our site that have painted in Caudebec-en-Caux in Normandy. There's a map with one location per artist per city. Use the map to look at all that artist's works of art.