This page forms part of a series of pages dedicated to the many artists who worked in Etretat. A full list of all the artists with a link to their works can be found at the bottom of this page.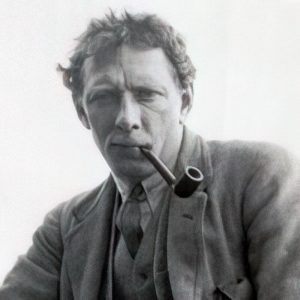 Movement(s): Impressionism, Post Impressionism
Paul Lucien Maze (1887 – 1979) was an Anglo-French painter. He is often known as "The last of the Post Impressionists" and was one of the great artists of his generation. His mediums included oils, watercolours and pastels and his paintings include French maritime scenes, busy New York City scenes and the English countryside.
Paul Lucien Maze was born into a French family at Le Havre, Normandy, in 1887. His father was a thriving tea merchant and art collector and his circle of artistic friends included Claude Monet, Raoul Dufy, Camille Pissarro and Pierre-Auguste Renoir. Maze learnt the fundamentals of painting from Pissarro and as a young boy he sketched on the beach with Dufy. At the age of 12, Maze was sent to school in Southampton, England, to perfect his English and whilst there, he fell in love with all things English. He became a naturalised British subject in 1920.
At the outbreak of World War I, Maze returned to France and attempted to join the French army but was deemed unfit. Determined to serve, Maze made his way to Le Havre and offered his services to the British and became an interpreter with the British cavalry regiment, the Royal Scots Greys.
Maze joined the staff of General Hubert Gough, initially as a liaison officer and interpreter but increasing as a military draughtsman undertaking reconnaissance work. Maze would go to advanced positions, often forward of the British trenches, to produce accurate drawings of enemy positions and other military objectives. The work was very dangerous and Maze was wounded three times in four years. He was awarded the Distinguished Conduct Medal and Military Medal by the British, and the Croix de Guerre and Ordre national de la Legion d'honneur by the French.
In 1921, Maze married Margaret Nelson, a widow of a wartime friend, Captain Thomas Nelson. They moved to London during which time Maze painted many London scenes from pomp and pageantry to the fogs and dismal back streets. He exhibited in many major art galleries in London, America and Paris. In 1939, Maze had his first New York City exhibition and in the foreword to the catalogue, Winston Churchill wrote, "His great knowledge of painting and draughtsmanship have enabled him to perfect his remarkable gift. With the fewest of strokes, he can create an impression at once true and beautiful. Here is no toiling seeker after preconceived effects, but a vivid and powerful interpreter to us of the forces and harmony of Nature".
Maze died aged 92 with a pastel in his hand, overlooking his beloved South Downs at his home in West Sussex in 1979.
Click here to read Maze's full bio on Wikipedia.
NOTE: Click on the image below for a bigger version (no new window will open).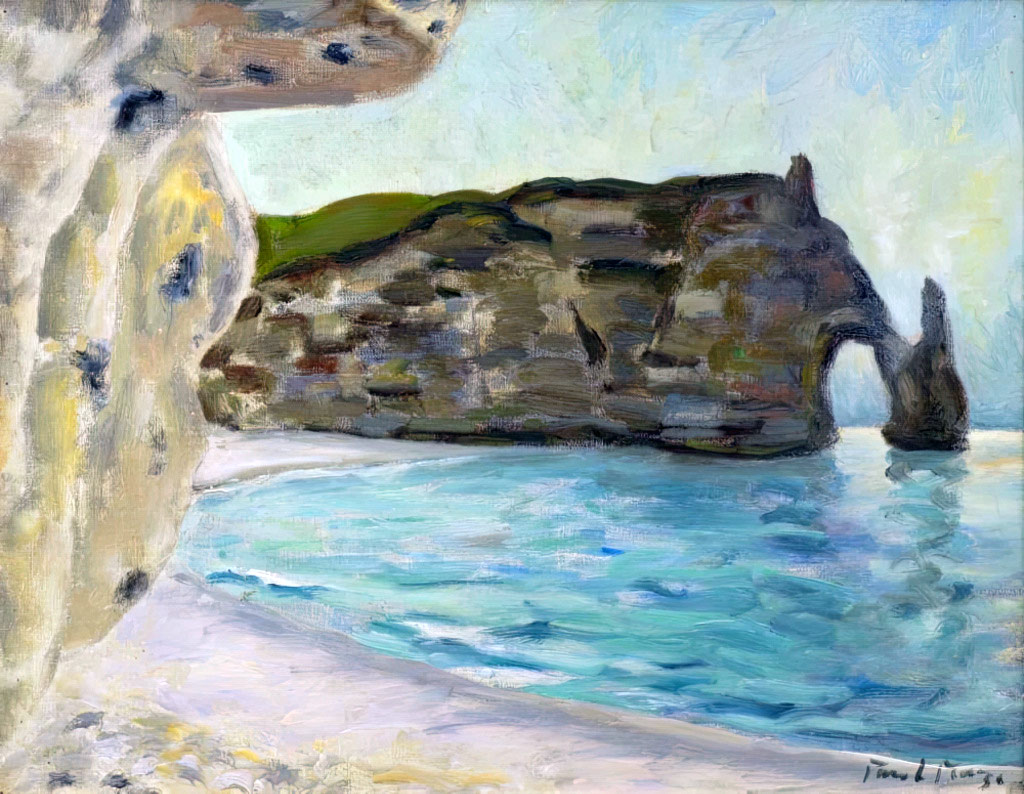 Paul Maze painted all over France (and abroad). Here are the places he painted in France (a link "⇠" will appear when the place he painted in is published):
Brittany
Centre-Val de Loire
Hauts-de-France
Normandy
Provence-Alpes-Cote d'Azur

Antibes
Nice
Saint-tropez
Villefranche-sur-Mer
Etretat is the second most popular and visited place in Normandy (the first being Mont Saint-Michel). And since it was popular, many artists came here to be inspired by its nature and scenic environments. Here is a list of artists who worked in Etretat (a link "⇠" to their work will appear when published).
🇫🇷 Boudan, Louis *⇠
🇫🇷 Boudin, Eugene-Louis ⇠
🇫🇷 Braque, Georges ⇠
🇫🇷 Burel, Henry E. ⇠
🇫🇷 Caillebotte, Gustave ⇠
🇫🇷 Courbet, Gustave ⇠
🇫🇷 de Saint-Delis, Rene ⇠
🇫🇷 Friesz, Othon ⇠
🇫🇷 Gudin, Theodore ⇠
🇫🇷 Hoguet, Charles ⇠
🇫🇷 Huet, Paul ⇠
🇺🇸 Inness, George ⇠
🇫🇷 Isabey, Eugene ⇠
🇳🇱 Jongkind, Johan ⇠
🇬🇧 Kay, James ⇠
🇫🇷 Lebasque, Henri ⇠
🇫🇷 Lebourg, Albert ⇠
🇫🇷 Lepoittevin, Eugene ⇠
🇫🇷 Loiseau, Gustave ⇠
🇫🇷 Matisse, Henri ⇠
🇫🇷 Maufra, Maxime ⇠
🇫🇷 Maze, Paul ⇠
🇫🇷 Monet, Claude
🇫🇷 Noel, Alexandre Jean
🇷🇺 Polenov, Vasily
🇫🇷 Roullet, Gaston
🇫🇷 Schuffenecker, Claude-Emile
🇫🇷 Signac, Paul
🇨🇭 Vallotton, Felix
🇫🇷 Vollon, Antoine
NOTE: You can subscribe to our new articles by entering your email address in the box on the right column (or at the very bottom of this article) and clicking on the button "Subscribe".

You will need to check your incoming emails and validate your subscription. If you can't see an email from us, check your Spam folder. Without validating your email address, you will not get notifications from us. WE WILL NEVER GIVE YOUR EMAIL ADDRESSES TO ANYONE!
Related Posts