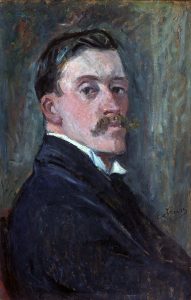 Movement(s): Impressionism
Rene de Saint-Delis, 1876 – 1958, was a French painter influenced by the Impressionist movement. He was born in the North of France (Pas-de-Calais) and died in Etretat, Normandy.
His father, an army officer, died in 1881 causing his mother to move to Le Havre with her four children. One of his young brothers, Henri de Saint-Delis, also became an artist-painter.
At his high school in Le Havre, his best friend was the now famous painter Othon Friesz. Attending subsequent art schools, he friended the other famous Le Havre painter, Raoul Dufy.
During WWI he was stationed in Etretat as bookkeeper for the hospital where he met his wife, a nurse. He married her and stayed in Etretat.
He travelled a lot to Switzerland to visit his sick brother who was diagnosed with tuberculosis. There, he painted several Swiss landscapes together with his brother.
Rene de Saint-Delis painted mostly in Normandy. These are the places where he painted (a link "⇠" to his works will appear below when published):
Related Posts
97

Frits Thaulow was a Norwegian Impressionist painter, best known for his naturalistic depictions of landscape.

96

Pierre-Auguste Renoir (1841 – 1919) was a French artist who was a leading painter in the development of the Impressionist style. As a celebrator of beauty and especially feminine sensuality, it has been said that "Renoir is the final representative of a tradition which runs directly from Rubens to Watteau."

96

Claude Monet is without any doubt the most famous impressionist painter. He started the movement, and he was the master of it. Although he was born in Paris, France (and died in Giverny, Normandy, France), his heart was Normandy, particularly the Normandy coastline. His family moved to Le Havre in…

95

Theodore Earl Butler, (1861–1936) was an American impressionist painter. He was born in Columbus, Ohio, and moved to Paris to study art. He befriended Claude Monet in Giverny, and married his stepdaughter, Suzanne Hoschedé. After her death he married her sister, Marthe Hoschede. Butler was a founding member of the…