This page forms part of a series of pages dedicated to the many artists who worked in Etretat. A full list of all the artists with a link to their works can be found at the bottom of this page.
Movement(s): –
Richard Principal Leitch (1827 – 1882) was a British painter, engraver and book author.
Richard was the son of the painter and drawing-master, William Leighton Leitch (1804–1883). Richard P. Leitch was a landscape painter, an excellent water-colour painter and a good draughtsman on wood, he exhibited between 1844 and 1860 at the Royal Academy as R. Leitch Junior, at first from his father's address.
In September 1857 he was in Normandy painting watercolours for Queen Victoria. Thereafter, especially when his father was ill, he painted extensively for the queen and gave lessons to her children; the styles of father and son are often confused. William Leitch stated that both Richard and a younger son, William, were 'most graciously set a-going' by the queen.
Richard Leitch published drawing manuals in the 1870s and early 1880s and worked as an illustrator for journals such as The Quiver and Good Words. His wife died a few months before him in 1882, leaving two children.
Not much else is known about this painter.
NOTE: Click on the image below for a bigger version (no new window will open).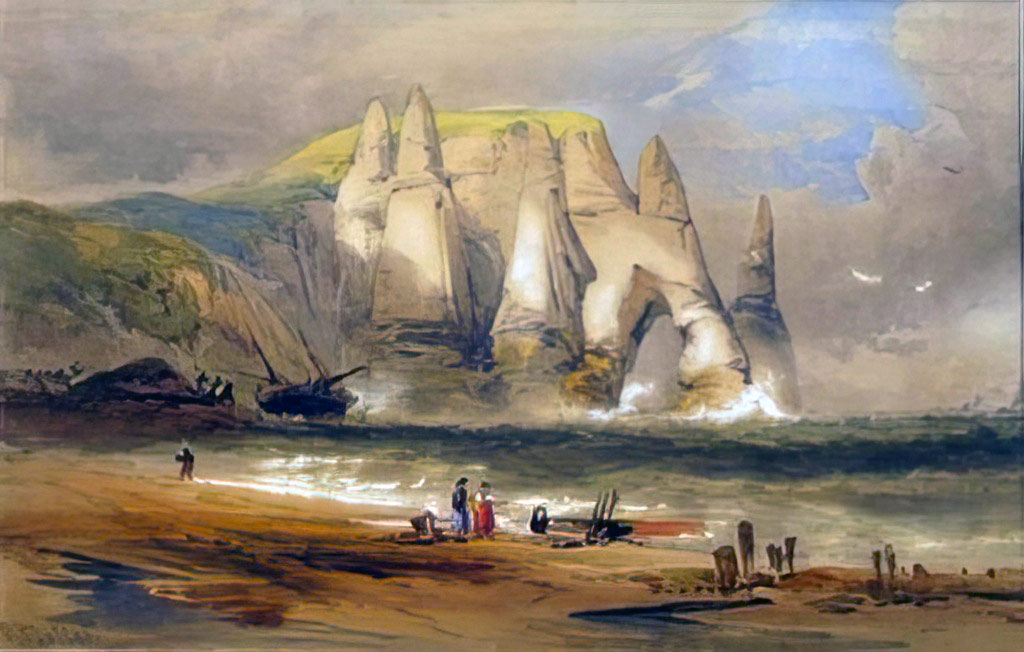 Richard Leitch painted in several places in France, links "⇠" to his works of art will appear below when finished;
Brittany
Hauts-de-France
Normandy
Nouvelle-Aquitaine
Etretat is the second most popular and visited place in Normandy (the first being Mont Saint-Michel). And since it was popular, many artists came here to be inspired by its nature and scenic environments. Here is a list of artists who worked in Etretat (a link "⇠" to their work will appear when published).
🇫🇷 Boudan, Louis *⇠
🇫🇷 Boudin, Eugene-Louis ⇠
🇫🇷 Braque, Georges ⇠
🇫🇷 Burel, Henry E. ⇠
🇫🇷 Caillebotte, Gustave ⇠
🇫🇷 Courbet, Gustave ⇠
🇫🇷 de Saint-Delis, Rene ⇠
🇫🇷 Friesz, Othon ⇠
🇫🇷 Gudin, Theodore ⇠
🇫🇷 Hoguet, Charles ⇠
🇫🇷 Huet, Paul ⇠
🇺🇸 Inness, George ⇠
🇫🇷 Isabey, Eugene ⇠
🇳🇱 Jongkind, Johan ⇠
🇬🇧 Kay, James ⇠
🇫🇷 Lebasque, Henri ⇠
🇫🇷 Lebourg, Albert ⇠
🇫🇷 Lepoittevin, Eugene ⇠
🇫🇷 Loiseau, Gustave ⇠
🇫🇷 Matisse, Henri ⇠
🇫🇷 Maufra, Maxime ⇠
🇫🇷 Maze, Paul ⇠
🇫🇷 Monet, Claude
🇫🇷 Noel, Alexandre Jean
🇷🇺 Polenov, Vasily
🇫🇷 Roullet, Gaston
🇫🇷 Schuffenecker, Claude-Emile
🇫🇷 Signac, Paul
🇨🇭 Vallotton, Felix
🇫🇷 Vollon, Antoine
NOTE: You can subscribe to our new articles by entering your email address in the box on the right column (or at the very bottom of this article) and clicking on the button "Subscribe".

You will need to check your incoming emails and validate your subscription. If you can't see an email from us, check your Spam folder. Without validating your email address, you will not get notifications from us. WE WILL NEVER GIVE YOUR EMAIL ADDRESSES TO ANYONE!
Related Posts