This page forms part of a series of pages dedicated to the many artists who worked in Etretat. A full list of all the artists with a link to their works can be found at the bottom of this page.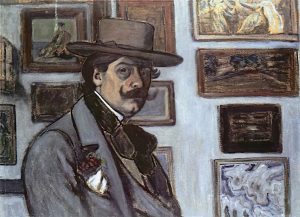 Movement(s): –
Maxime Maufra (1861-1918) was a French Impressionist painter who was known for his landscapes, seascapes, and coastal scenes. He was born in Nantes, France and began his artistic studies at the École des Beaux-Arts in Paris.
Maufra's early work was heavily influenced by the Impressionists, and he was a member of the Société des Artistes Indépendants. He is best known for his depictions of the Brittany coast, which he often painted in a loose, Impressionistic style. He was particularly interested in the effects of light and color on the sea and sky, and his paintings often capture the movement and energy of the waves and clouds.
Maufra's work was well-received during his lifetime, and he exhibited at the Salon des Artistes Français and the Salon d'Automne. He was also a member of the Société Nationale des Beaux-Arts.
Today, Maufra's paintings can be found in major museums and private collections around the world, including the Musée d'Orsay in Paris and the Metropolitan Museum of Art in New York City. He is considered to be one of the most important French Impressionist painters of the late 19th and early 20th centuries.
He became good friends with fellow artist Paul Gauguin.
Maufra was mainly an artist of landscapes and marine views. In his compositions, Maufra sometimes quoted the pointillist technique of Camille Pissarro or Alfred Sisley, and also took from the strong colors and powerful drawing of the Pont-Aven School.
Click here to read Maufra's full bio on Wikipedia.
NOTE: Click on any image below for a bigger version (no new window will open).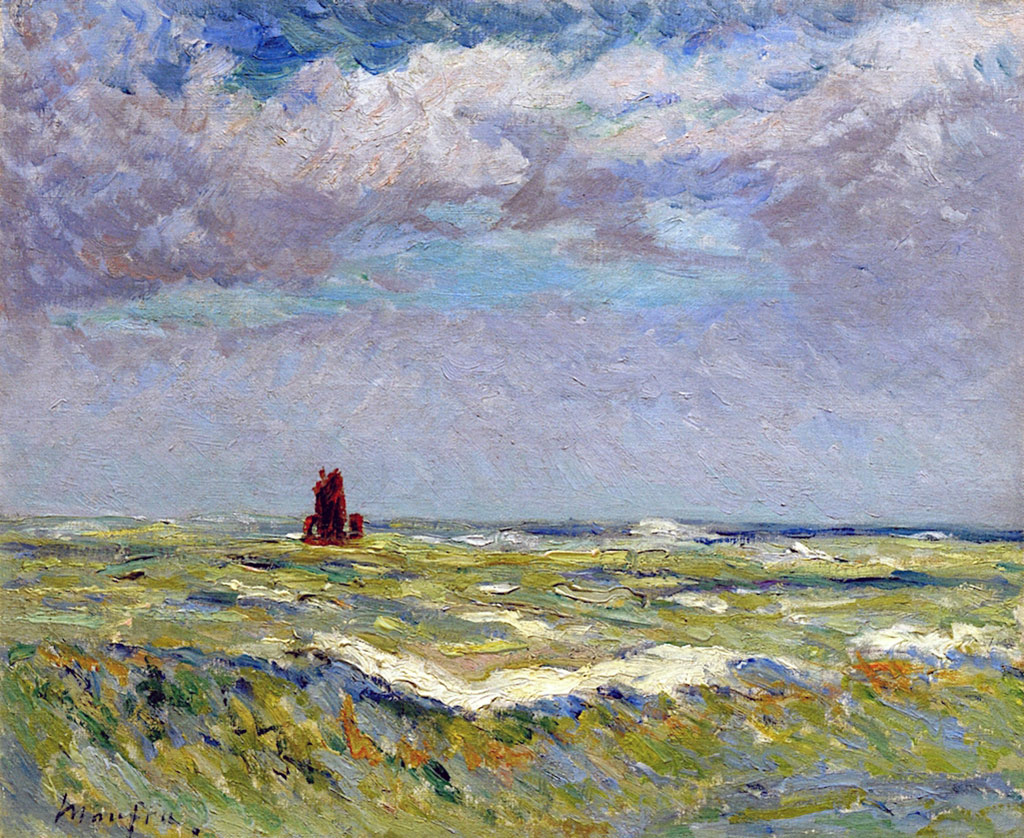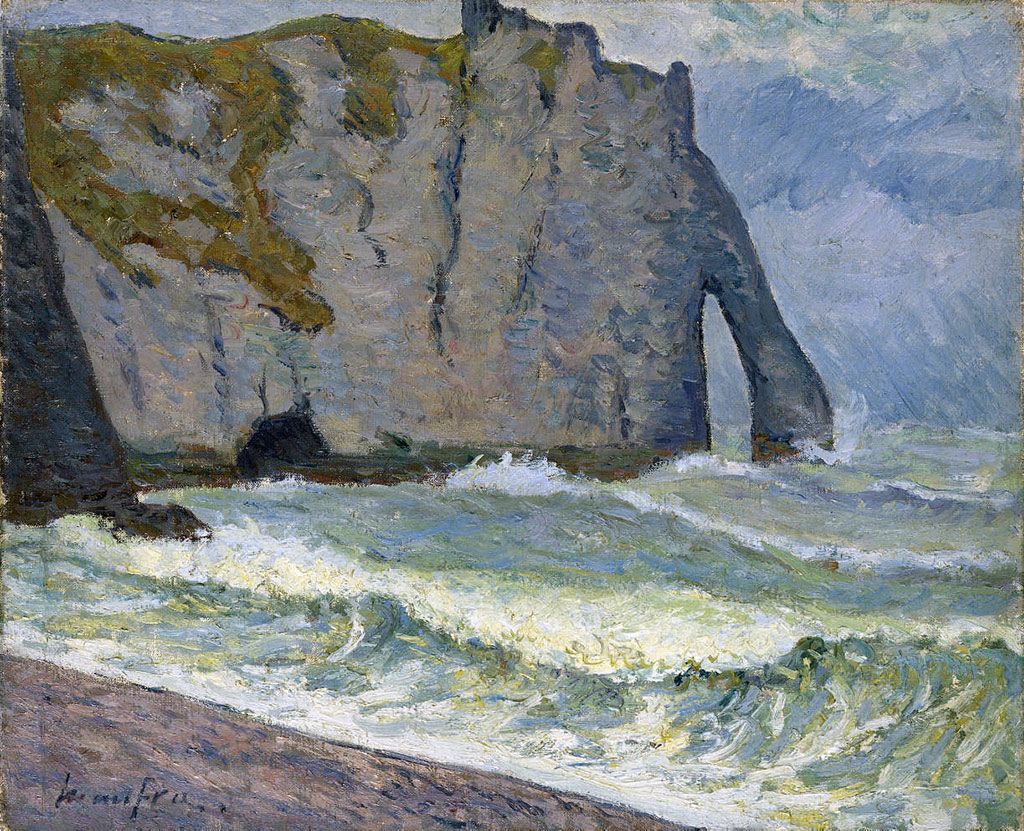 TODAY: The Porte d'Aval is the most visible of three sea arches at Etretat. It lies to the left of the Etretat beach.
Maxime Maufra painted several in a couple of other places in Normandy, which will be featured eventually on this site. A link "⇠" to those cities will appear below when published.
Brittany

Morgat
Penmarch
Rosporden
Saint-Jean-du-Doigt
Treboul

Normandy
Pays de la Loire
Provence-Alpes-Cote d'Azur

Ile Saint-Honorat
Saint-Tropez
Etretat is the second most popular and visited place in Normandy (the first being Mont Saint-Michel). And since it was popular, many artists came here to be inspired by its nature and scenic environments. Here is a list of artists who worked in Etretat (a link "⇠" to their work will appear when published).
🇫🇷 Boudan, Louis *⇠
🇫🇷 Boudin, Eugene-Louis ⇠
🇫🇷 Braque, Georges ⇠
🇫🇷 Burel, Henry E. ⇠
🇫🇷 Caillebotte, Gustave ⇠
🇫🇷 Courbet, Gustave ⇠
🇫🇷 de Saint-Delis, Rene ⇠
🇫🇷 Friesz, Othon ⇠
🇫🇷 Gudin, Theodore ⇠
🇫🇷 Hoguet, Charles ⇠
🇫🇷 Huet, Paul ⇠
🇺🇸 Inness, George ⇠
🇫🇷 Isabey, Eugene ⇠
🇳🇱 Jongkind, Johan ⇠
🇬🇧 Kay, James ⇠
🇫🇷 Lebasque, Henri ⇠
🇫🇷 Lebourg, Albert ⇠
🇫🇷 Lepoittevin, Eugene ⇠
🇫🇷 Loiseau, Gustave ⇠
🇫🇷 Matisse, Henri ⇠
🇫🇷 Maufra, Maxime ⇠
🇫🇷 Maze, Paul ⇠
🇫🇷 Monet, Claude
🇫🇷 Noel, Alexandre Jean
🇷🇺 Polenov, Vasily
🇫🇷 Roullet, Gaston
🇫🇷 Schuffenecker, Claude-Emile
🇫🇷 Signac, Paul
🇨🇭 Vallotton, Felix
🇫🇷 Vollon, Antoine
NOTE: You can subscribe to our new articles by entering your email address in the box on the right column (or at the very bottom of this article) and clicking on the button "Subscribe".

You will need to check your incoming emails and validate your subscription. If you can't see an email from us, check your Spam folder. Without validating your email address, you will not get notifications from us. WE WILL NEVER GIVE YOUR EMAIL ADDRESSES TO ANYONE!
Related Posts
97

Johan Barthold Jongkind was a Dutch painter and printmaker. He painted marine landscapes in a free manner and is regarded as a forerunner of Impressionism. Here are some paintings which he made in Etretat, Normandy.

97

Antoine Vollon (1833 – 1900) was a French realist artist, best known as a painter of still lifes, landscapes, and figures. During his lifetime, Vollon was a successful celebrity, enjoyed an excellent reputation, and was called a "painter's painter". Here is 1 painting we found which he made in Etretat,…

97

Vasily Dmitrievich Polenov (1844 – 1927) was a Russian landscape painter associated with the Peredvizhniki movement of realist artists. His contemporaries would call him the "Knight of Beauty" as he embodied both European and Russian traditions of painting. Here is 1 painting he made in Etretat, Normandy.

97

Ambroise Louis Garneray (1783 – 1857) was a French corsair, painter and writer. He was held as prisoner-of-war by the British for eight years. He was in fact the first Peintre de la Marine. Here is one painting of his we found which he made in Etretat, Normandy.