This page forms part of a series of pages dedicated to the many artists who worked in Etretat. A full list of all the artists with a link to their works can be found at the bottom of this page.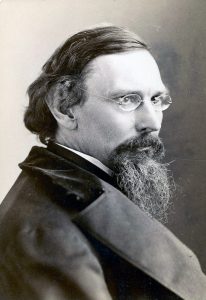 Movement(s): Barbizon
George Inness (1825–1894) was a renowned American landscape painter, known today as one of the most important artists of the 19th century. Inness began his career influenced by the Hudson River School, but later studied the Old Masters and artists of the Barbizon school during his trips to Europe. There, he was introduced to Emanuel Swedenborg's theology, which had a profound impact on him, leading him to express spirituality in his mature works (1879–1894).
Inness's style changed throughout his 40-year career and 1,000 paintings, but his works always received praise for their ability to evoke mood, atmosphere, and emotion. He combined realism and impressionism to capture the essence of a location and was known for his mastery of light, color, and shadow. He often combined hazy elements with sharp details to show both the physical and spiritual nature of a scene. In his words, he aimed to show the "reality of the unseen" and link the "visible to the invisible."
Inness passed away in 1894 in Scotland, while viewing the sunset. According to his son, he exclaimed "My God! Oh, how beautiful!" before collapsing and passing away minutes later.
For more information on Inness, click here to visit his Wikipedia page.
NOTE: Click on any image below for a bigger version (no new window will open).
NOTE: A black box like this one, means that there is an explanation text about today's situation of the painting above it.
NOTE: Click on this photo icon
anywhere below a painting to see a photo of what the area looks like today.
NOTE: A blue box like this one, means there is an explanation or a note.
TODAY: The Porte d'Aval is the most visible of three sea arches at Etretat. It lies to the left of the Etretat beach.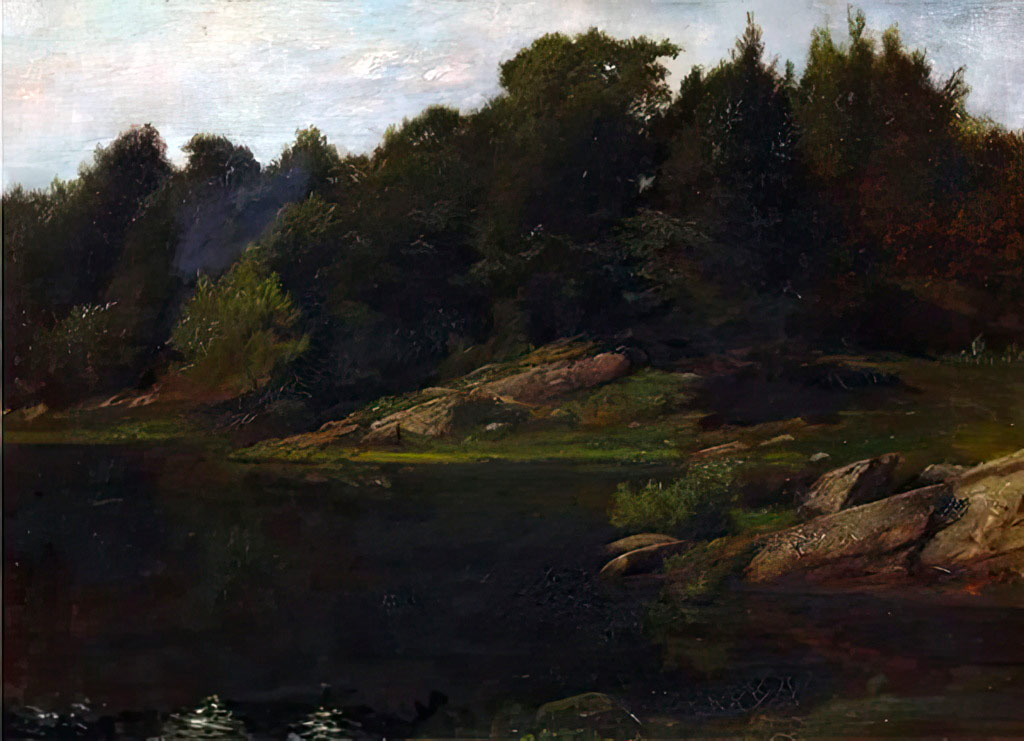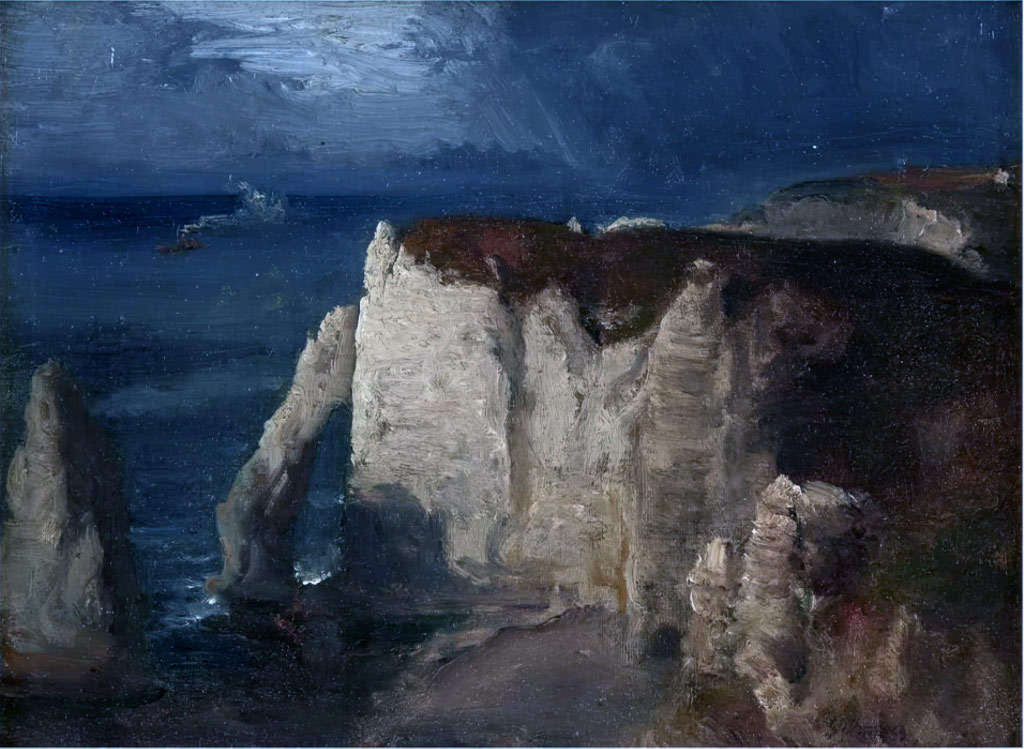 NOTE: This is the same sea arch as above, Porte d'Aval, but seen from the other side.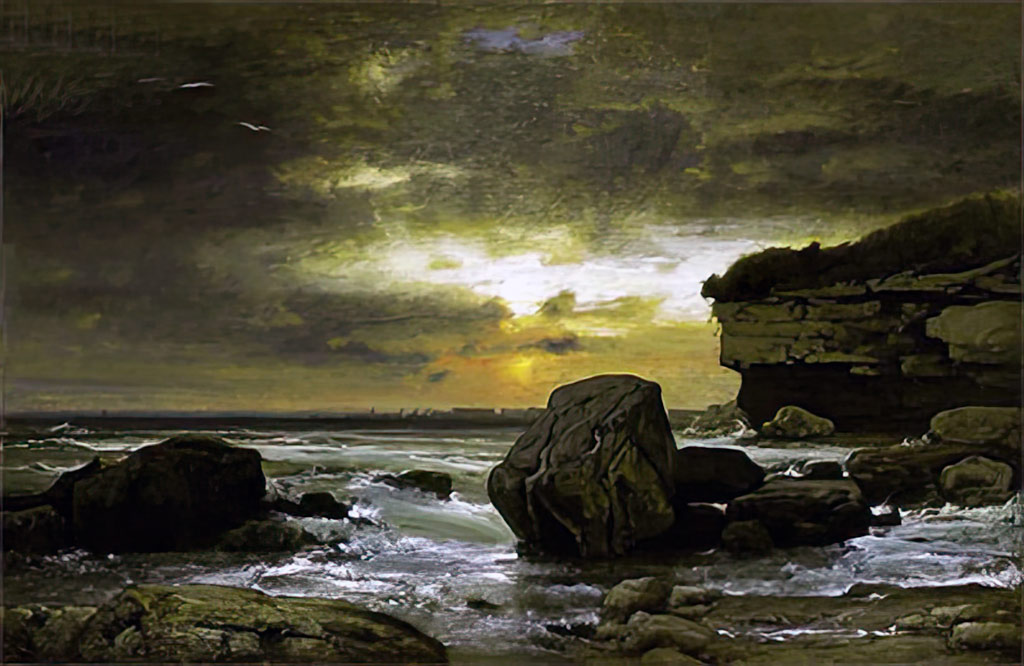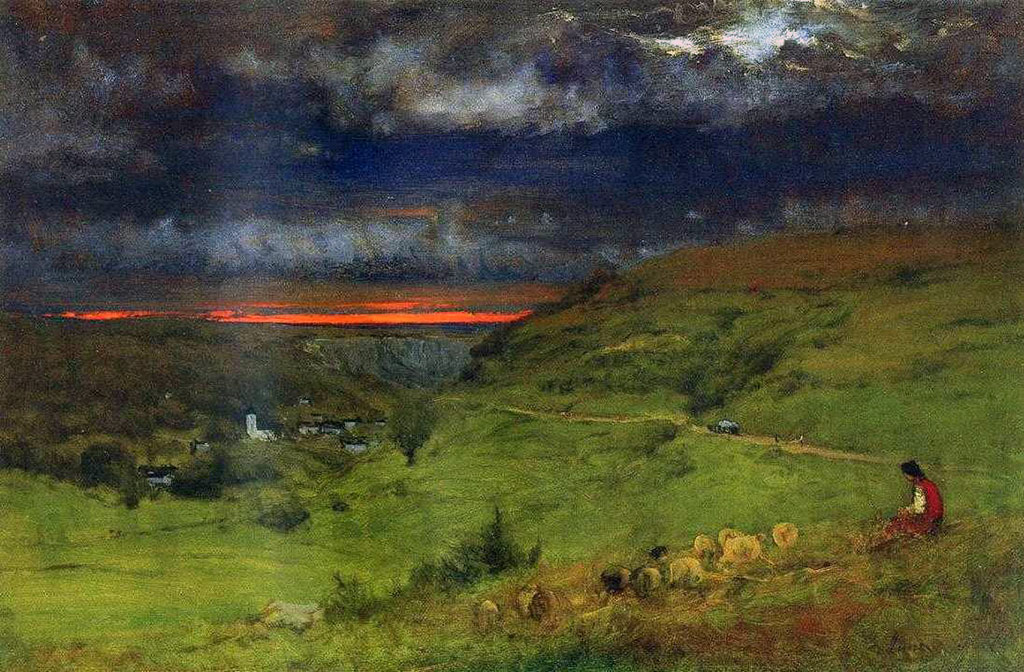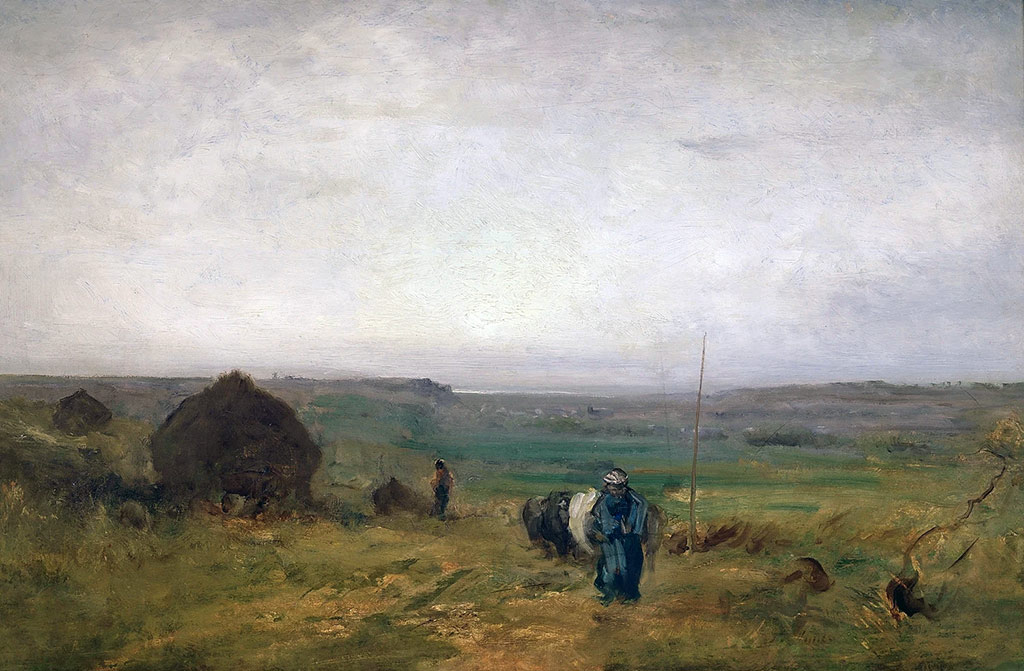 To our knowledge, George Inness only painted in one town in France:
Etretat is the second most popular and visited place in Normandy (the first being Mont Saint-Michel). And since it was popular, many artists came here to be inspired by its nature and scenic environments. Here is a list of artists who worked in Etretat (a link "⇠" to their work will appear when published).
🇫🇷 Boudan, Louis *⇠
🇫🇷 Boudin, Eugene-Louis ⇠
🇫🇷 Braque, Georges ⇠
🇫🇷 Burel, Henry E. ⇠
🇫🇷 Caillebotte, Gustave ⇠
🇫🇷 Courbet, Gustave ⇠
🇫🇷 de Saint-Delis, Rene ⇠
🇫🇷 Friesz, Othon ⇠
🇫🇷 Gudin, Theodore ⇠
🇫🇷 Hoguet, Charles ⇠
🇫🇷 Huet, Paul ⇠
🇺🇸 Inness, George ⇠
🇫🇷 Isabey, Eugene ⇠
🇳🇱 Jongkind, Johan ⇠
🇬🇧 Kay, James ⇠
🇫🇷 Lebasque, Henri ⇠
🇫🇷 Lebourg, Albert ⇠
🇫🇷 Lepoittevin, Eugene ⇠
🇫🇷 Loiseau, Gustave ⇠
🇫🇷 Matisse, Henri ⇠
🇫🇷 Maufra, Maxime ⇠
🇫🇷 Maze, Paul ⇠
🇫🇷 Monet, Claude
🇫🇷 Noel, Alexandre Jean
🇷🇺 Polenov, Vasily
🇫🇷 Roullet, Gaston
🇫🇷 Schuffenecker, Claude-Emile
🇫🇷 Signac, Paul
🇨🇭 Vallotton, Felix
🇫🇷 Vollon, Antoine
NOTE: You can subscribe to our new articles by entering your email address in the box on the right column (or at the very bottom of this article) and clicking on the button "Subscribe".

You will need to check your incoming emails and validate your subscription. If you can't see an email from us, check your Spam folder. Without validating your email address, you will not get notifications from us. WE WILL NEVER GIVE YOUR EMAIL ADDRESSES TO ANYONE!
Related Posts