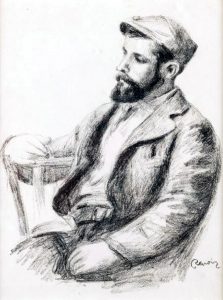 Movement(s): Fauvism
Louis Valtat (1869 – 1952) was a French painter and printmaker associated with the Fauves ("the wild beasts", so named for their wild use of color), who first exhibited together in 1905 at the Salon d'Automne. He is noted as a key figure in the stylistic transition in painting from Monet to Matisse.
Louis Valtat was born on 8 August 1869 in Dieppe, in the Normandy region of France, into a wealthy family of ship owners. Valtat spent many of his childhood years in Versailles, a suburb of Paris, where he attended secondary school at the Lycee Hoche (near the Palace of Versailles).
Encouraged by his father, an amateur landscape painter himself, Valtat became interested in art. At age 17, deciding to pursue an artistic career, he applied to the Ecole des Beaux-Arts de Paris. He was accepted, and in 1887 Valtat moved to Paris to enroll at the Ecole, where he studied with the well-known academic artists Gustave Boulanger (1824–1888), Jules Lefebvre (1836–1911), and later with Jean-Joseph Benjamin-Constant (1845–1902).
During the early period in his career, Valtat used the spontaneous light touches of Impressionism (although with bordered objects) and the colorful dots found in Pointillism.
Valtat exhibited widely during his career. In 1894, he collaborated with both Henri de Toulouse-Lautrec and Albert Andre in creating the decor for the Paris theater "L'Œuvre" at the request of Lugné Poë.
Valtat suffered from tuberculosis, and he spent many autumn/winter seasons along the Mediterranean coast in Banyuls, Antheor and Saint-Tropez. Beginning in 1900, Valtat made several journeys by bicycle to visit Auguste Renoir at the Maison de la Poste in Cagnes. There, Valtat made several portrait drawings of Renoir on which he based a subsequent woodcut, and the two artists collaborated on a sculpture of Cézanne. Another friend of Valtat was Paul Signac, whom he visited often, traveling in a small Bollée motorcar that he acquired ca. 1904 from Signac in exchange for his painting Women at the Seashore.
Click here to read Valtat's full bio on Wikipedia.
Valtat made many paintings in Normandy and France. Here are the places he painted in Normandy (a link "⇠" to his works will appear below when published.):
Brittany
Hauts-de-France
Normandy
Nouvelle-Aquitaine
Occitanie
Provence-Alpes-Cote d'Azur

Agay
Cagnes-sur-Mer
Esterel
Related Posts