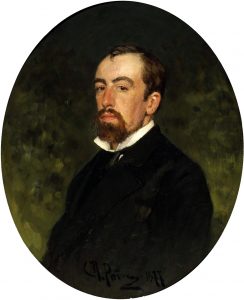 Movements: –
Vasily Dmitrievich Polenov (1844 – 1927) was a Russian landscape painter associated with the Peredvizhniki movement of realist artists. His contemporaries would call him the "Knight of Beauty" as he embodied both European and Russian traditions of painting.
As a native of St. Petersburg, Polenov grew up in a wealthy, intellectual and artistic family. During his teenage years, in 1860s, Russia was energized by great minds promoting virtues of democracy, progress, education, and they would stand against oppression.
Vasily Polenov simultaneously enrolled to the Imperial Academy of Arts and to the Law University in Saint Petersbourg (1863–1871). Polenov studied under Pavel Chistyakov and was a classmate and close friend of Rafail Levitsky, a fellow Peredvizhniki artist and photographer.
The second major chapter of his stay in Europe is in France, in Paris and Normandy. It is in Montmartre at 72 rue Blanche and at 13 rue Véron that he established his studio in the autumn of 1973. In Paris, he attended Alexei Bogolyubov's events (1824–1896), an official painter of the Russian Navy and also in charge of the orientation of the young residents of the Imperial Academy in France.
In the summer of 1874, Ilya Repine and Vasily Polenov followed the advice of their preceptor Bogoliubov and went to Normandy in quest for spontaneous impressions. There, they would mainly work outdoors, according to the influence of the Barbizon School. They spent several months in the company of other Russian artists in Veules-les-Roses, a setting combining cliffs by the sea and countryside. He completed his European work by returning to Paris, devoting himself to historical subjects after this momentous period of his career dedicated to Norman landscapes.
Click here to read more of Polenov's bio on Wikipedia.
Polenov painted mostly in Normandy and Brittany (and Paris). Here are the places he painted in (a link "⇠" to his works will appear when published):
Related Posts