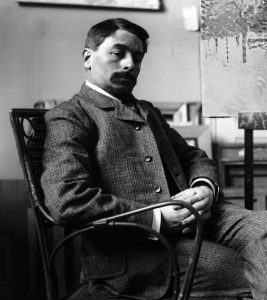 Movement(s): Post Impressionism
Henri Lebasque (1865 – 1937) was a French post-impressionist painter. He started his education at the Ecole regionale des beaux-arts d'Angers, and moved to Paris in 1886. There, Lebasque started studying under Leon Bonnat, and assisted Ferdinand Humbert with the decorative murals at the Pantheon. Around this time, Lebasque met Camille Pissarro and Auguste Renoir, who later would have a large impact on his work.
From his first acquaintance with Georges Seurat and Paul Signac, Lebasque learnt the significance of a colour theory which stressed the use of complementary colours in shading.
Lebasque also became friends with artists such as Raoul Dufy, Louis Valtat, and Henri Manguin, the last of whom introduced Lebasque to the South of France. His time in South of France would lead to a radical transformation in Lebasque's paintings, changing his colour palette forever. Other travels included the Vendée, Normandy, and Brittany.
Click here to read Lebasque's full bio on Wikipedia.
Lebasque painted throughout France. Here are the places he painted in (a link "⇠" to his works will appear below when published):
Auvergne-Rhone-Alpes
Normandy
Pays de la Loire

Prefailles
Saint-Jean-de-Monts

Provence-Alpes-Cote d'Azur

Antibes
Cannes
Cannet
Frejus
Saint-Tropez
Related Posts
97

Maurice Brazil Prendergast (1858 – 1924) was an American Post-Impressionist artist who worked in oil, watercolor, and monotype.

96

Gustave Loiseau was a French Post-Impressionist painter, remembered above all for his landscapes and scenes of Paris streets. However he did paint a lot in Normandy,

96

Claude-Emile Schuffenecker (1851 – 1934) was a French Post-Impressionist artist, painter, art teacher and art collector. A friend of Paul Gauguin and Odilon Redon, and one of the first collectors of works by Vincent van Gogh.

95

Samuel John Peploe (1871 – 1935) was a Scottish Post-Impressionist painter, noted for his still life works and for being one of the group of four painters that became known as the Scottish Colourists. The other colourists were John Duncan Fergusson, Francis Cadell and Leslie Hunter. Peploe was strongly influenced…