This page forms part of a series of pages dedicated to the many artists who worked in Etretat. A full list of all the artists with a link to their works can be found at the bottom of this page.
NOTE: To our knowledge, Boudan did not work in Etretat itself, but instead worked in nearby Criquetot-l'Esneval. Movement(s): –
Louis Boudan (16??–17??) was an artist who worked for François Roger de Gaignieres, a French genealogist, antiquary and collector who was active in the late 17th and early 18th centuries.
Boudan carried out commissions for de Gaignières for over 30 years. Most of his work for de Gaignieres was done between 1695 and 1715 when he, de Gaignieres and the latter's secretary, Barthelemy Remy, toured France to carry out a survey of historical monuments.
Boudan's work makes up the bulk of the Recueil de Gaignieres, a collection of engravings gathered by de Gaignieres over the course of his life. It was donated to Louis XIV and most of the folio plates created for de Gaignières by Boudan are today held by the Bibliotheque nationale de France.
Almost all of his drawings are of the castles and churches to be found in France towards the end of the 17th and beginning 18th century. Many of the historical monuments he painted can still be seen today.
Click here to read Louis Boudan's bio on Wikipedia.
NOTE: Click on any image below for a bigger version (no new window will open).
Criquetot-l'Esneval
Criquetot-l'Esneval is a small town (population: 2,500) which lies inland (East) of Etretat.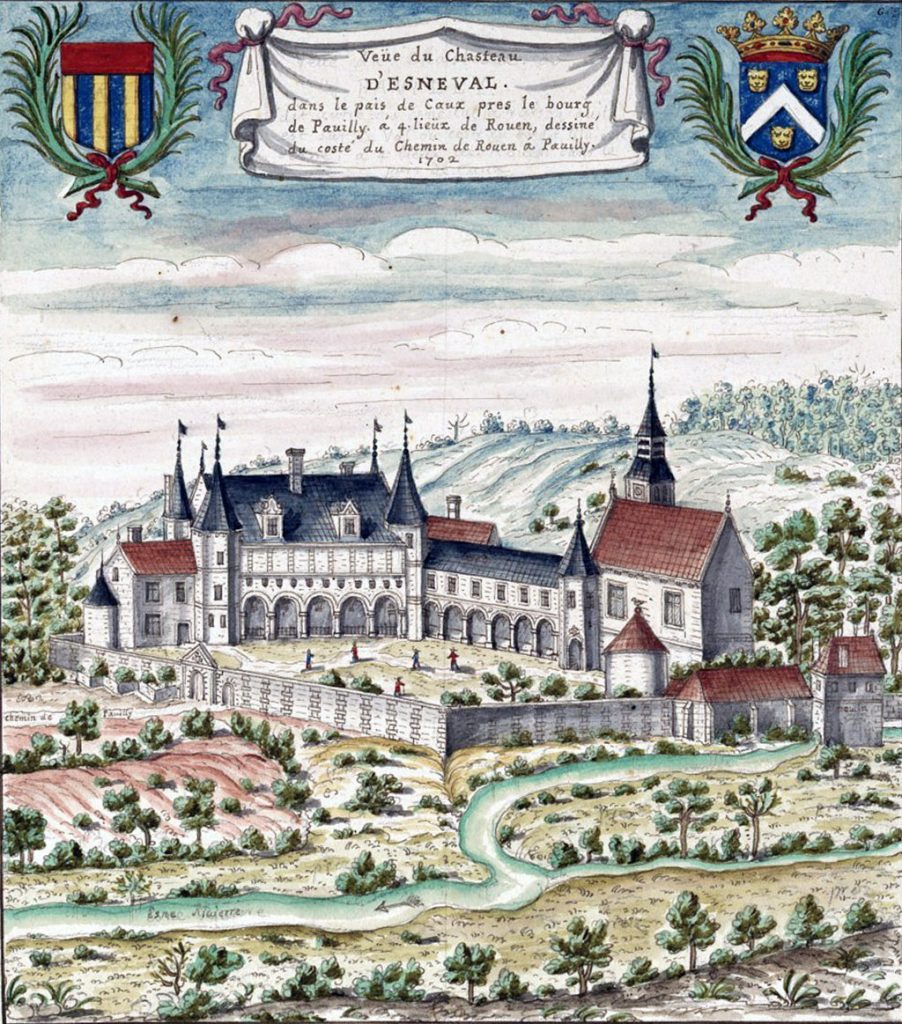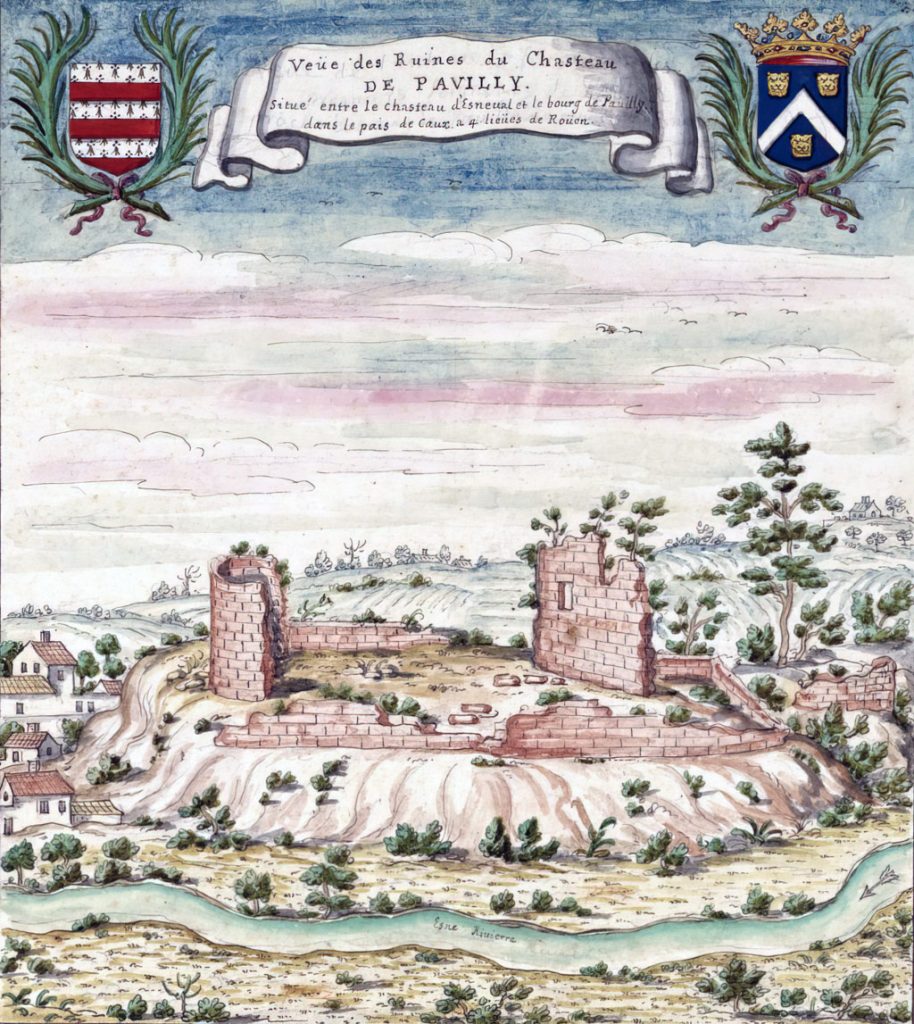 Louis Boudan made drawings and paintings of the then historical monuments, mostly castles and churches/cathedrals/abbeys. Below is an non-exhaustive list of places he made his art (a link "⇠" to his artworks will appear here when published):
Auvergne-Rhone-Alpes
Bourgogne-Franche-Comte
Brittany
Centre-Val de Loire

Chinon
Plessis-lez-Tours
Rigny-Usse

Grand Est
Hauts-de-France
Normandy

Bayeux (surrounding only)
Caen (and surroundings ) ⇠
Caudebec-en-Caux (and surroundings) ⇠
Etretat (surrounding only) ⇠
Dieppe ⇠
Eu
Evreux
Fecamp (surroundings)
Forges-les-Eaux (and surroundings)
Rouen (and surroundings)

Blainville-Crevon
Charleval
Ecouis
Pont-de-l'Arche
Saint-Martin-de-Boscherville
Villers-Ecalles

Saint-Sever-Calvados
Vire
Yvetot (and surroundings)

Nouvelle-Aquitaine

Dissay
le Mirebalais
Limoges
Loudun
Poitiers
Saint Bonnet

Pays de la Loire
Etretat is the second most popular and visited place in Normandy (the first being Mont Saint-Michel). And since it was popular, many artists came here to be inspired by its nature and scenic environments. Here is a list of artists who worked in Etretat (a link "⇠" to their work will appear when published).
🇫🇷 Boudan, Louis *⇠
🇫🇷 Boudin, Eugene-Louis ⇠
🇫🇷 Braque, Georges ⇠
🇫🇷 Burel, Henry E. ⇠
🇫🇷 Caillebotte, Gustave ⇠
🇫🇷 Courbet, Gustave ⇠
🇫🇷 de Saint-Delis, Rene ⇠
🇫🇷 Friesz, Othon ⇠
🇫🇷 Gudin, Theodore ⇠
🇫🇷 Hoguet, Charles ⇠
🇫🇷 Huet, Paul ⇠
🇺🇸 Inness, George ⇠
🇫🇷 Isabey, Eugene ⇠
🇳🇱 Jongkind, Johan ⇠
🇬🇧 Kay, James ⇠
🇫🇷 Lebasque, Henri ⇠
🇫🇷 Lebourg, Albert ⇠
🇫🇷 Lepoittevin, Eugene ⇠
🇫🇷 Loiseau, Gustave ⇠
🇫🇷 Matisse, Henri ⇠
🇫🇷 Maufra, Maxime ⇠
🇫🇷 Maze, Paul ⇠
🇫🇷 Monet, Claude
🇫🇷 Noel, Alexandre Jean
🇷🇺 Polenov, Vasily
🇫🇷 Roullet, Gaston
🇫🇷 Schuffenecker, Claude-Emile
🇫🇷 Signac, Paul
🇨🇭 Vallotton, Felix
🇫🇷 Vollon, Antoine
NOTE: You can subscribe to our new articles by entering your email address in the box on the right column (or at the very bottom of this article) and clicking on the button "Subscribe".

You will need to check your incoming emails and validate your subscription. If you can't see an email from us, check your Spam folder. Without validating your email address, you will not get notifications from us. WE WILL NEVER GIVE YOUR EMAIL ADDRESSES TO ANYONE!
Related Posts
94

Ambroise Louis Garneray (1783 – 1857) was a French corsair, painter and writer. He was held as prisoner-of-war by the British for eight years. He was in fact the first Peintre de la Marine. Here is one painting of his we found which he made in Etretat, Normandy.

94

Maxime Maufra was a French landscape and marine painter, etcher and lithographer. He painted quite a few paintings in Normandy. Here are his paintings for Etretat, Normandy.

93

Vasily Dmitrievich Polenov (1844 – 1927) was a Russian landscape painter associated with the Peredvizhniki movement of realist artists. His contemporaries would call him the "Knight of Beauty" as he embodied both European and Russian traditions of painting. Here is 1 painting he made in Etretat, Normandy.

93

Paul Huet was a French painter and printmaker born in Paris. He met the English painter Richard Parkes Bonington. Bonington's example influenced Huet to reject neoclassicism and instead paint landscapes based on close observation of nature. Huet's works, which include oil paintings, watercolors, etchings, and lithographs, are Romantic in feeling.…