This page forms part of a series of pages dedicated to the many artists who worked in Etretat. A full list of all the artists with a link to their works can be found at the bottom of this page.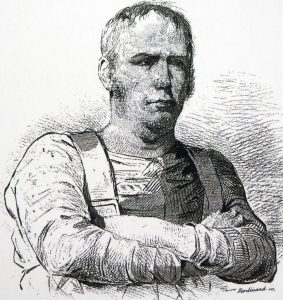 Movement(s): –
Ambroise Louis Garneray (1783 – 1857) was a French corsair, painter and writer. He served under Robert Surcouf and Jean-Marie Dutertre, and was held as prisoner-of-war by the British for eight years after being captured before being repatriated at the conclusion of the Napoleonic Wars, continuing his career as a painter until his death in 1857.
Garneray was born in Paris on 19 February 1783. He was the elder son of Jean-François Garneray (1755–1837), painter of the king, who was pupil of Jacques-Louis David. At thirteen, he joined the Navy as a seaman, encouraged by his cousin, Beaulieu-Leloup, commander of the frigate Forte ("the Stout one"). Garneray sailed from Rochefort to the Indian Ocean with the frigate division under Sercey, to which the Forte belonged.
He sailed on various trading ships during the peace of Amiens, after which he served aboard the Pinson ("the Finch"), a cutter based in Île Bourbon. He replaced the commander when he died, and was shipwrecked shortly thereafter. He then served on the corsair Tigre du Bengale and eventually on the frigate Atalante attached to the squadron of Linois. He later served on the Belle Poule ("beautiful chick"), and was aboard when she was captured by the British in March 1806. Wounded, Garneray was transported to England and spent the eight following years in prison hulks off Portsmouth (on the Protée, the Couronne ("Crown") Vengeance and Assistance. He was able to improve his standard of living by selling paintings to a British merchant.
Released on 18 May 1814, Garneray did not find employment in the commercial navy and remained in Paris where he devoted himself to painting. Probably thanks to one of his brothers, himself painter and engraver and who knew people in the entourage of Napoleon, he received his first official order: the meeting of l'Inconstant and the Zéphir, as an anecdote of the return from Elba. The work was carried out only in 1834 as, because of the political climate of the Bourbon Restoration, he felt it more convenient to paint the Descent of the French emigrants at Quiberon, which was exhibited at the Salon de Paris in 1815. Garneray attended the salon every year from then.
Garneray came to be employed by the duke of Angoulême, then Grand Admiral of France, and became his appointed painter in 1817. He was in fact the first Peintre de la Marine ("official painter of the Navy"). Between 1821 and 1830, he went in many harbours of France where he made numerous sketches which were used as a basis for engravings or fabrics.
In 1833, he was made director of the museum of Rouen. He later joined the Manufacture nationale de Sèvres. In the 1830s he developed a new genre of painting, the aquatint, and also developed a major career of engraving. In the 1840s, his fame seems to have dimmed; he lost most of his political supporters and fell into poverty.
Developing a tremor which prevented him from writing and which complicated his work as a painter, he died in Paris in 1857, a few months only before his wife was mysteriously assassinated. Garneray was buried at the Montmartre cemetery: A close friend of his had the tombstone decorated with a painter's palette, a ship mast and the Legion of Honour.
You can read Garneray's full bio on Wikipedia by clicking here.
NOTE: Click on the image below for a bigger version (no new window will open).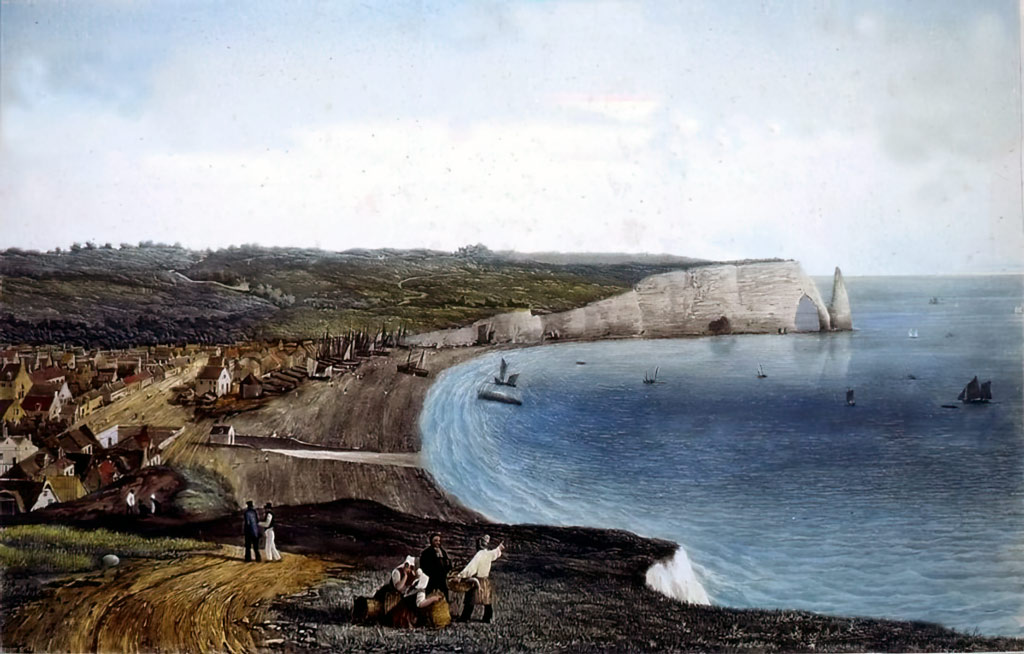 Garneray painted all over France (and internationally). Here are the places he painted in (a link "⇠" to his works will appear below when published):
Brittany
Hauts-de-France

Abbeville
Boulogne
Calais
Dunkerque
Saint Valery sur Somme

Normandy
Nouvelle-Aquitaine
Occitanie
Pays de la Loire
Provence-Alpes-Cote d'Azur

Antibes
Cannes
Nice
Saint Tropez
Saint Jean-de-Luz
Toulon
Etretat is the second most popular and visited place in Normandy (the first being Mont Saint-Michel). And since it was popular, many artists came here to be inspired by its nature and scenic environments. Here is a list of artists who worked in Etretat (a link "⇠" to their work will appear when published).
🇫🇷 Boudan, Louis *⇠
🇫🇷 Boudin, Eugene-Louis ⇠
🇫🇷 Braque, Georges ⇠
🇫🇷 Burel, Henry E. ⇠
🇫🇷 Caillebotte, Gustave ⇠
🇫🇷 Courbet, Gustave ⇠
🇫🇷 de Saint-Delis, Rene ⇠
🇫🇷 Friesz, Othon ⇠
🇫🇷 Gudin, Theodore ⇠
🇫🇷 Hoguet, Charles ⇠
🇫🇷 Huet, Paul ⇠
🇺🇸 Inness, George ⇠
🇫🇷 Isabey, Eugene ⇠
🇳🇱 Jongkind, Johan ⇠
🇬🇧 Kay, James ⇠
🇫🇷 Lebasque, Henri ⇠
🇫🇷 Lebourg, Albert ⇠
🇫🇷 Lepoittevin, Eugene ⇠
🇫🇷 Loiseau, Gustave ⇠
🇫🇷 Matisse, Henri ⇠
🇫🇷 Maufra, Maxime ⇠
🇫🇷 Maze, Paul ⇠
🇫🇷 Monet, Claude
🇫🇷 Noel, Alexandre Jean
🇷🇺 Polenov, Vasily
🇫🇷 Roullet, Gaston
🇫🇷 Schuffenecker, Claude-Emile
🇫🇷 Signac, Paul
🇨🇭 Vallotton, Felix
🇫🇷 Vollon, Antoine
NOTE: You can subscribe to our new articles by entering your email address in the box on the right column (or at the very bottom of this article) and clicking on the button "Subscribe".

You will need to check your incoming emails and validate your subscription. If you can't see an email from us, check your Spam folder. Without validating your email address, you will not get notifications from us. WE WILL NEVER GIVE YOUR EMAIL ADDRESSES TO ANYONE!
Related Posts