This page forms part of a series of pages dedicated to the many artists who worked in Etretat. A full list of all the artists with a link to their works can be found at the bottom of this page.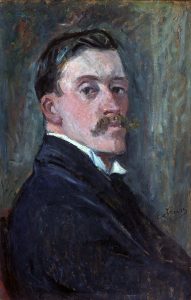 Movement(s): Impressionism
Rene de Saint-Delis, 1876 – 1958, was a French painter influenced by the Impressionist movement. He was born in the North of France (Pas-de-Calais) and died in Etretat, Normandy.
His father, an army officer, died in 1881 causing his mother to move to Le Havre with her four children. One of his young brothers, Henri de Saint-Delis, also became an artist-painter.
At his high school in Le Havre, his best friend was the now famous painter Othon Friesz. Attending subsequent art schools, he friended the other famous Le Havre painter, Raoul Dufy.
During WWI he was stationed in Etretat as bookkeeper for the hospital where he met his wife, a nurse. He married her and stayed in Etretat.
He travelled a lot to Switzerland to visit his sick brother who was diagnosed with tuberculosis. There, he painted several Swiss landscapes together with his brother.
NOTE: Click on any image below for a bigger version (no new window will open).
NOTE: A black box like this one, means that there is an explanation text about today's situation of the painting above it.
NOTE: Click on this photo icon
anywhere below a painting to see a photo of what the area looks like today.
NOTE: A blue box like this one, means there is an explanation or a note.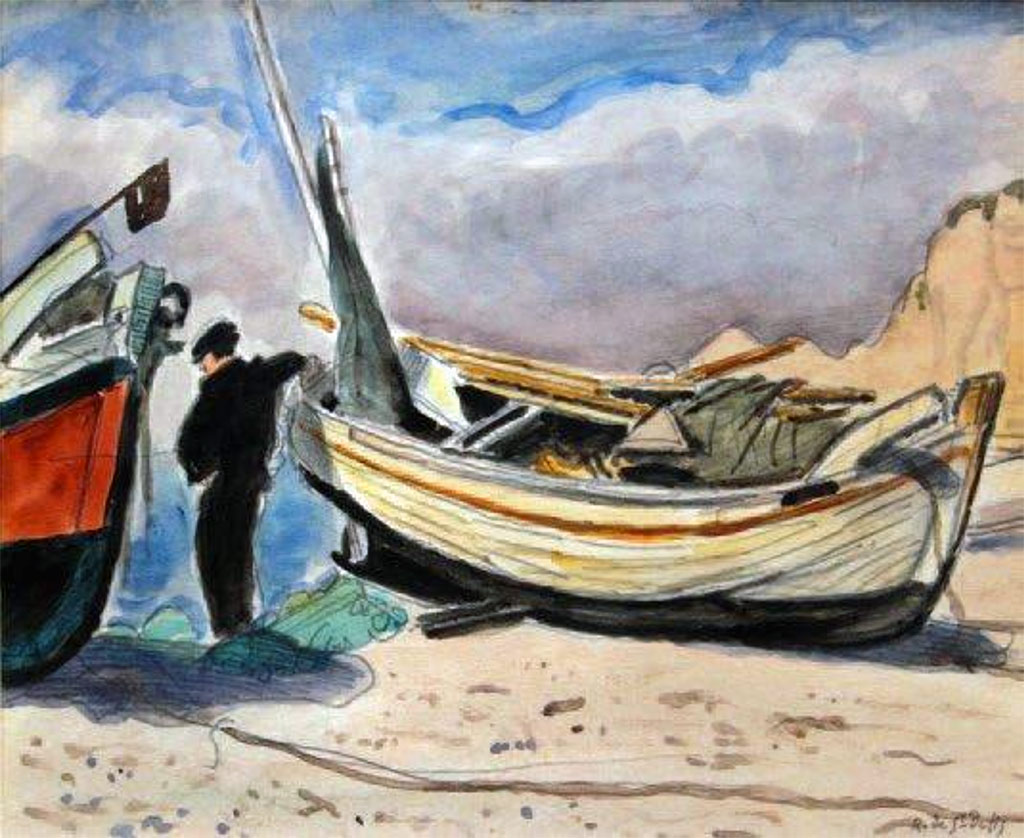 NOTE: Etretat does not have an harbor but has fishing boats. They are dragged onto the beach when not in use.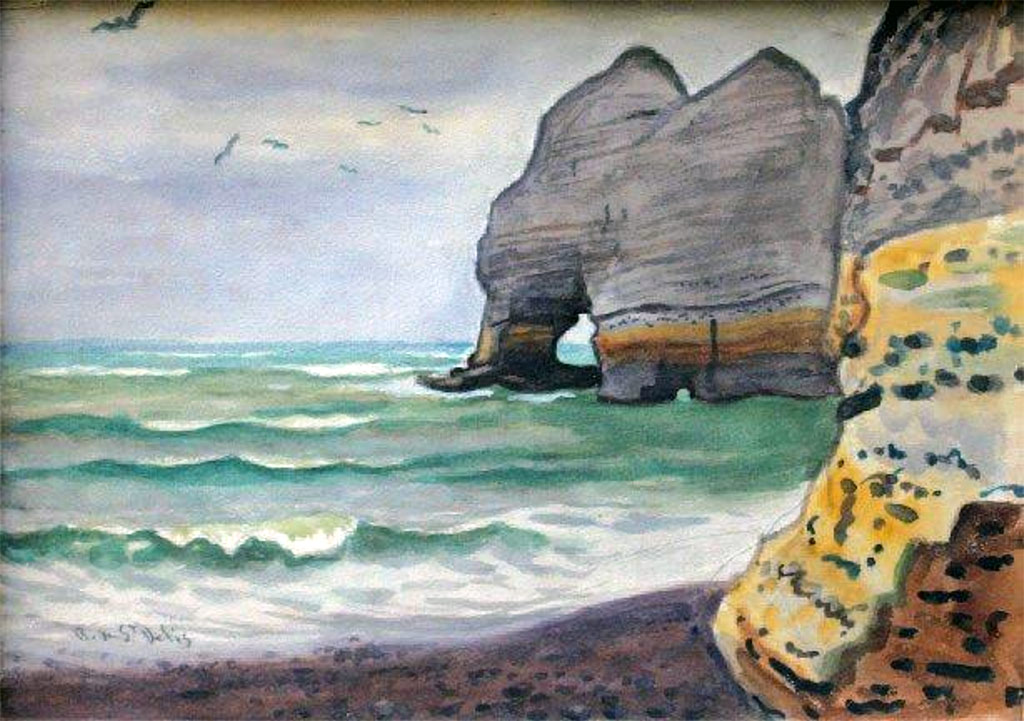 NOTE: The Porte d'Amont is a sea arch that lies to the right of the beach of Etretat.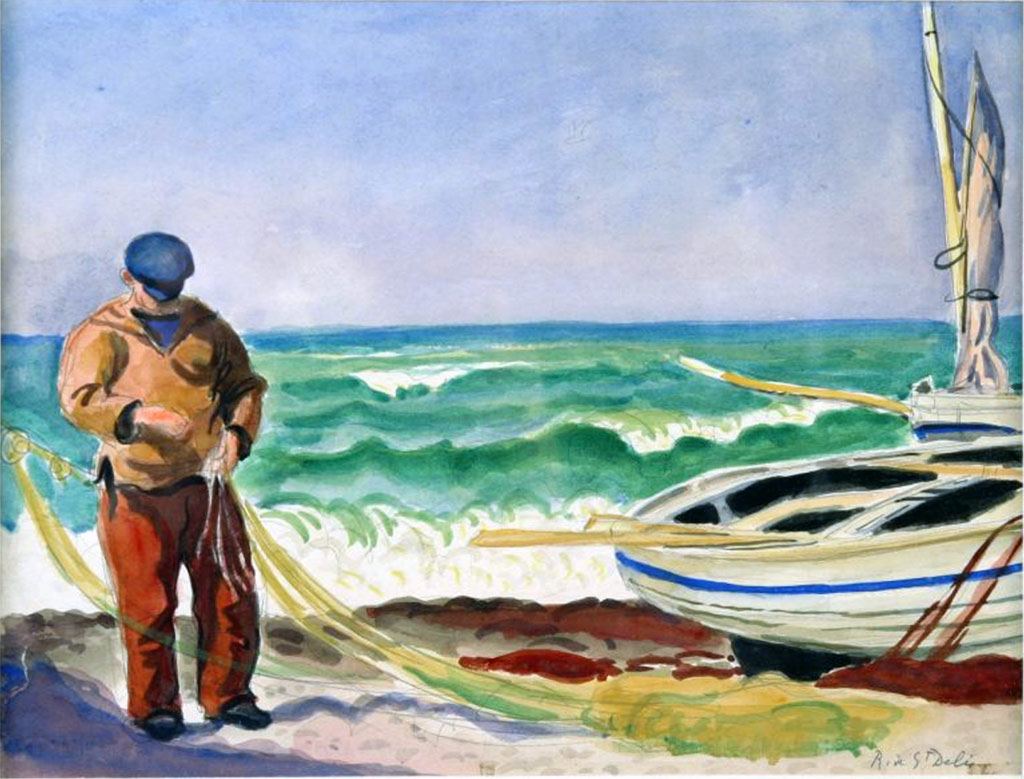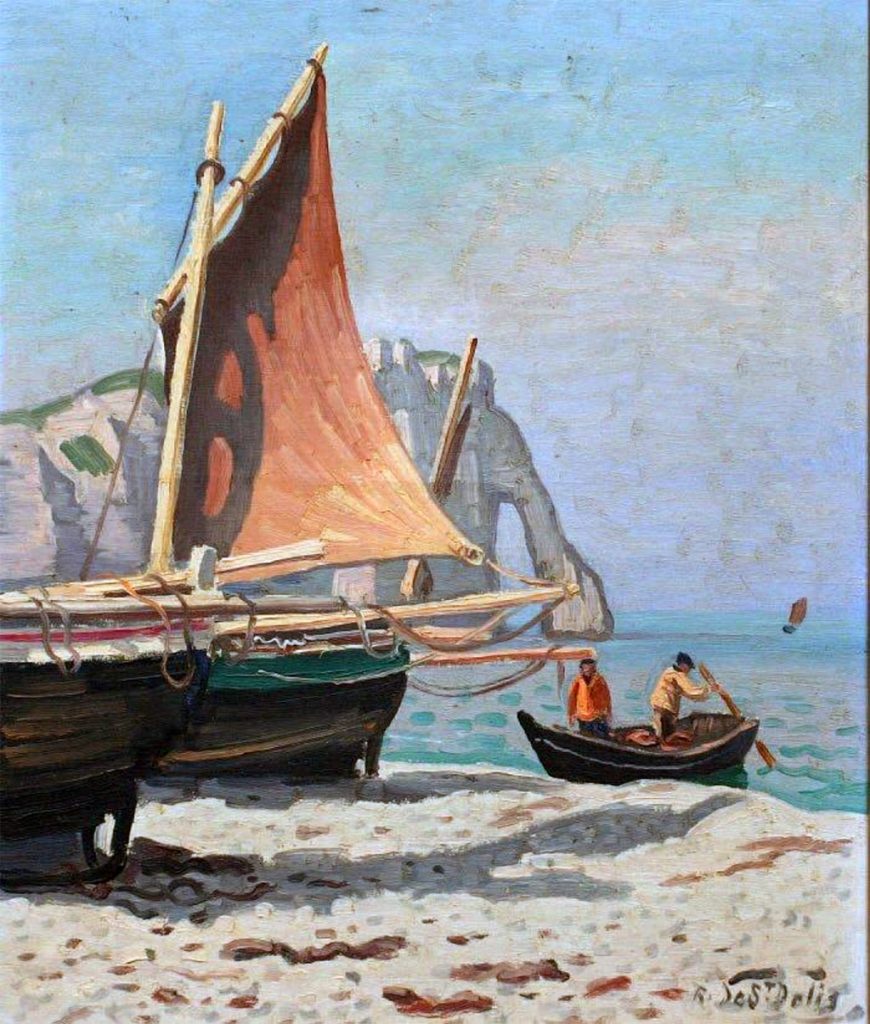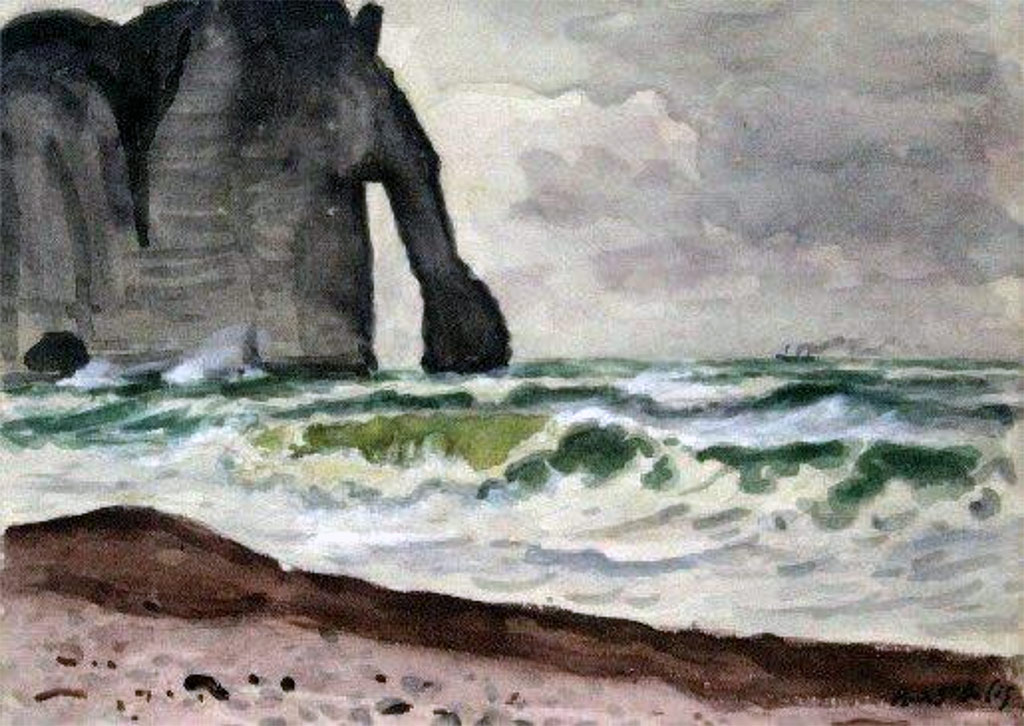 TODAY: The Porte d'Aval is the most visible of three sea arches at Etretat. It lies to the left of the Etretat beach.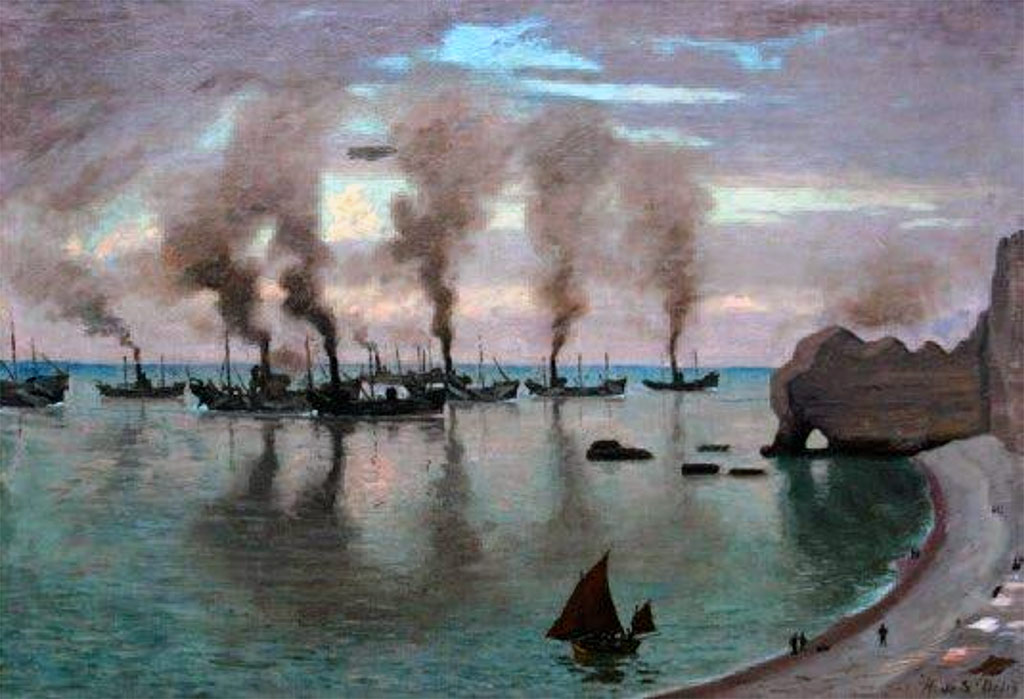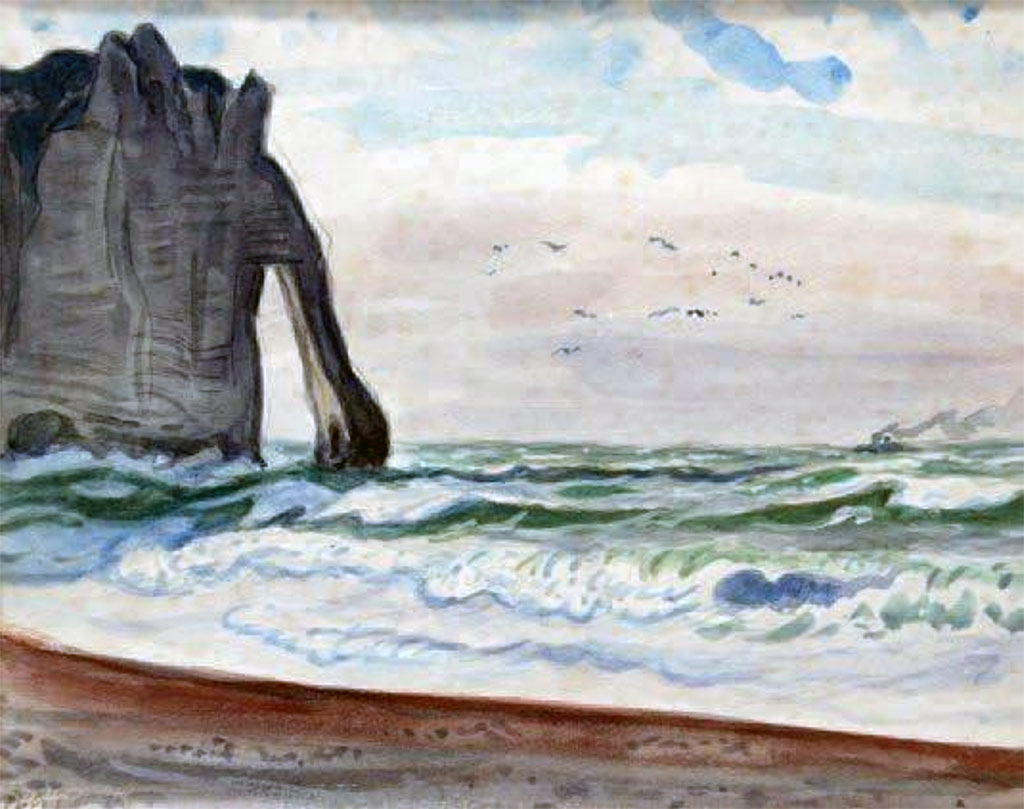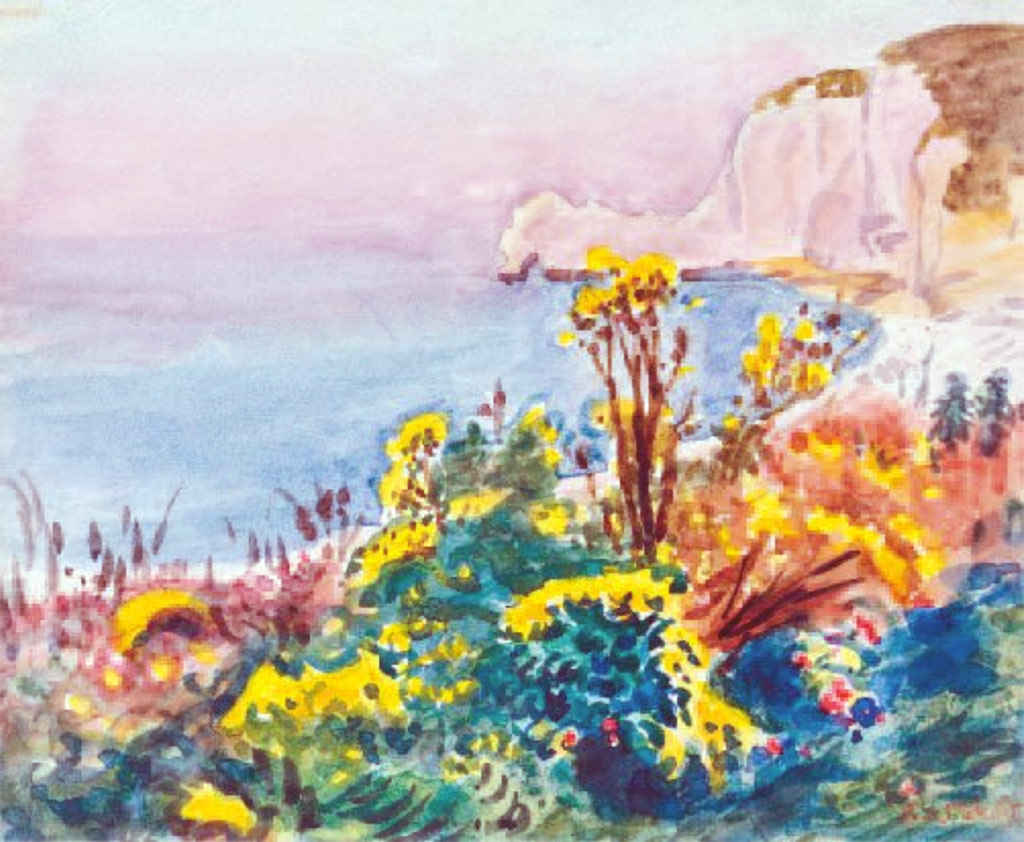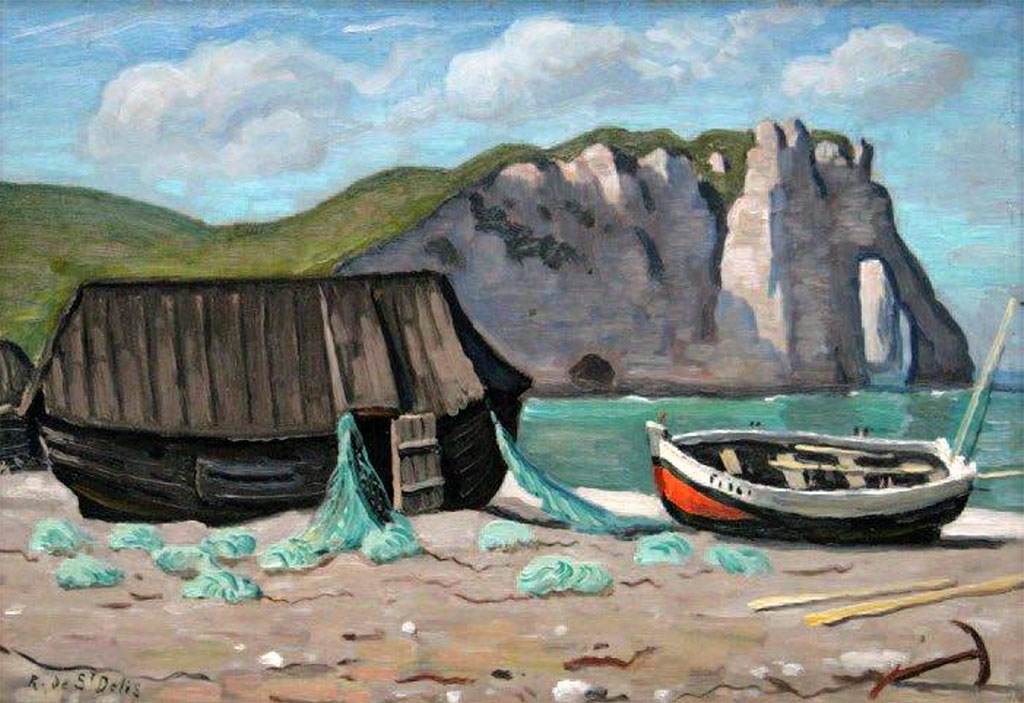 NOTE: A caloge is a former fishing boat, covered with a roof, used to keep fishing materials dry.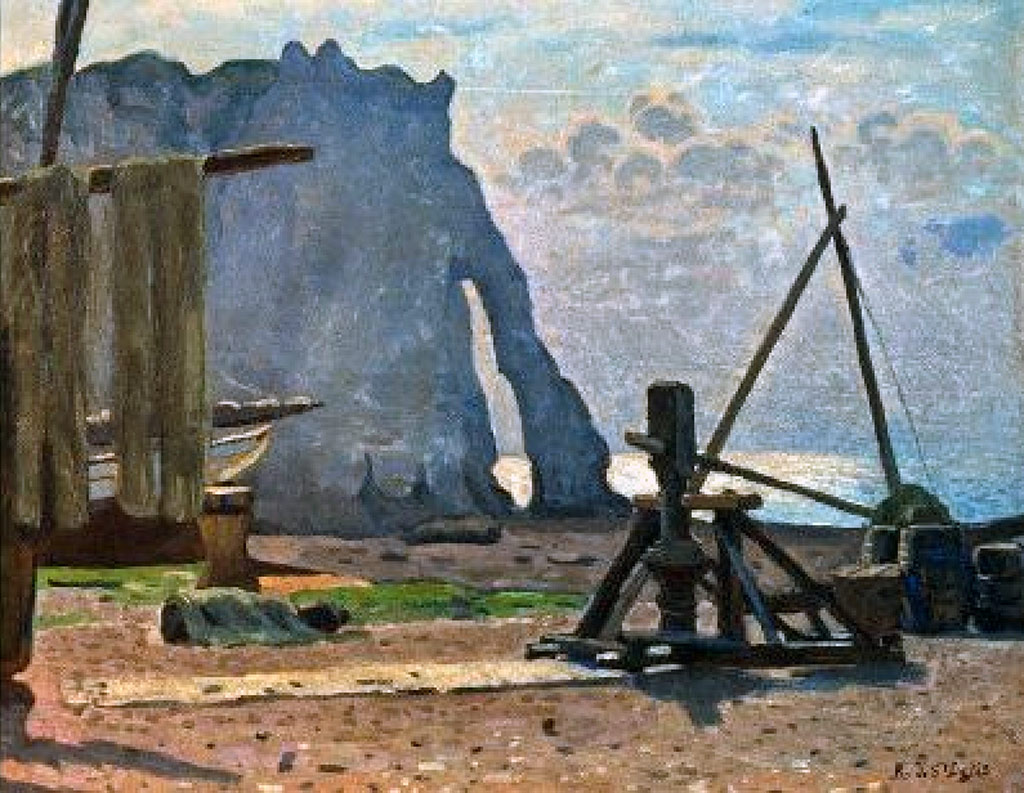 Rene de Saint-Delis painted mostly in Normandy. These are the places where he painted (a link "⇠" to his works will appear below when published):
Etretat is the second most popular and visited place in Normandy (the first being Mont Saint-Michel). And since it was popular, many artists came here to be inspired by its nature and scenic environments. Here is a list of artists who worked in Etretat (a link "⇠" to their work will appear when published).
🇫🇷 Boudan, Louis *⇠
🇫🇷 Boudin, Eugene-Louis ⇠
🇫🇷 Braque, Georges ⇠
🇫🇷 Burel, Henry E. ⇠
🇫🇷 Caillebotte, Gustave ⇠
🇫🇷 Courbet, Gustave ⇠
🇫🇷 de Saint-Delis, Rene ⇠
🇫🇷 Friesz, Othon ⇠
🇫🇷 Gudin, Theodore ⇠
🇫🇷 Hoguet, Charles ⇠
🇫🇷 Huet, Paul ⇠
🇺🇸 Inness, George ⇠
🇫🇷 Isabey, Eugene ⇠
🇳🇱 Jongkind, Johan ⇠
🇬🇧 Kay, James ⇠
🇫🇷 Lebasque, Henri ⇠
🇫🇷 Lebourg, Albert ⇠
🇫🇷 Lepoittevin, Eugene ⇠
🇫🇷 Loiseau, Gustave ⇠
🇫🇷 Matisse, Henri ⇠
🇫🇷 Maufra, Maxime ⇠
🇫🇷 Maze, Paul ⇠
🇫🇷 Monet, Claude
🇫🇷 Noel, Alexandre Jean
🇷🇺 Polenov, Vasily
🇫🇷 Roullet, Gaston
🇫🇷 Schuffenecker, Claude-Emile
🇫🇷 Signac, Paul
🇨🇭 Vallotton, Felix
🇫🇷 Vollon, Antoine
NOTE: You can subscribe to our new articles by entering your email address in the box on the right column (or at the very bottom of this article) and clicking on the button "Subscribe".

You will need to check your incoming emails and validate your subscription. If you can't see an email from us, check your Spam folder. Without validating your email address, you will not get notifications from us. WE WILL NEVER GIVE YOUR EMAIL ADDRESSES TO ANYONE!
Related Posts