This page forms part of a series of pages dedicated to the many artists who worked in Etretat. A full list of all the artists with a link to their works can be found at the bottom of this page.
Movement(s): Fauvism, Modernism, Post Impressionism
Henri Emile Benoit Matisse (1869 – 1954) was a French visual artist, known for both his use of colour and his fluid and original draughtsmanship. Matisse is commonly regarded, along with Pablo Picasso, as one of the artists who best helped to define the revolutionary developments in the visual arts throughout the opening decades of the twentieth century, responsible for significant developments in painting and sculpture.
The intense colourism of the works he painted between 1900 and 1905 brought him notoriety as one of the Fauves (French for "wild beasts"). Many of his finest works were created in the decade or so after 1906, when he developed a rigorous style that emphasised flattened forms and decorative pattern. In 1917, he relocated to a suburb of Nice on the French Riviera, and the more relaxed style of his work during the 1920s gained him critical acclaim as an upholder of the classical tradition in French painting.
Matisse was born in Le Cateau-Cambresis, in the Nord department in Northern France on New Year's Eve in 1869, the oldest son of a wealthy grain merchant. He grew up in Bohain-en-Vermandois, Picardie, France. In 1887, he went to Paris to study law, working as a court administrator in Le Cateau-Cambresis after gaining his qualification. He first started to paint in 1889, after his mother brought him art supplies during a period of convalescence following an attack of appendicitis. He discovered "a kind of paradise" as he later described it, and decided to become an artist, deeply disappointing his father.
In 1896, Matisse, an unknown art student at the time, visited the Australian painter John Russell on the island Belle Ile off the coast of Brittany. Russell introduced him to Impressionism and to the work of Vincent van Gogh—who had been a friend of Russell—and gave him a Van Gogh drawing. Matisse's style changed completely; abandoning his earth-coloured palette for bright colours.
With the model Caroline Joblau, he had a daughter, Marguerite, born in 1894. In 1898, he married Amelie Noellie Parayre; the two raised Marguerite together and had two sons, Jean (born 1899) and Pierre (born 1900). Marguerite and Amelie often served as models for Matisse.
In 1898, on the advice of Camille Pissarro, he went to London to study the paintings of J. M. W. Turner and then went on a trip to Corsica. Upon his return to Paris in February 1899, he worked beside Albert Marquet and met Andre Derain, Jean Puy, and Jules Flandrin. Matisse immersed himself in the work of others and went into debt from buying work from painters he admired. The work he hung and displayed in his home included a plaster bust by Rodin, a painting by Gauguin, a drawing by Van Gogh, and Cezanne's Three Bathers. In Cezanne's sense of pictorial structure and colour, Matisse found his main inspiration.
Around April 1906, Matisse met Pablo Picasso, who was 11 years his junior. The two became lifelong friends as well as rivals and are often compared. One key difference between them is that Matisse drew and painted from nature, while Picasso was more inclined to work from imagination. The subjects painted most frequently by both artists were women and still lifes, with Matisse more likely to place his figures in fully realised interiors.
Matisse died of a heart attack at the age of 84 on 3 November 1954. He is buried in the cemetery of the Monastère Notre Dame de Cimiez, in the Cimiez neighbourhood of Nice.
Click here to read Matisse's full bio on Wikipedia.
NOTE: Click on any image below for a bigger version (no new window will open).
NOTE: A black box like this one, means that there is an explanation text about today's situation of the painting above it.
NOTE: Click on this photo icon
anywhere below a painting to see a photo of what the area looks like today.
NOTE: A blue box like this one, means there is an explanation or a note.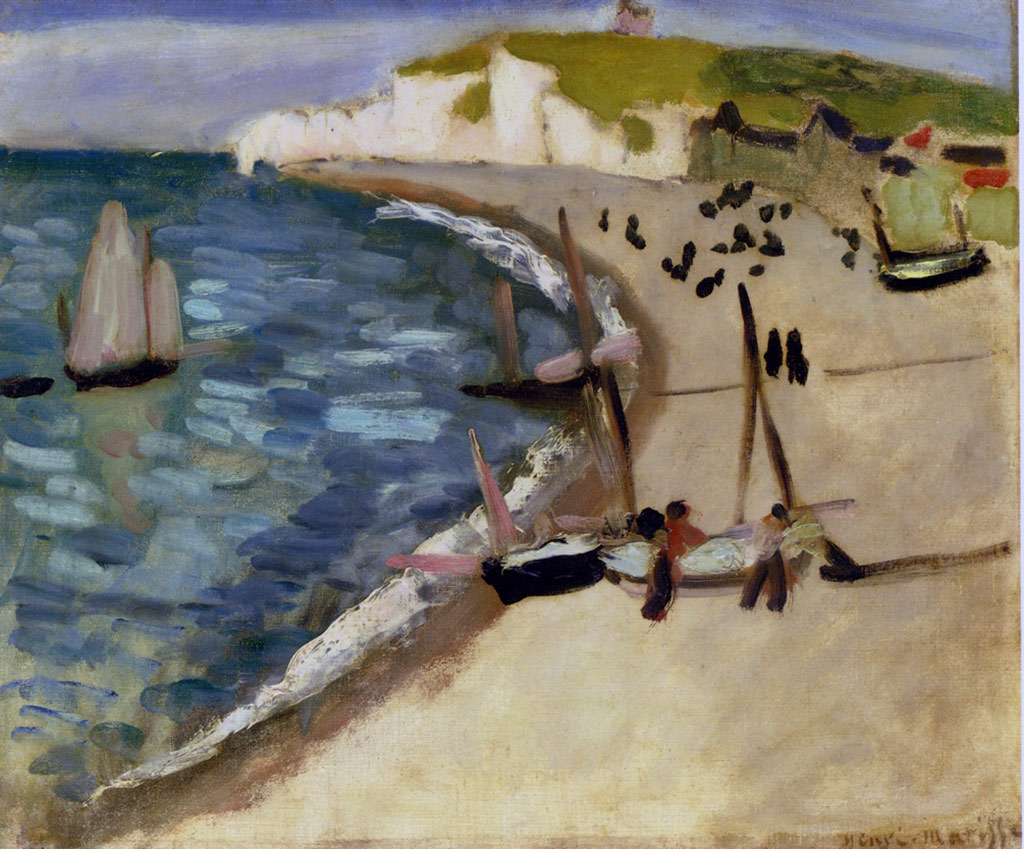 NOTE: Etretat does not have an harbor but has fishing boats. They are dragged onto the beach when not in use.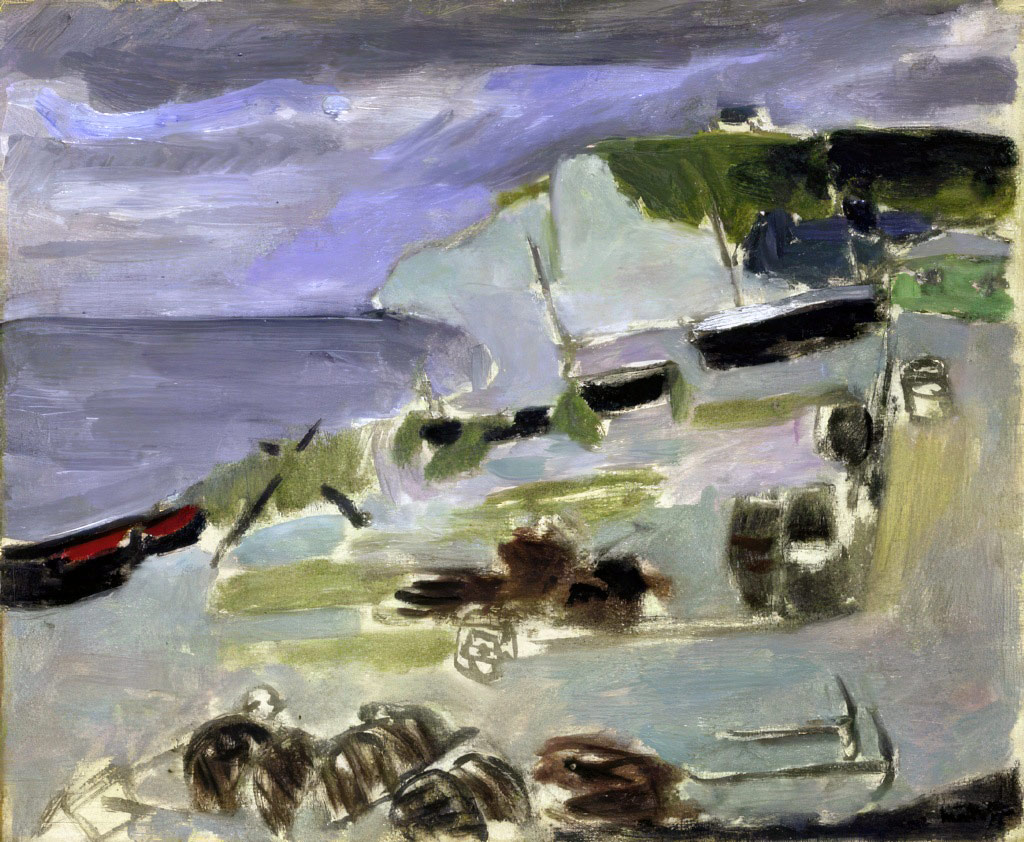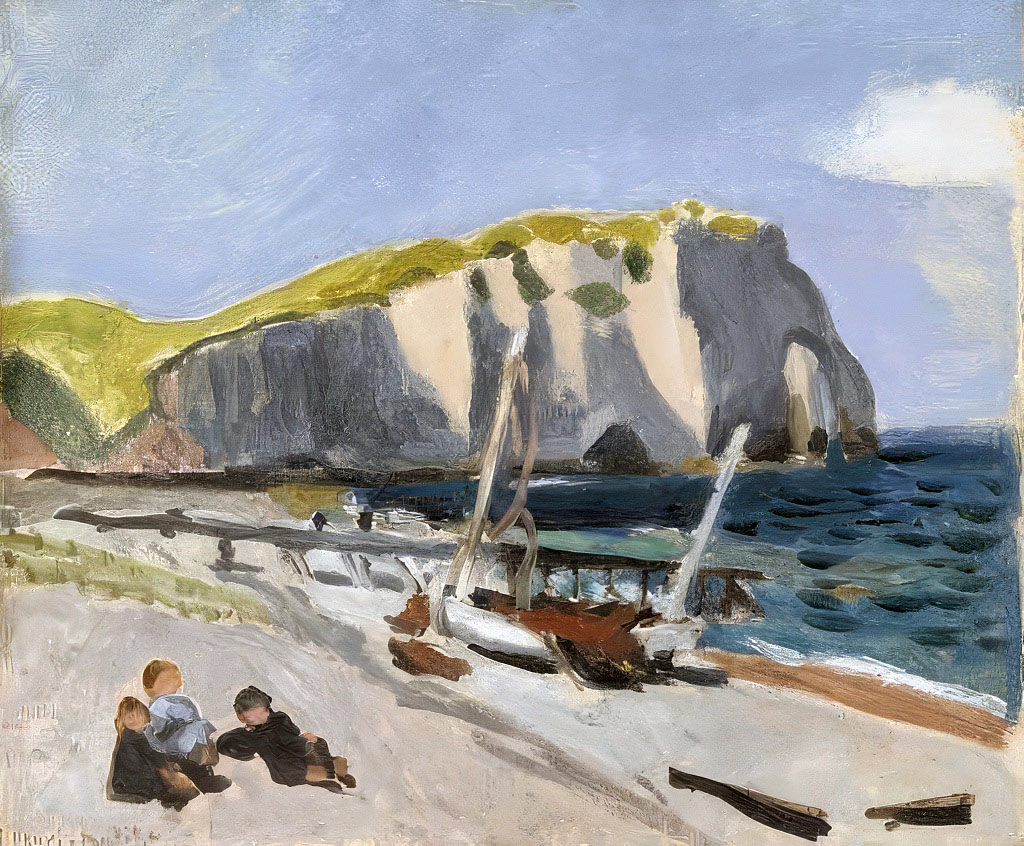 TODAY: The Porte d'Aval is the most visible of three sea arches at Etretat. It lies to the left of the Etretat beach.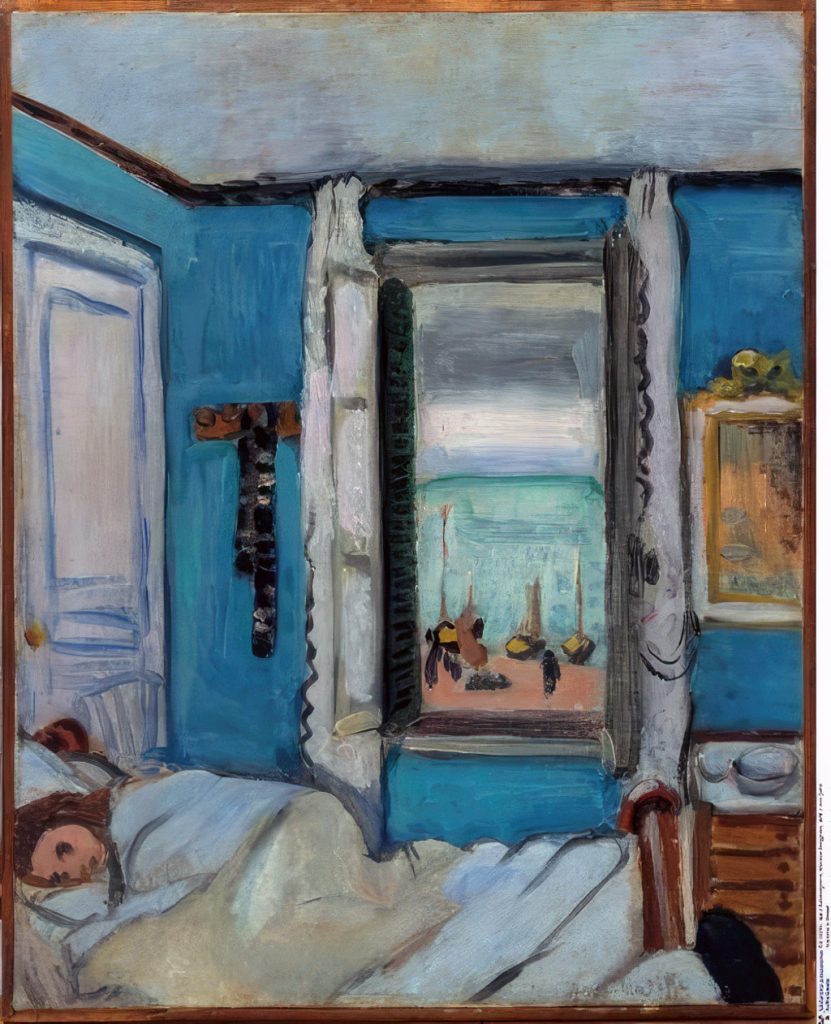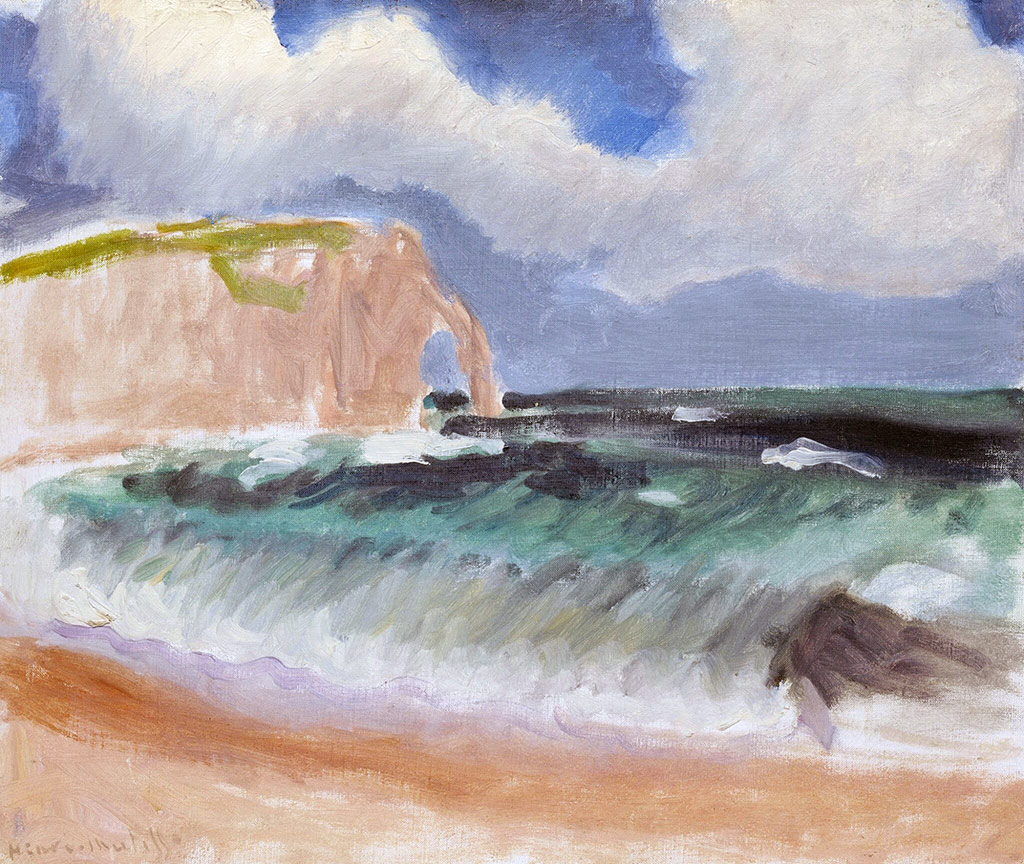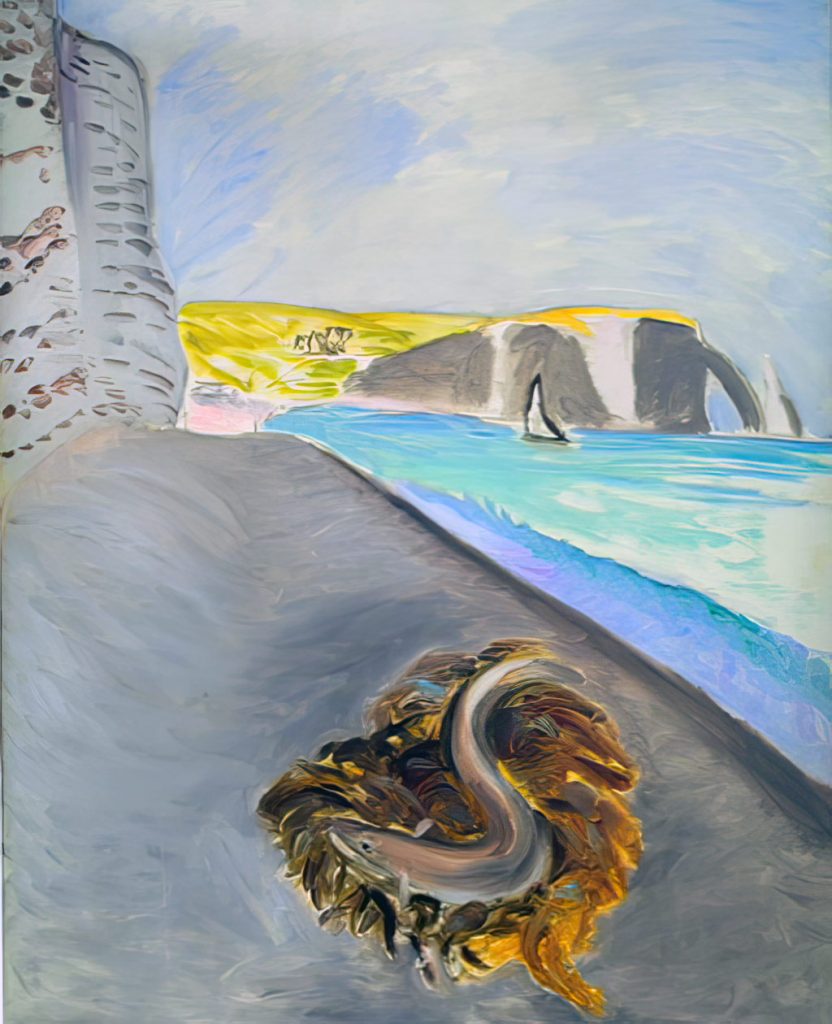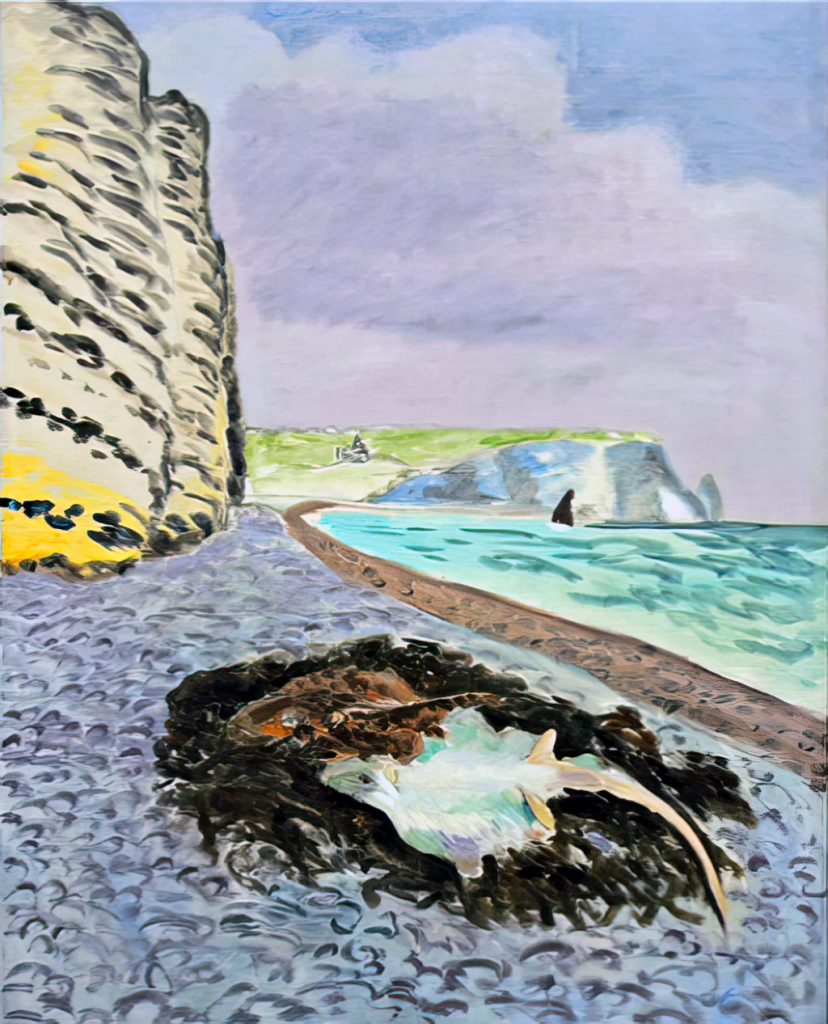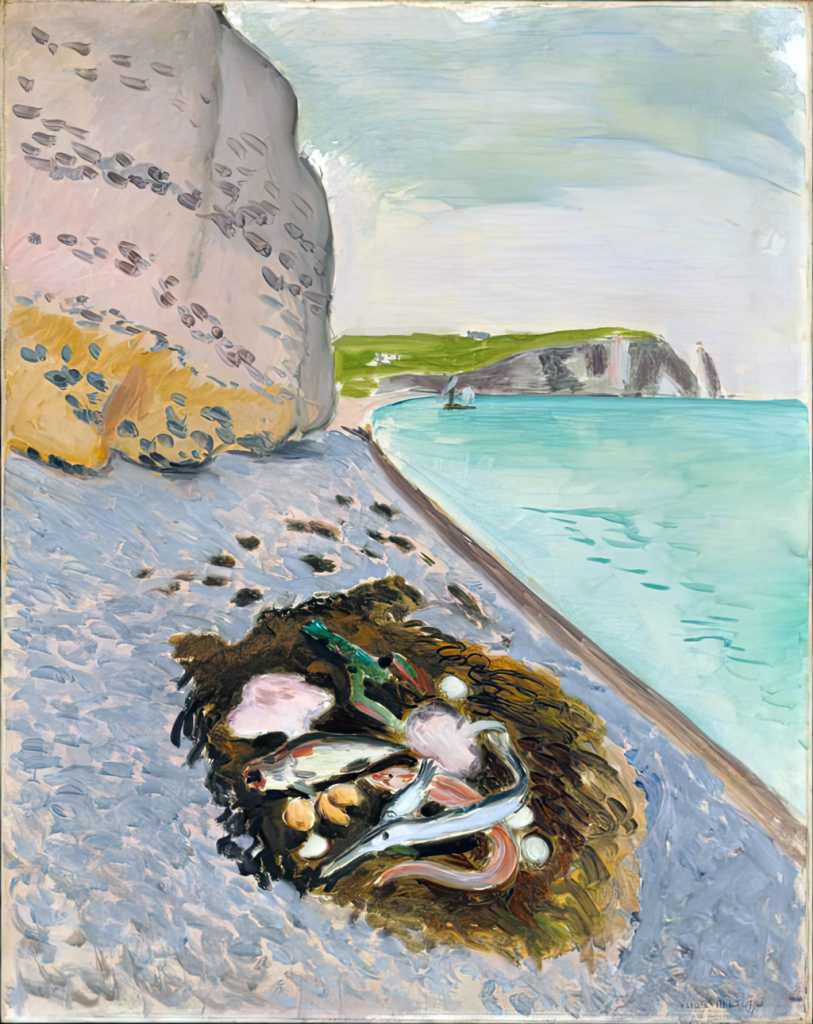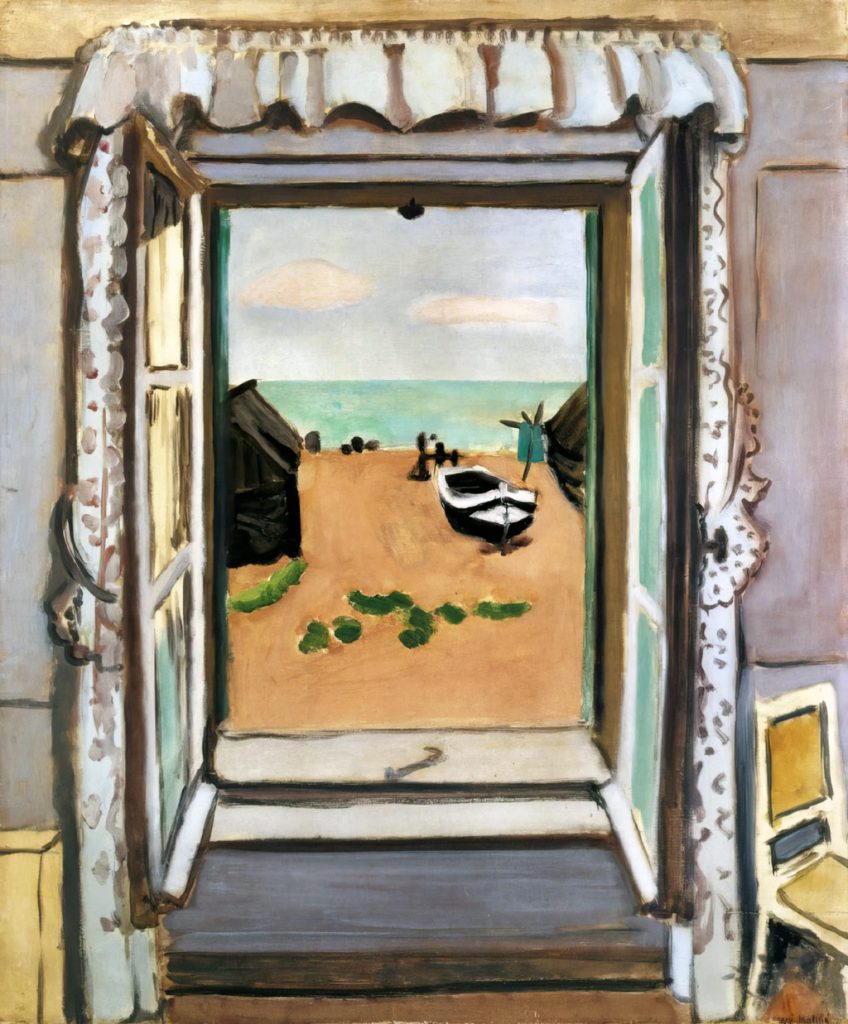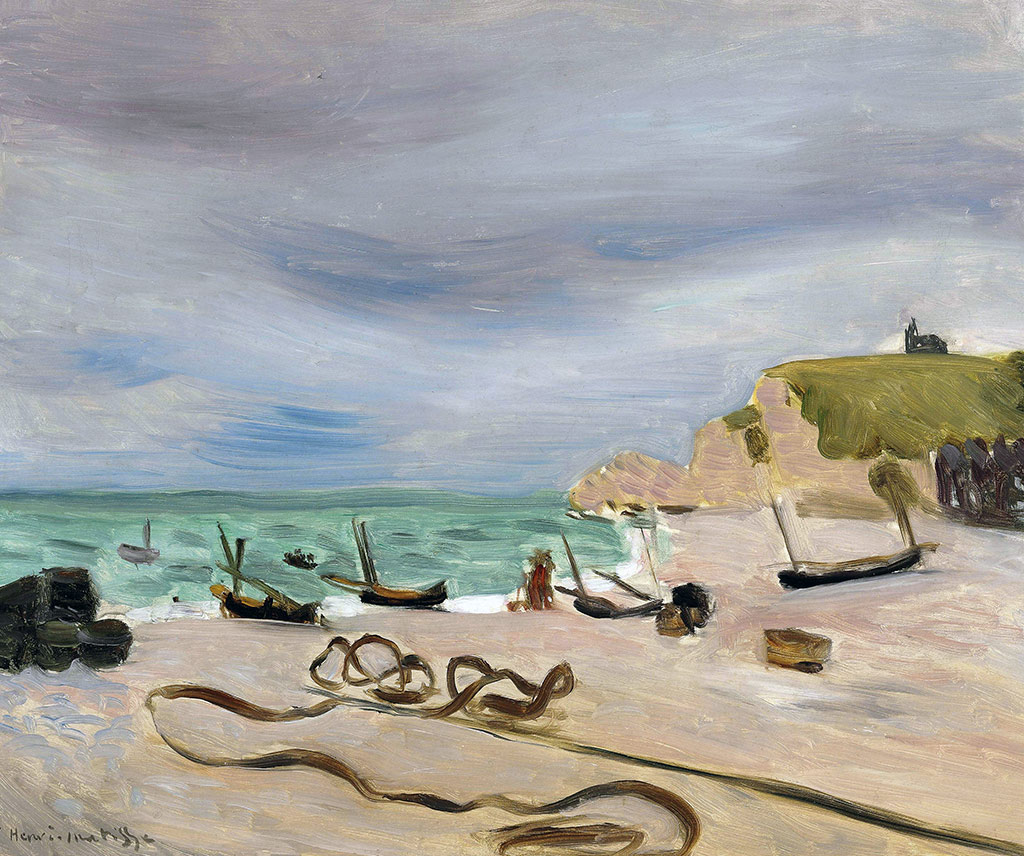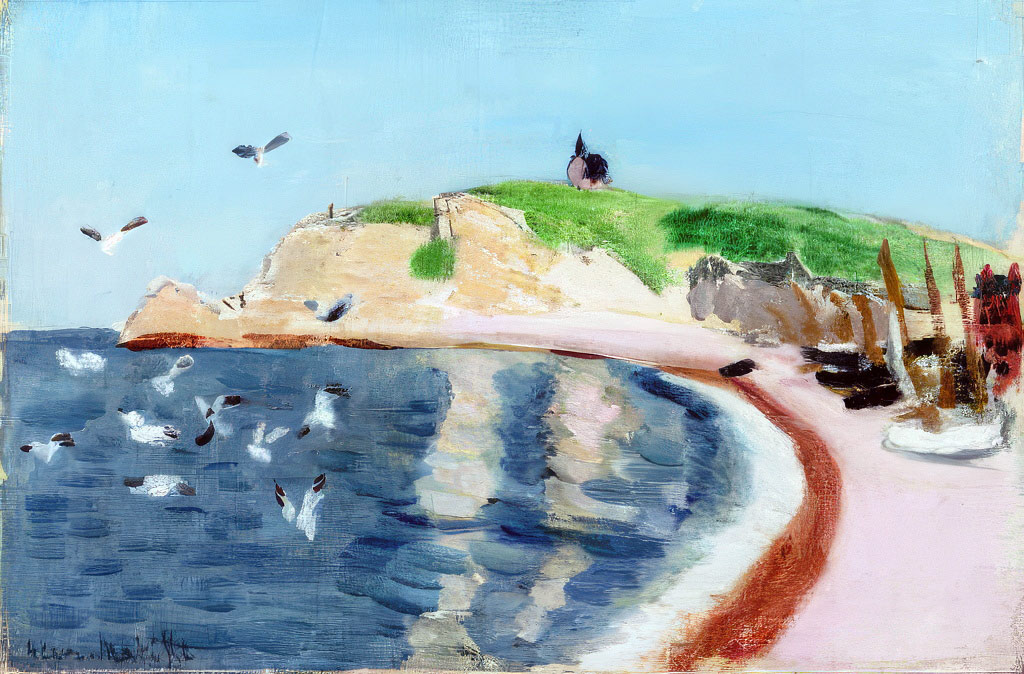 TODAY: The Notre-Dame-de-la-Garde chapel (built in 1854) on the cliff is still there. It is a seamen's chapel, but was greatly destroyed in WWII by the Germans and rebuilt in 1950.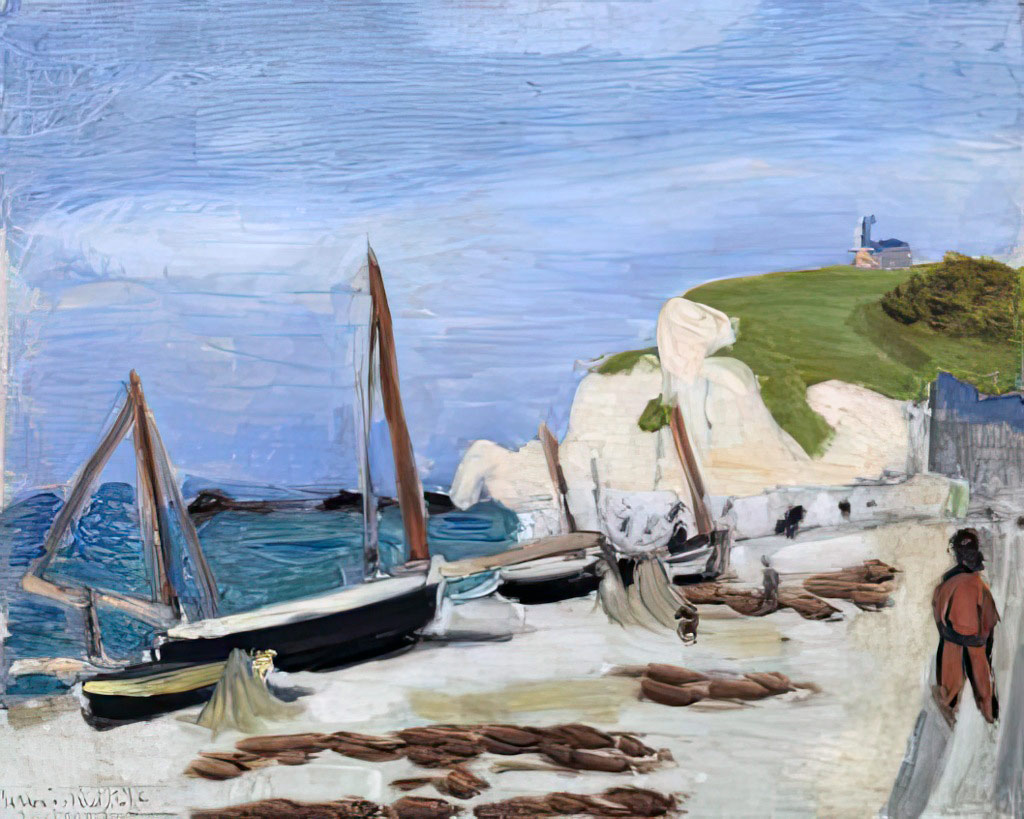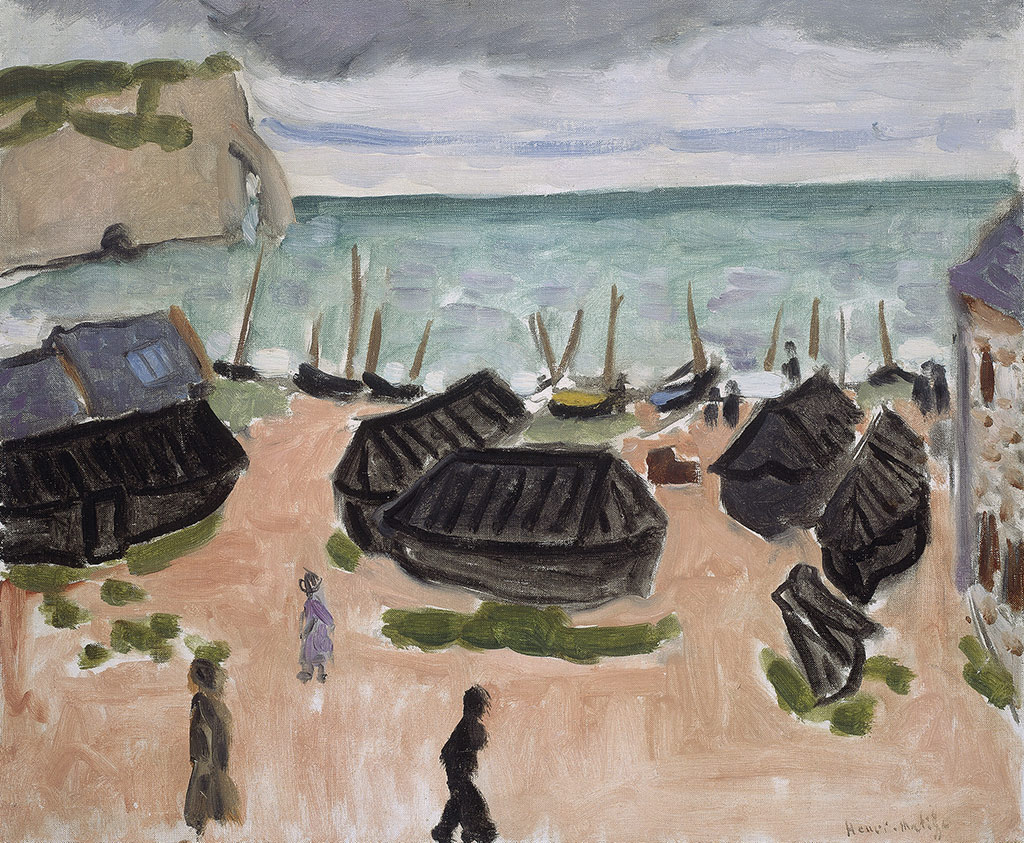 NOTE: A caloge is a former fishing boat, covered with a roof, used to keep fishing materials dry.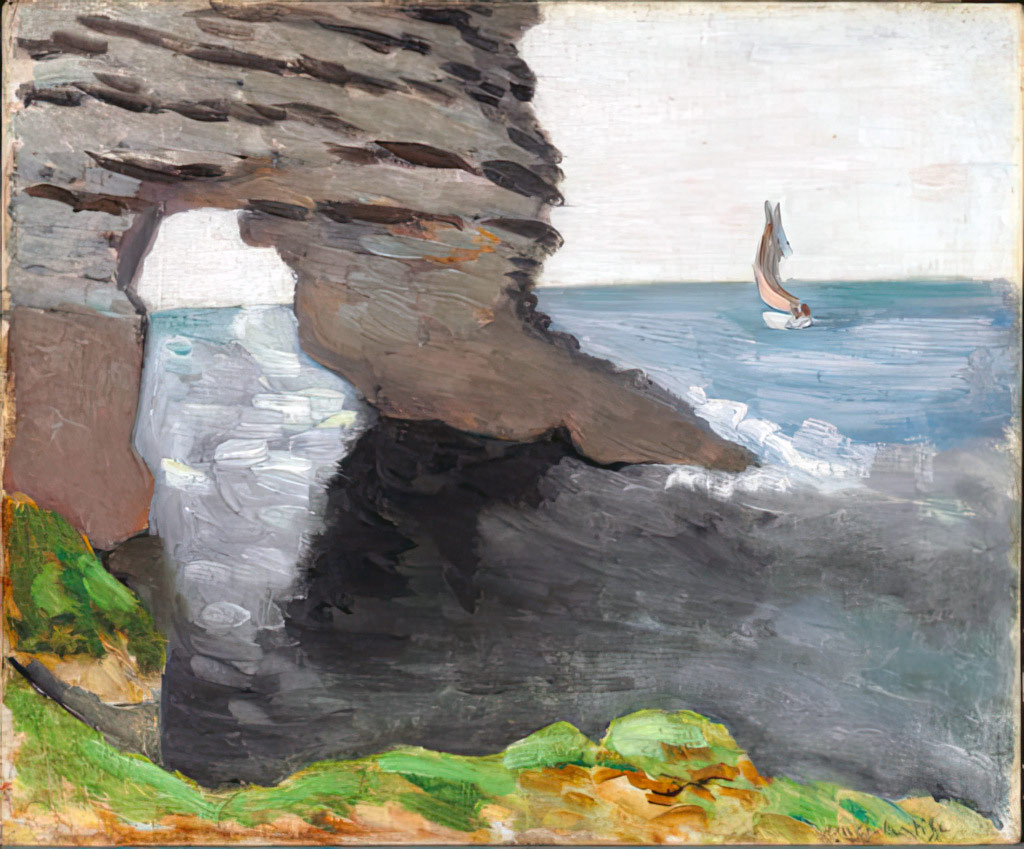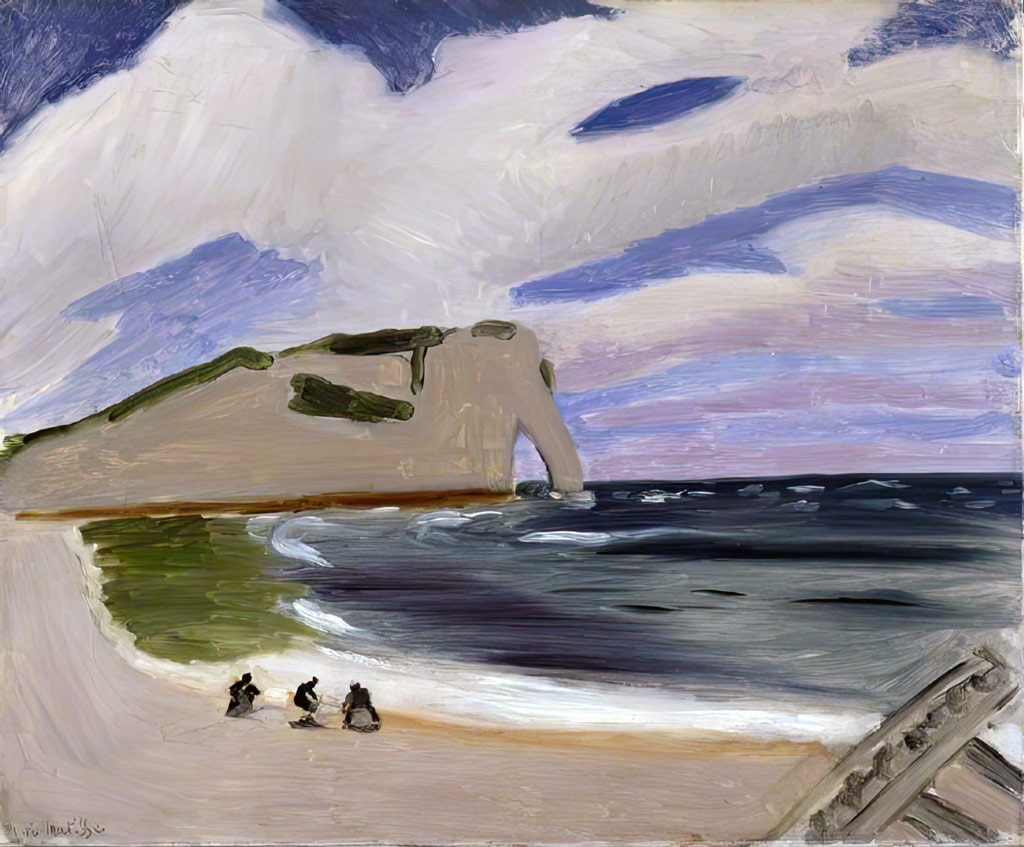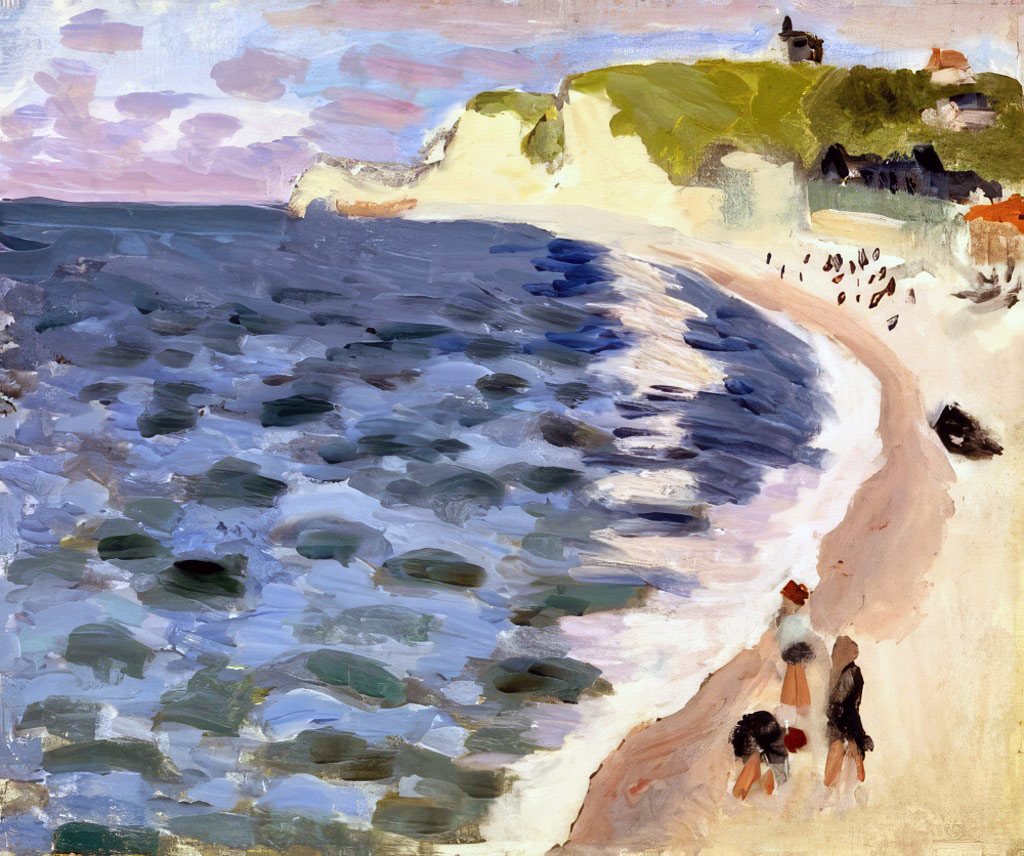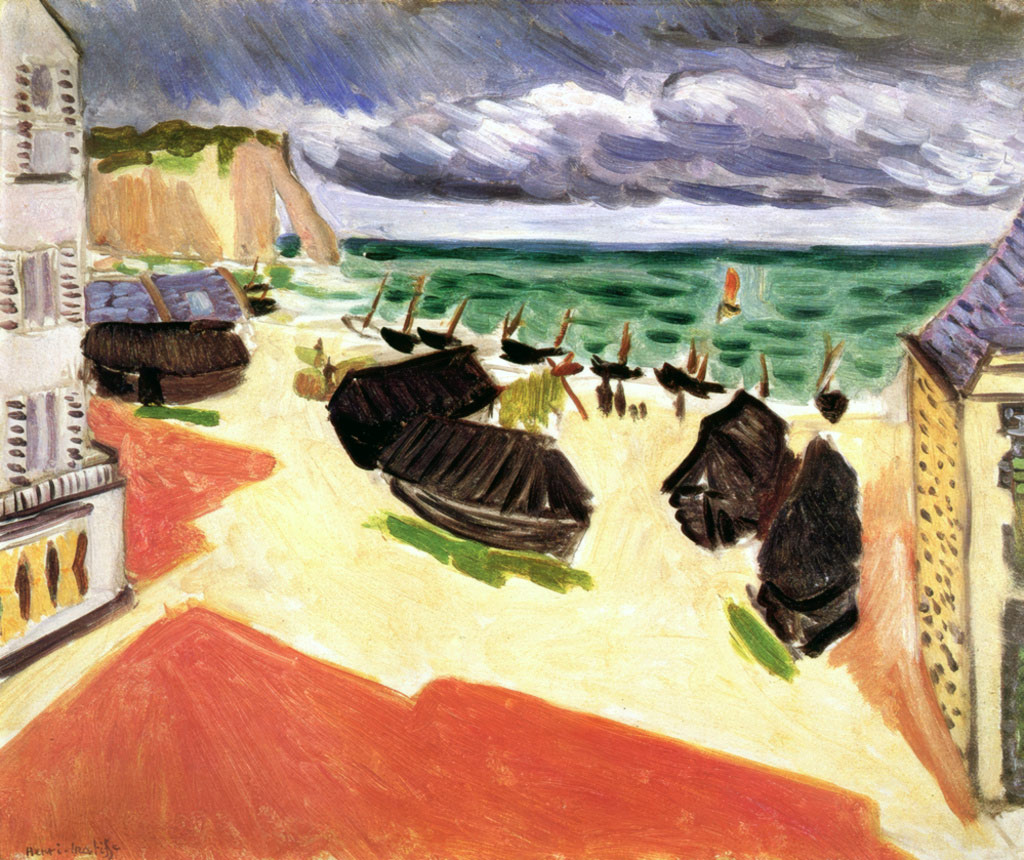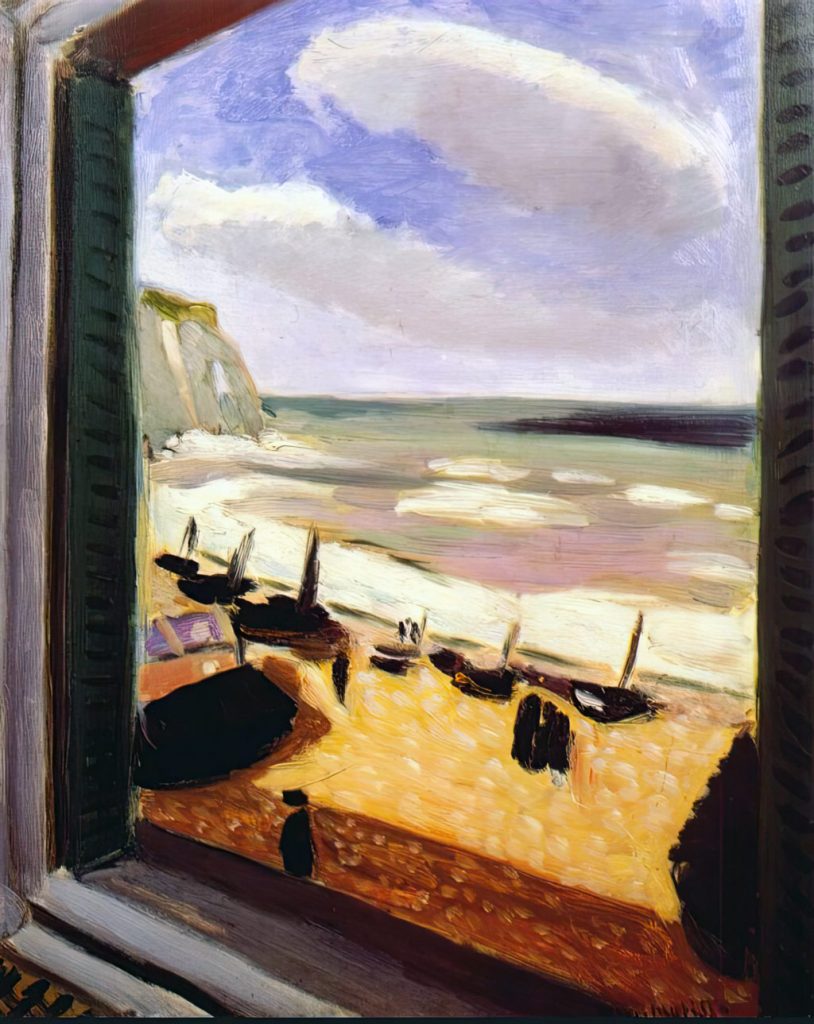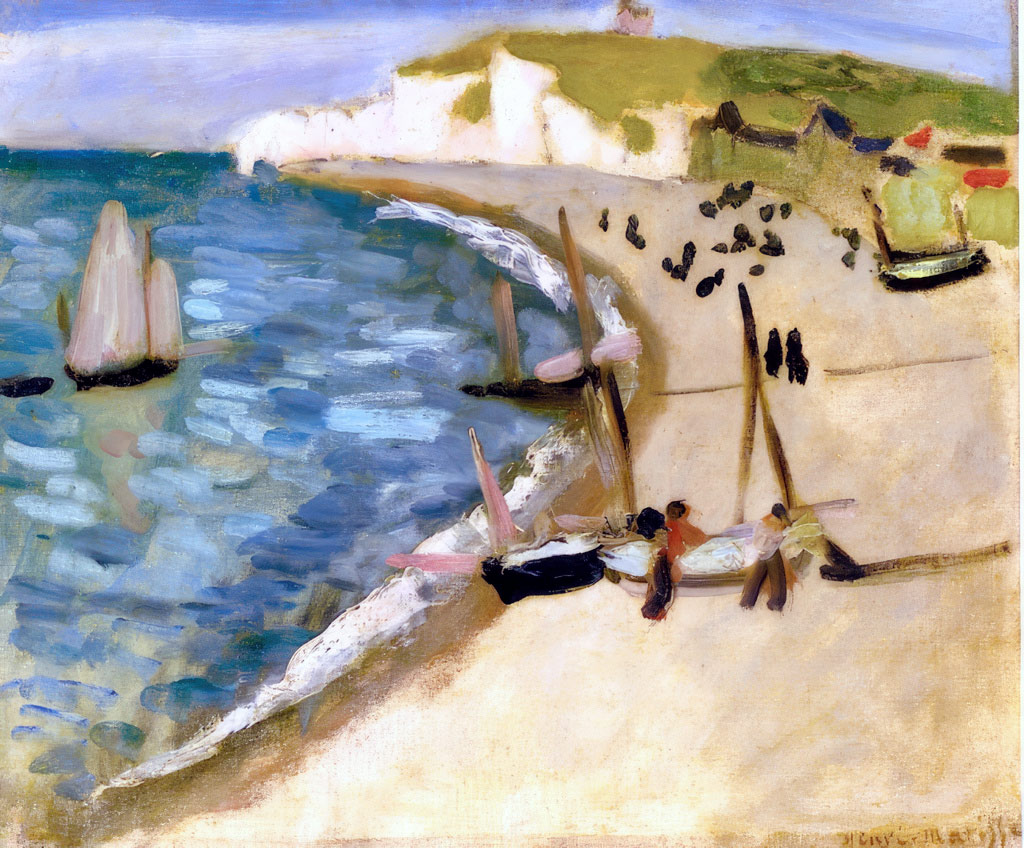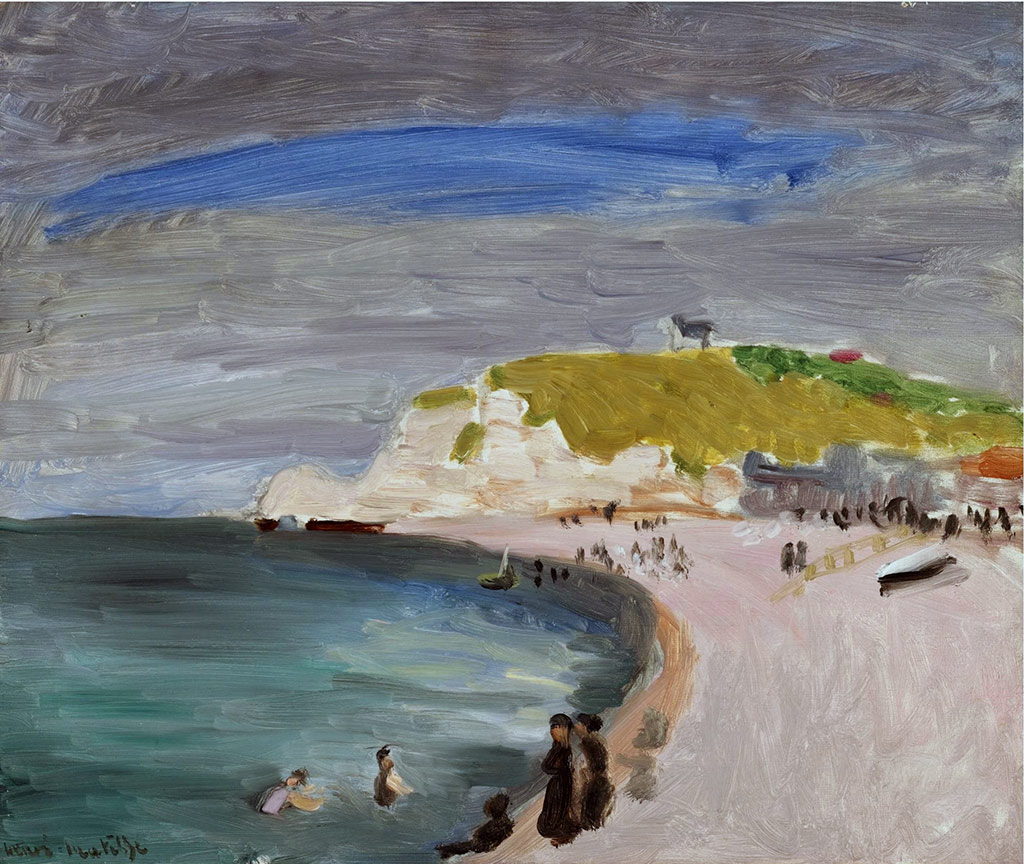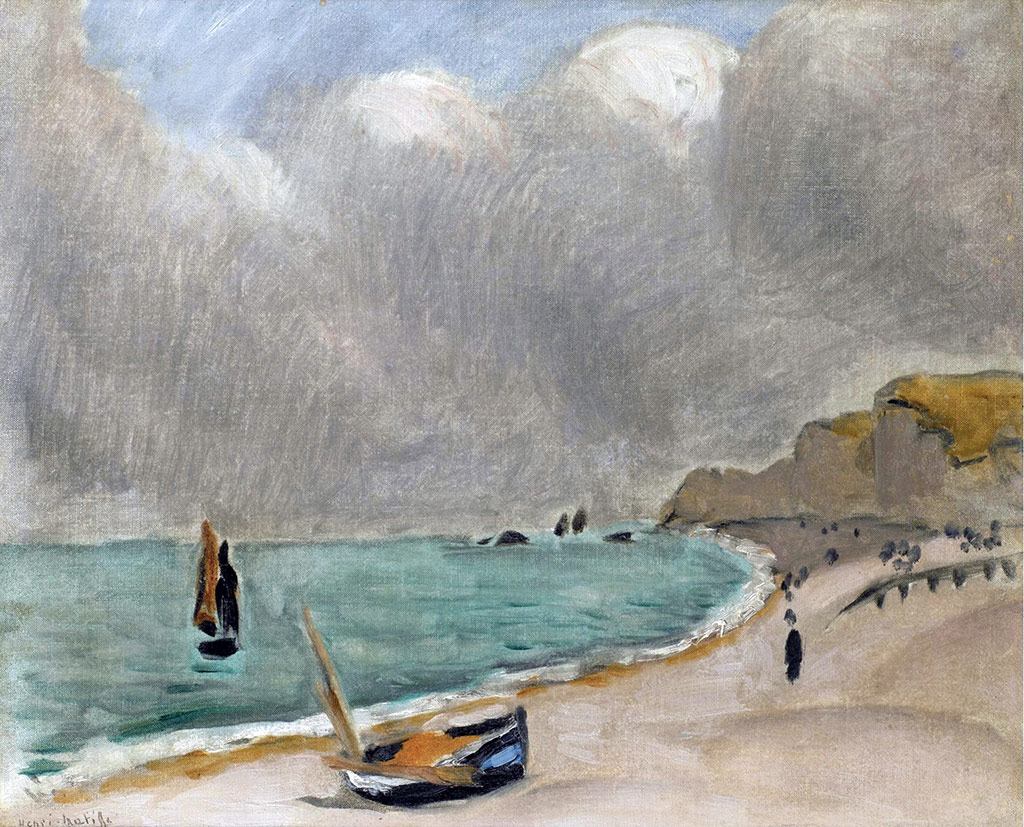 Henri Matisse painted all over France, but most notably in Southern France. Here are all the places he painted in (a link "⇠" to his works will appear when published).
Brittany
Centre Val-de-Loire
Corsica
Normandy
Occitanie
Provence-Alpes-Cote d'Azur

Antibes
Cagnes-sur-Mer
Nice
Saint-Tropez
Etretat is the second most popular and visited place in Normandy (the first being Mont Saint-Michel). And since it was popular, many artists came here to be inspired by its nature and scenic environments. Here is a list of artists who worked in Etretat (a link "⇠" to their work will appear when published).
🇫🇷 Boudan, Louis *⇠
🇫🇷 Boudin, Eugene-Louis ⇠
🇫🇷 Braque, Georges ⇠
🇫🇷 Burel, Henry E. ⇠
🇫🇷 Caillebotte, Gustave ⇠
🇫🇷 Courbet, Gustave ⇠
🇫🇷 de Saint-Delis, Rene ⇠
🇫🇷 Friesz, Othon ⇠
🇫🇷 Gudin, Theodore ⇠
🇫🇷 Hoguet, Charles ⇠
🇫🇷 Huet, Paul ⇠
🇺🇸 Inness, George ⇠
🇫🇷 Isabey, Eugene ⇠
🇳🇱 Jongkind, Johan ⇠
🇬🇧 Kay, James ⇠
🇫🇷 Lebasque, Henri ⇠
🇫🇷 Lebourg, Albert ⇠
🇫🇷 Lepoittevin, Eugene ⇠
🇫🇷 Loiseau, Gustave ⇠
🇫🇷 Matisse, Henri ⇠
🇫🇷 Maufra, Maxime ⇠
🇫🇷 Maze, Paul ⇠
🇫🇷 Monet, Claude
🇫🇷 Noel, Alexandre Jean
🇷🇺 Polenov, Vasily
🇫🇷 Roullet, Gaston
🇫🇷 Schuffenecker, Claude-Emile
🇫🇷 Signac, Paul
🇨🇭 Vallotton, Felix
🇫🇷 Vollon, Antoine
NOTE: You can subscribe to our new articles by entering your email address in the box on the right column (or at the very bottom of this article) and clicking on the button "Subscribe".

You will need to check your incoming emails and validate your subscription. If you can't see an email from us, check your Spam folder. Without validating your email address, you will not get notifications from us. WE WILL NEVER GIVE YOUR EMAIL ADDRESSES TO ANYONE!
Related Posts