This page forms part of a series of pages dedicated to the many artists who worked in Etretat. A full list of all the artists with a link to their works can be found at the bottom of this page.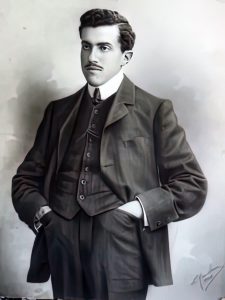 Movement(s): –
Henry E. Burel is the artist's signature of Henri Armand Emile Burel, French painter, poet and illustrator born and died in Fecamp (1883 – 1967). He was at the same time active in Fecamp in the field of drying , packaging and trading of cod.
Henry E. Burel married Blanche Alice Pope on October 17, 1908 in Fecamp, and his two children were born there.
F. Bogers, a soldier based during the First World War in Fecamp where the Belgian army set up an instruction camp, evokes in the house – whose master of the place devotes "a real cult to Monet and Sisley" and touches on poetry in the violin of Ingres – a place frequented by artists and writers, Ernest Hemingway staying there in April 1917 and, in friendly complicity, amusing himself there recomposing poems by Burel in English.
Died March 4, 1967, Henry E. Burel is buried in the cemetery of Fecamp.
You can read more of Henry E. Burel's bio on Wikipedia (in French only).
NOTE: Click on the image below for a bigger version (no new window will open).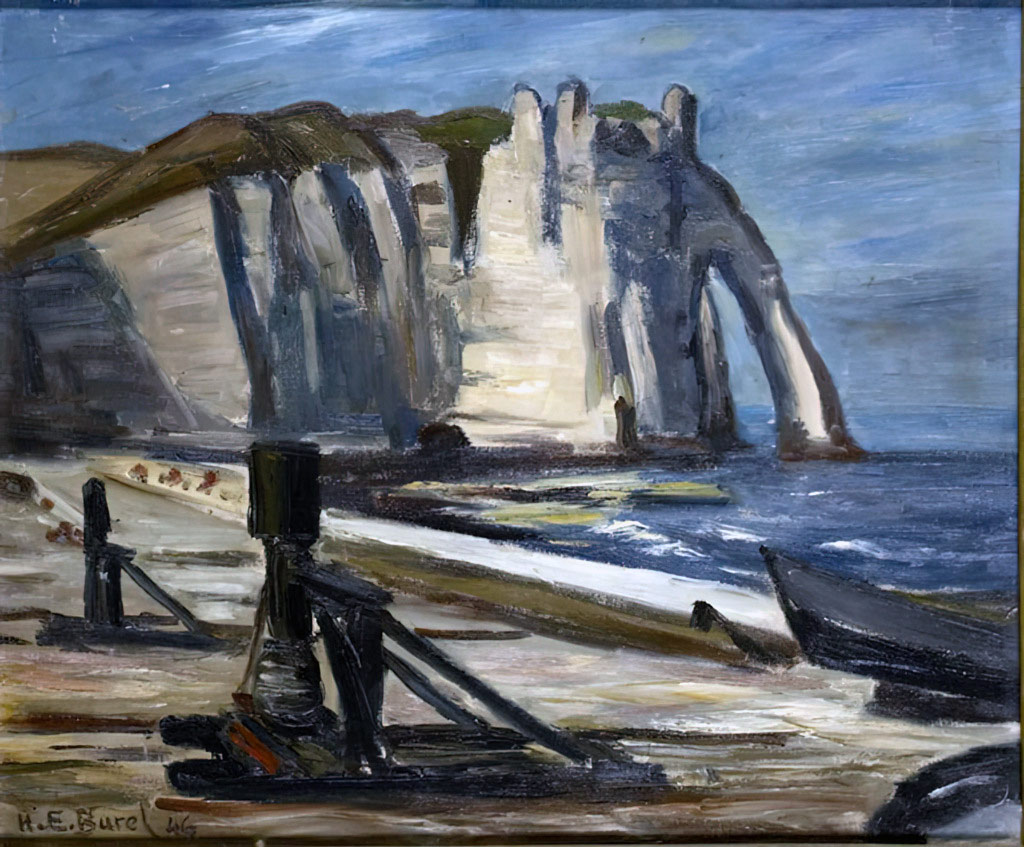 Henry Burel painted mostly in Normandy, particularly Fecamp, but he did paint in several other places. Here is the list (a link "⇠" to is specific works will appear below when published):
Etretat is the second most popular and visited place in Normandy (the first being Mont Saint-Michel). And since it was popular, many artists came here to be inspired by its nature and scenic environments. Here is a list of artists who worked in Etretat (a link "⇠" to their work will appear when published).
🇫🇷 Boudan, Louis *⇠
🇫🇷 Boudin, Eugene-Louis ⇠
🇫🇷 Braque, Georges ⇠
🇫🇷 Burel, Henry E. ⇠
🇫🇷 Caillebotte, Gustave ⇠
🇫🇷 Courbet, Gustave ⇠
🇫🇷 de Saint-Delis, Rene ⇠
🇫🇷 Friesz, Othon ⇠
🇫🇷 Gudin, Theodore ⇠
🇫🇷 Hoguet, Charles ⇠
🇫🇷 Huet, Paul ⇠
🇺🇸 Inness, George ⇠
🇫🇷 Isabey, Eugene ⇠
🇳🇱 Jongkind, Johan ⇠
🇬🇧 Kay, James ⇠
🇫🇷 Lebasque, Henri ⇠
🇫🇷 Lebourg, Albert ⇠
🇫🇷 Lepoittevin, Eugene ⇠
🇫🇷 Loiseau, Gustave ⇠
🇫🇷 Matisse, Henri ⇠
🇫🇷 Maufra, Maxime ⇠
🇫🇷 Maze, Paul ⇠
🇫🇷 Monet, Claude
🇫🇷 Noel, Alexandre Jean
🇷🇺 Polenov, Vasily
🇫🇷 Roullet, Gaston
🇫🇷 Schuffenecker, Claude-Emile
🇫🇷 Signac, Paul
🇨🇭 Vallotton, Felix
🇫🇷 Vollon, Antoine
NOTE: You can subscribe to our new articles by entering your email address in the box on the right column (or at the very bottom of this article) and clicking on the button "Subscribe".

You will need to check your incoming emails and validate your subscription. If you can't see an email from us, check your Spam folder. Without validating your email address, you will not get notifications from us. WE WILL NEVER GIVE YOUR EMAIL ADDRESSES TO ANYONE!
Related Posts