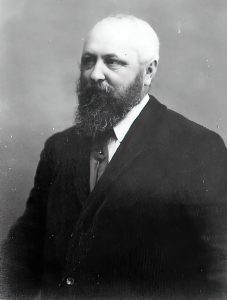 Movement(s): Impressionism
Theodore Earl Butler, (1861–1936) was an American impressionist painter. He was born in Columbus, Ohio, and moved to Paris to study art. He befriended Claude Monet in Giverny, and married his stepdaughter, Suzanne Hoschede. After her death he married her sister, Marthe Hoschede. Butler was a founding member of the Society of Independent Artists.
In Paris, Butler enrolled at La Grande-Chaumière, Academie Colarossi and at Academie Julian. Butler studied under Emile Carolus Duran. Carolus opened an art studio in 1873 on Boulevard Montparnasse, called the "81". Carolus, who was also known to have given free private lessons to some painters, introduced his students to the work of Claude Monet. Monet had moved to Giverny on April 29, 1883. Butler stayed for some time in the same building as Carolus, and Butler won an honorable mention in 1888 at the Paris Salon for a painting entitled "La Veuve", (the Widow).
Angelina and Lucien Baudy opened Hotel Baudy in June 1887. The hotel became the hub for many American expatriates. At Hotel Baudy, artists could buy canvases from Lefevre Foinet and American food celebrating Thanksgiving was served. The village began to attract a great deal of attention. According to Terra Museum historians Katherine M. Bourguignon and Vanessa Lecomte, over 350 painters from eighteen countries painted in Giverny.
After becoming close friends with Claude Monet, Butler married Monet's stepdaughter, Suzanne Hoschedé in 1892. Suzanne is known as The woman with a Parasol and she was Claude Monet's favorite model.
After a lingering illness, Suzanne Hoschede died in 1899. Thereafter most of Butler's paintings were landscapes. Marthe Hoschede, Suzanne's sister helped Butler raise Jimmy and Lilly. In 1899 Theodore Earl Butler decided to go back to the United States. A letter from Henry Prellwitz to Philip Leslie Hale indicated that Hart told him that Butler will sail on the 16th of September on La Touraine [1899].
After six months he was back in Giverny. He married Marthe Hoschedé, Suzanne's sister in 1900.
Theodore Earl Butler was the son of Courtland Philip Livingston Butler (1813–1891) and Elizabeth Slade Pierce (1822–1901). His son, James Butler, was also a painter, and as the grandson of Claude Monet, was one of only four painters to have painted in Monet's garden in Giverny. His sister Mary Elizabeth Sheldon, née Butler (1849–1897), is the paternal great grandmother of U.S. President George H.W. Bush and the great-great grandmother of U.S. President George W. Bush.
Click here to read Butler's full bio on Wikipedia.
Butler painted a lot in Normandy. Here are most of the places he painted in ( a link "⇠" to his works will appear below when published ):
Related Posts