This page forms part of a series of pages dedicated to the many artists who worked in Etretat. A full list of all the artists with a link to their works can be found at the bottom of this page.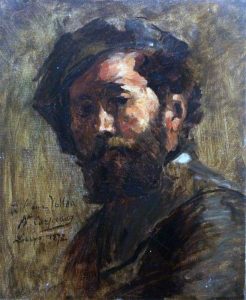 Movements: –
Antoine Vollon (1833 – 1900) was a French realist artist, best known as a painter of still lifes, landscapes, and figures. During his lifetime, Vollon was a successful celebrity, enjoyed an excellent reputation, and was called a "painter's painter". In 2004, New York's then-PaceWildenstein gallery suggested that his "place in the history of French painting has still not been properly assessed".
Vollon was born the son of an ornamental craftsman in Lyon, France. He taught himself to paint. He began an apprenticeship to an engraver in metal, and studied under Jehan Georges Vibert at the Ecole des Beaux-Arts in Lyon from 1850 to 1853 to become a printmaker. He then worked at decorating enamelled pans and stoves. In 1860 he and Marie-Fanny Boucher married and later had two children, Alexis and Marguerite.
In 1859 he moved to Paris, with the intention of becoming a painter. There he became a student of Theodule Ribot and was influenced by Dutch still life painters of the 17th century. He became friends with Alexandre Dumas, Jean-Baptiste Carpeaux, Honore Daumier and Charles-Francois Daubigny. Vollon once described himself as a young artist "madly in love with painting".
Vollon suffered a stroke while painting at Versailles and later caught a fever. He died shortly thereafter, on 27 August 1900, at the age of 67. He is buried in Pere Lachaise Cemetery, in the 20th arrondissement of Paris.
Click here to read Antoine Vollon's full bio on Wikipedia.
NOTE: Click on any image below for a bigger version (no new window will open).
Vollon painted in many different parts of France. Here are the places he painted in (a link "⇠" to his works will appear here when published):
Auvergne-Rhone-Alpes
Normandy
Nouvelle-Aquitaine
Provence-Alpes-Cote d'Azur
Etretat is the second most popular and visited place in Normandy (the first being Mont Saint-Michel). And since it was popular, many artists came here to be inspired by its nature and scenic environments. Here is a list of artists who worked in Etretat (a link "⇠" to their work will appear when published).
🇫🇷 Boudan, Louis *⇠
🇫🇷 Boudin, Eugene-Louis ⇠
🇫🇷 Braque, Georges ⇠
🇫🇷 Burel, Henry E. ⇠
🇫🇷 Caillebotte, Gustave ⇠
🇫🇷 Courbet, Gustave ⇠
🇫🇷 de Saint-Delis, Rene ⇠
🇫🇷 Friesz, Othon ⇠
🇫🇷 Gudin, Theodore ⇠
🇫🇷 Hoguet, Charles ⇠
🇫🇷 Huet, Paul ⇠
🇺🇸 Inness, George ⇠
🇫🇷 Isabey, Eugene ⇠
🇳🇱 Jongkind, Johan ⇠
🇬🇧 Kay, James ⇠
🇫🇷 Lebasque, Henri ⇠
🇫🇷 Lebourg, Albert ⇠
🇫🇷 Lepoittevin, Eugene ⇠
🇫🇷 Loiseau, Gustave ⇠
🇫🇷 Matisse, Henri ⇠
🇫🇷 Maufra, Maxime ⇠
🇫🇷 Maze, Paul ⇠
🇫🇷 Monet, Claude
🇫🇷 Noel, Alexandre Jean
🇷🇺 Polenov, Vasily
🇫🇷 Roullet, Gaston
🇫🇷 Schuffenecker, Claude-Emile
🇫🇷 Signac, Paul
🇨🇭 Vallotton, Felix
🇫🇷 Vollon, Antoine
NOTE: You can subscribe to our new articles by entering your email address in the box on the right column (or at the very bottom of this article) and clicking on the button "Subscribe".

You will need to check your incoming emails and validate your subscription. If you can't see an email from us, check your Spam folder. Without validating your email address, you will not get notifications from us. WE WILL NEVER GIVE YOUR EMAIL ADDRESSES TO ANYONE!
Related Posts