This page forms part of a series of pages dedicated to the many artists who worked in Trouville-sur-Mer. A full list of all the artists with a link to their works can be found at the bottom of this page.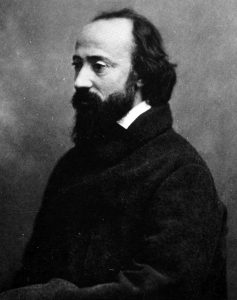 Movement(s): Barbizon
Charles-Francois Daubigny (1817 – 1878), French, was one of the painters of the Barbizon school, and is considered an important precursor of impressionism. He was also a prolific printmaker, mostly in etching but also as one of the main artists to use the cliche verre technique.
Daubigny was born in Paris, into a family of painters and was taught the art by his father Edmond Francois Daubigny and his uncle, miniaturist Pierre Daubigny.
Initially Daubigny painted in a traditional style, but this changed after 1843 when he settled in Barbizon to work outside in nature. Even more important was his meeting with Camille Corot in 1852 in Optevoz (Isère). On his famous boat Botin, which he had turned into a studio, he painted along the Seine and Oise, often in the region around Auvers. From 1852 onward he came under the influence of Gustave Courbet.
In 1866 Daubigny visited England, eventually returning because of the Franco-Prussian war in 1870. In London he met Claude Monet, and together they left for the Netherlands. Back in Auvers, he met Paul Cezanne, another important Impressionist. It is assumed that these younger painters were influenced by Daubigny.
Daubigny died in Paris. His remains are interred at cimetiere du Pere-Lachaise (division 24).
Click here to read Daubigny's full bio on Wikipedia.
NOTE: Click on any image below for a bigger version (no new window will open).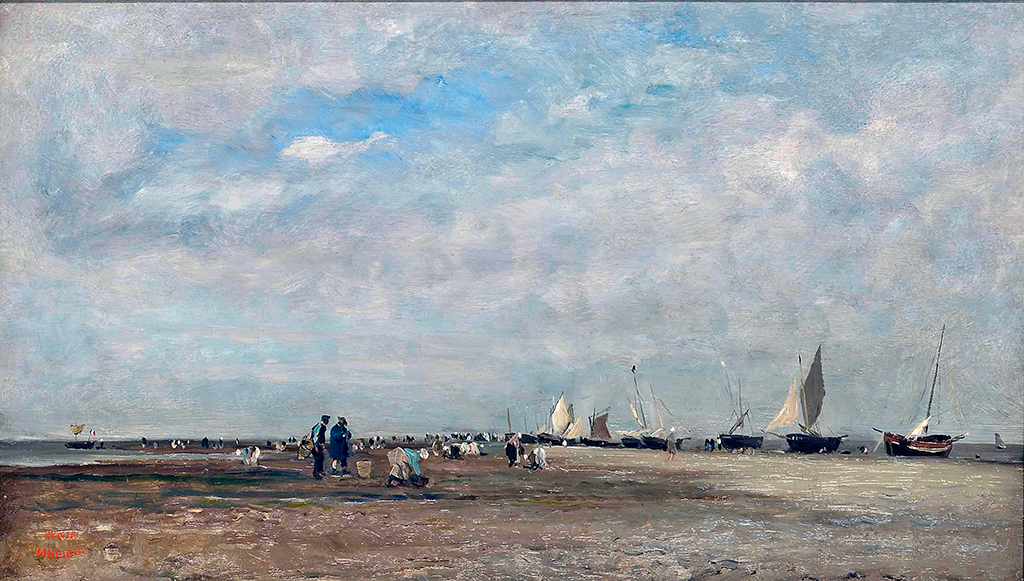 Villerville
The village of Villerville (population: 700) lies to the North of Trouville-sur-Mer along the coast.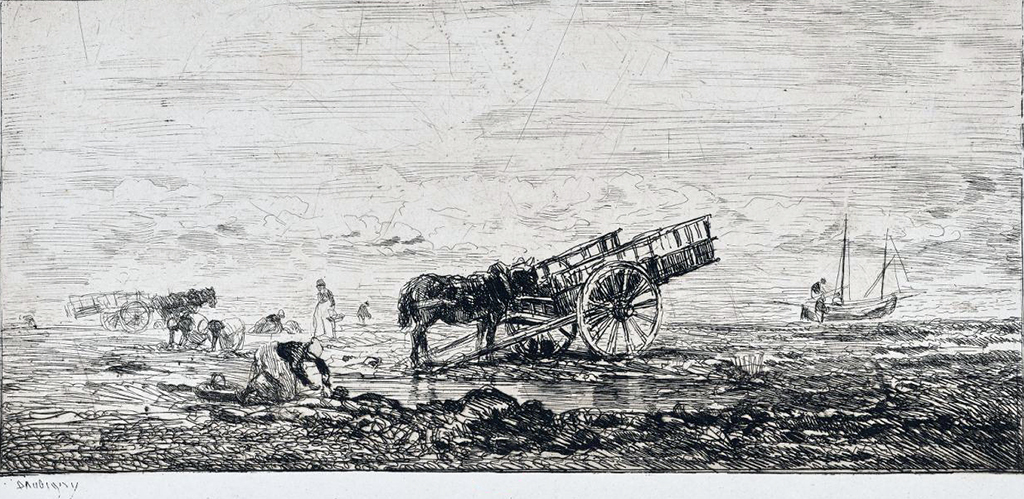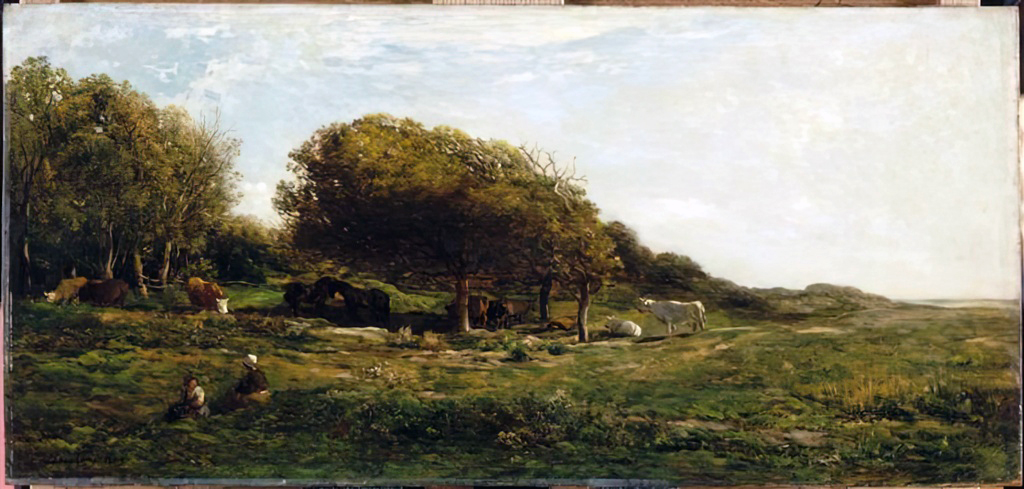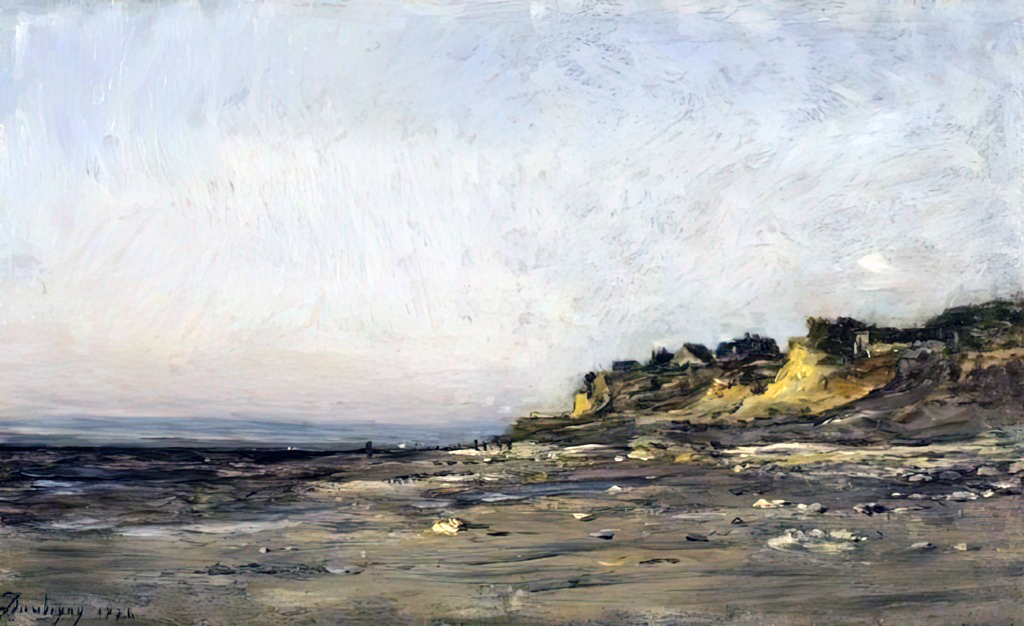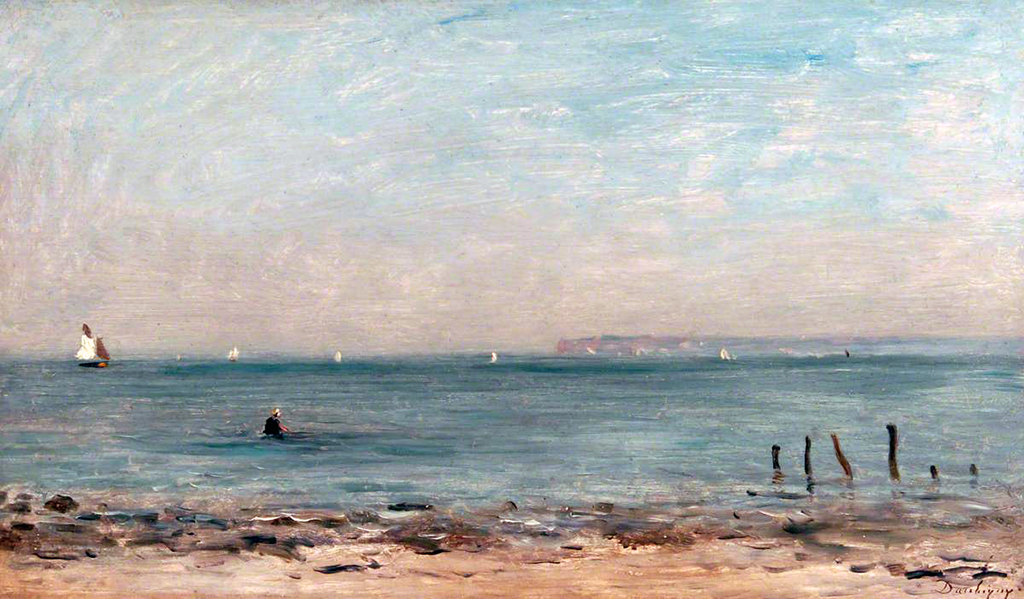 NOTE: You can see the cliffs of Le Havre in the distance.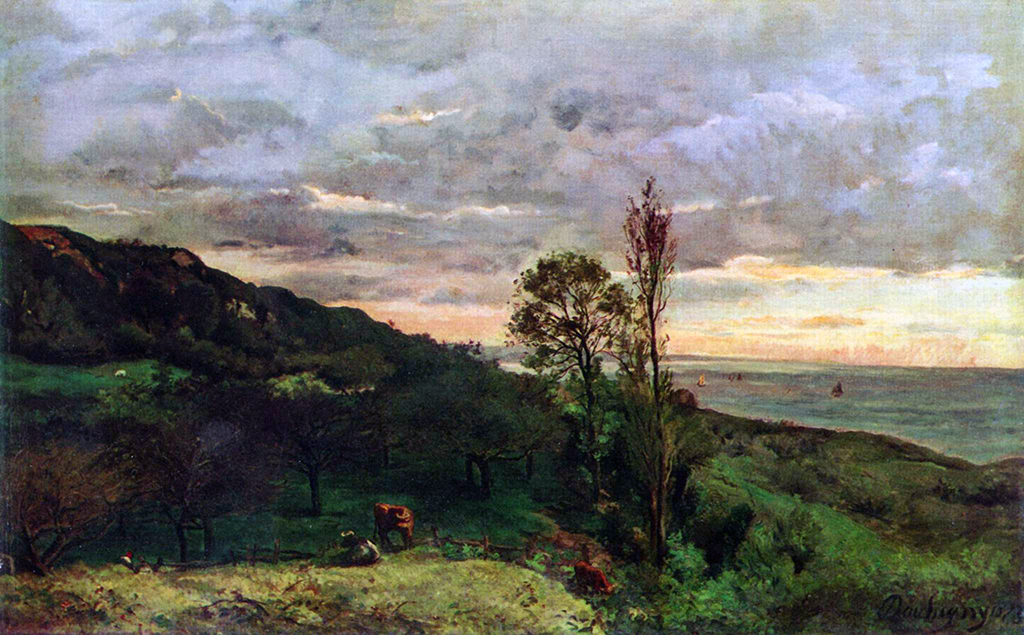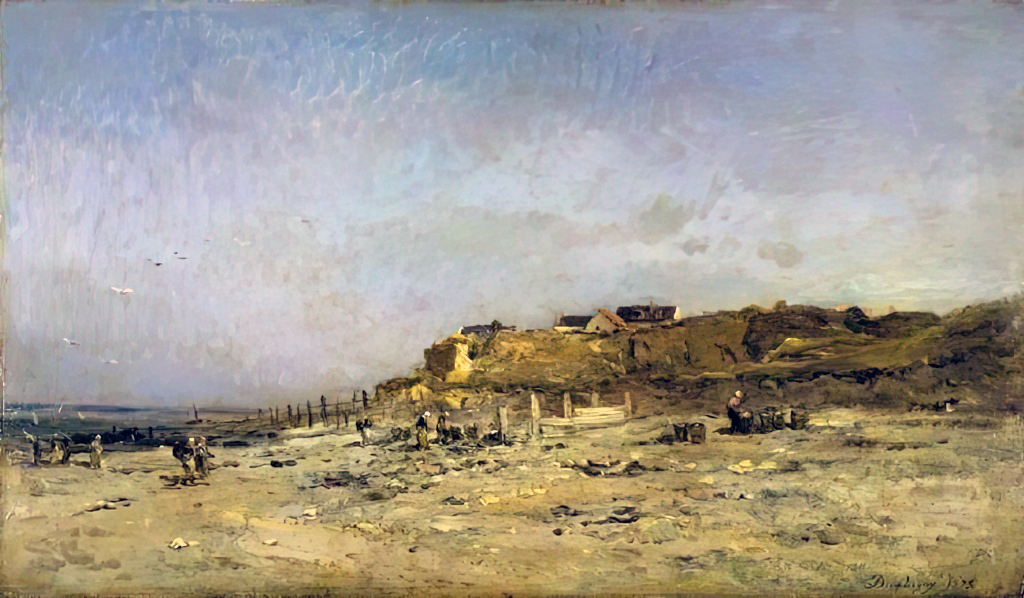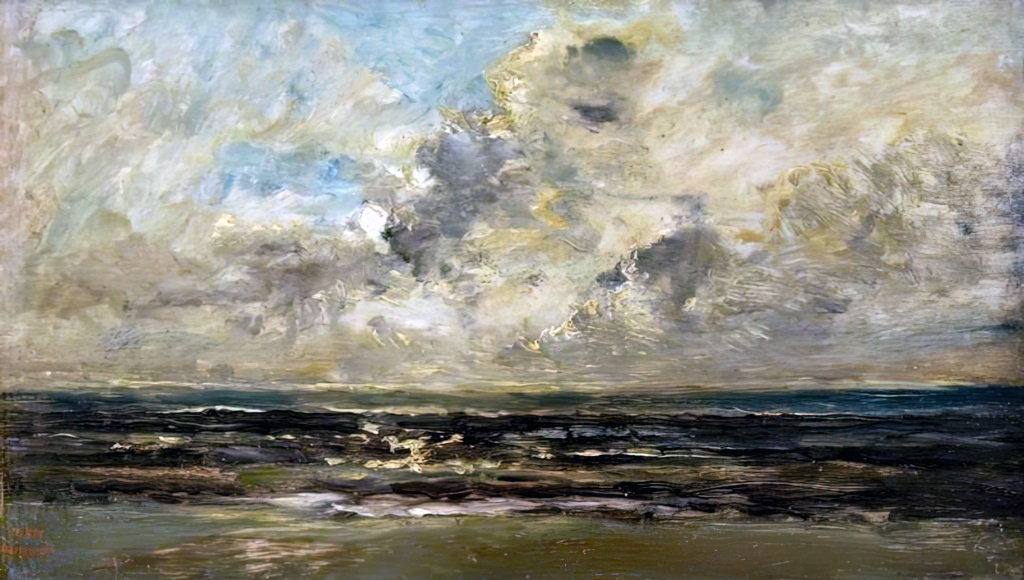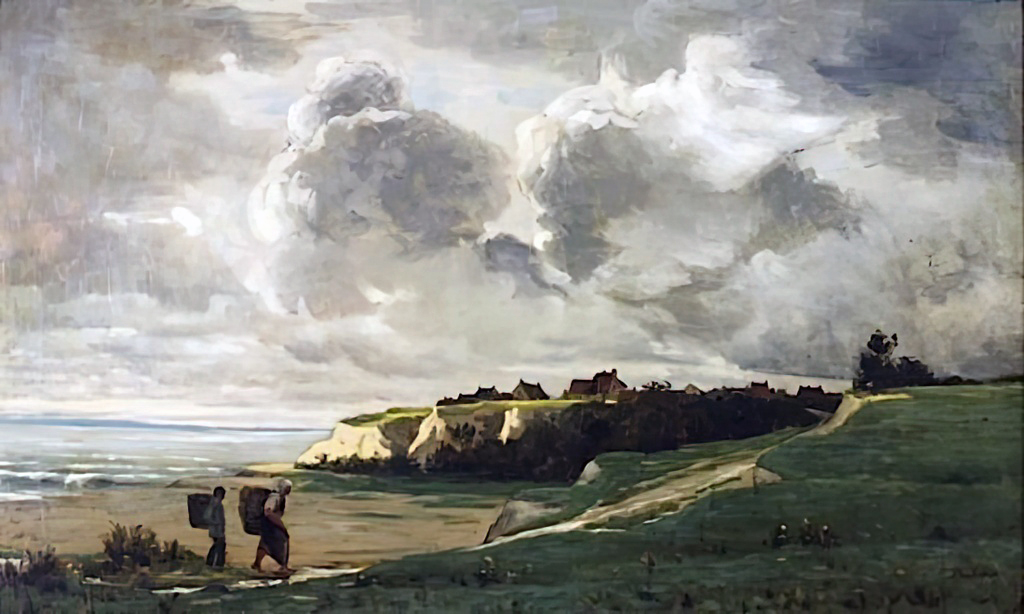 Daubigny painted in several places in France, but mostly in Normandy, here are the places he painted in (a link "⇠" to his works will appear below when published):
Auvergne-Rhone-Alpes
Bourgogne-Franche-Comte (Burgundy)
Normandy
Pays de la Loire
Trouville-sur-Mer has been an in-spot for artists and wealthy patrons. Located next to Deauville and sharing the same railway station,many artists came here to work and mingle with the high-societe folks.
Here is a list of artists who working in Trouville (a link "⇠" to that artist's works will appear when published). An "*" after an artist's name means that the artist did not work in Trouville itself, but in a nearby town.
NOTE: You can subscribe to our new articles by entering your email address in the box on the right column (or at the very bottom of this article) and clicking on the button "Subscribe".

You will need to check your incoming emails and validate your subscription. If you can't see an email from us, check your Spam folder. Without validating your email address, you will not get notifications from us. WE WILL NEVER GIVE YOUR EMAIL ADDRESSES TO ANYONE!
Related Posts
88

Conrad Wise Chapman (1842 – 1910) was an American painter who served in the Confederate States Army from 1861 to 1865. Conrad Wise Chapman was born in Washington, D.C. and grew up in Europe where his father, John Gadsby Chapman, was working as an artist. After the end of the…

88

Pierre Chapuis was a French painter who was also known for his theatre decors and his water paintings of Deauville and Trouville. Not much else is known about this artist. Here are his works for Trouville-sur-Mer, Normandy.

87

Paul Huet was a French painter and printmaker born in Paris. He met the English painter Richard Parkes Bonington. Bonington's example influenced Huet to reject neoclassicism and instead paint landscapes based on close observation of nature. Huet's works, which include oil paintings, watercolors, etchings, and lithographs, are Romantic in feeling.…