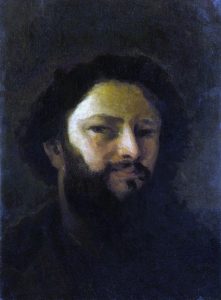 Movements: Realism
Jean Desire Gustave Courbet (1819 – 1877) was a French painter who led the Realism movement in 19th-century French painting. Born in a prosperous farming family, anti-monarchical feelings prevailed in the household (His maternal grandfather fought in the French Revolution.) Courbet's sisters, Zoe, Zelie and Juliette, were his first models for drawing and painting. After moving to Paris he often returned home to Ornans to hunt, fish and find inspiration.
Committed to painting only what he could see, he rejected academic convention and the Romanticism of the previous generation of visual artists. His independence set an example that was important to later artists, such as the Impressionists and the Cubists. Courbet occupies an important place in 19th-century French painting as an innovator and as an artist willing to make bold social statements through his work.
Courbet's paintings of the late 1840s and early 1850s brought him his first recognition. They challenged convention by depicting unidealized peasants and workers, often on a grand scale traditionally reserved for paintings of religious or historical subjects. Courbet's subsequent paintings were mostly of a less overtly political character: landscapes, seascapes, hunting scenes, nudes, and still lifes.
Courbet, a socialist, was active in the political developments of France. Courbet associated his ideas of realism in art with political anarchism, and, having gained an audience, he promoted democratic and socialist ideas by writing politically motivated essays and dissertations. His familiar visage was the object of frequent caricature in the popular French press. He was imprisoned for six months in 1871 for his involvement with the Paris Commune, and lived in exile in Switzerland from 1873 until his death.
Click here to read Courbet's full bio on Wikipedia.
Courbet painted throughout France, but notably a lot in Normandy. Here are the places he painted in France ( a link "⇠" to his works will appear below when published):
Bourgogne-Franche-Comte (Burgundy)

Mouthiers-Haute-Pierre
Ornans
Scey-Maisieres
Thoraise

Brittany
Normandy
Occitanie
Related Posts
95

Jean-Baptiste Camille Corot was a French painter of the Realism movement. He travelled extensively between France and Italy. Although he did paint in a few cities in Normandy, most of his works centers around Italy.

85

Jules Coignet, was a French painter who specialized in Idealists and Realists Landscape paintings. He travelled extensively in France and even in Europe, painting many of the landmarks in cities. Unfortunately, there are not many of his painting left.

84

Alfred Emile Leopold Stevens was a Belgian painter, known for his paintings of elegant modern women.

83

Gustave Caillebotte (1848 – 1894) was a French painter who was a member and patron of the Impressionists, although he painted in a more realistic manner than many others in the group. Caillebotte was known for his early interest in photography as an art form. Caillebotte earned a law degree…