This page forms part of a series of pages dedicated to the many artists who worked in Trouville-sur-Mer. A full list of all the artists with a link to their works can be found at the bottom of this page.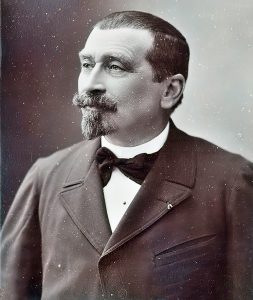 Edmond Marie Petitjean (1844 – 1925) was a self-taught French painter; known for landscapes and seascapes. His father was a lawyer and wanted him to follow suit; forcing him to study law despite his artistic talent and sending him to Paris, where he was apprenticed to a notary.
While there, he visited the museums and became determined to be an artist. His parents cut off his financial support, but he was able to find employment managing a small factory in Nancy. This enabled him to purchase the painting supplies he needed.
He painted in several ports along the Atlantic coast and spent a year working in Dordrecht. He participated in decorating several pavilions at the Exposition Universelle (1889) and was presented with a silver medal. The following year, he exhibited in Munich. In 1892, he was named a Knight in the Legion of Honor.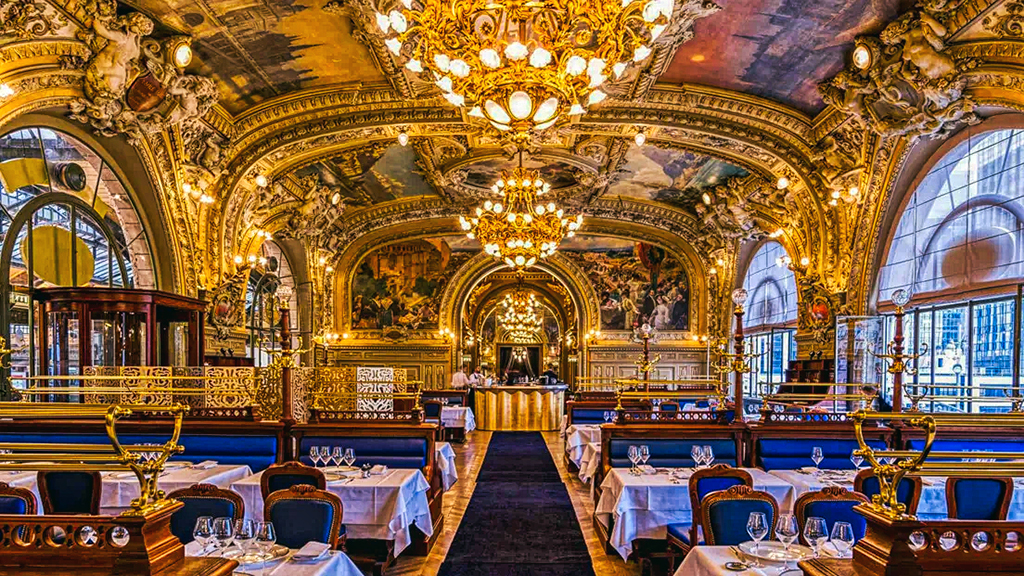 In 1900, he and twenty other painters received a commission from Stephane Adolphe Derville, President of the Board of Directors of the "Chemins de fer de Paris a Lyon et a la Mediterranee", to decorate the restaurant in the Gare de Lyon now known as "Le Train Bleu". He was assigned to work in the "Salle doree" (Golden Room), themed to represent the Mediterranean coast, and painted a scene depicting the village of Le Puy. His study for the painting received a gold medal at the Exposition Universelle (1900).
As did many artists during the period, he also provided illustrations and cartoons for periodicals; notably the satirical journals, Le Frou-frou, L'Assiette au Beurre and Le Rire.
Click here to read Petitjean's full bio on Wikipedia.
NOTE: Click on the image below for a bigger version (no new window will open).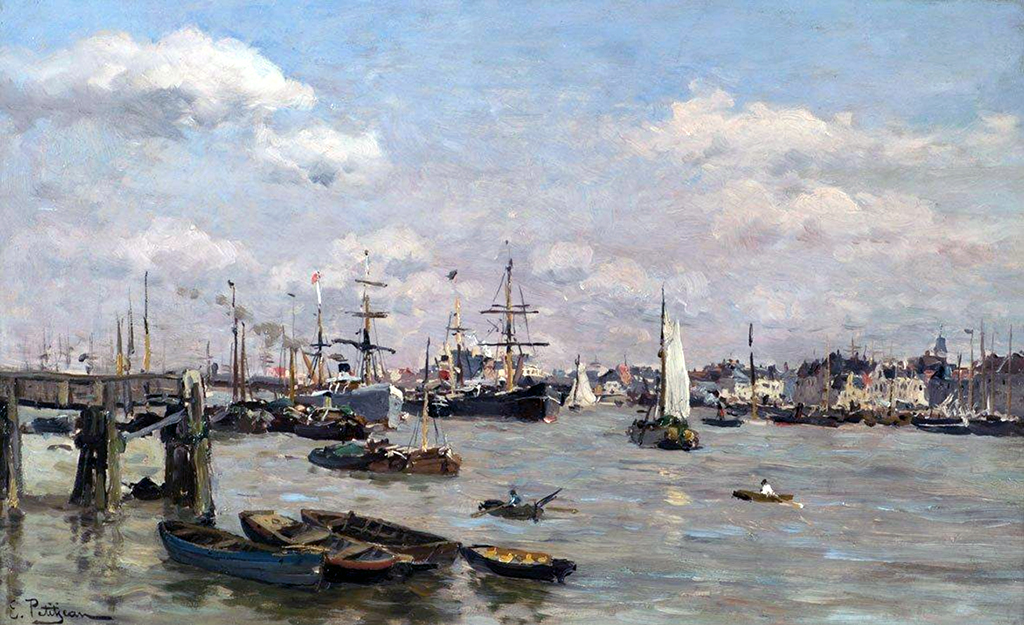 Petitjean painted all over France (a link "⇠" to his works will appear below when published):
Auvergne-Rhone-Alpes

Clermont Ferrand
Puy-en-Valay

Bourgogne-Franche-Comte (Burgundy)

Chalon-sur-Saone
Macon
Semur-en-Auxois

Brittany
Centre-Val de Loire
Grand Est
Hauts de France
Normandy
Nouvelle-Aquitaine
Occitanie
Pays de la Loire

Noirmoutier
Sables d'Olonne

Provence-Alpes-Cote d'Azur
Trouville-sur-Mer has been an in-spot for artists and wealthy patrons. Located next to Deauville and sharing the same railway station,many artists came here to work and mingle with the high-societe folks.
Here is a list of artists who working in Trouville (a link "⇠" to that artist's works will appear when published). An "*" after an artist's name means that the artist did not work in Trouville itself, but in a nearby town.
NOTE: You can subscribe to our new articles by entering your email address in the box on the right column (or at the very bottom of this article) and clicking on the button "Subscribe".

You will need to check your incoming emails and validate your subscription. If you can't see an email from us, check your Spam folder. Without validating your email address, you will not get notifications from us. WE WILL NEVER GIVE YOUR EMAIL ADDRESSES TO ANYONE!
Related Posts
96

Fernand-Fortune Truffault was a French painter. He was born in Trouville-sur-Mer. He studied art in Rouen, but not much is known about this artist. Here are his works for Trouville-sur-Mer, Normandy.

96

Etienne Eugene Ciceri (1813 - 1890) was a French painter, illustrator, engraver and theatrical designer. He came from an artistic family. His father was the scenographer, Pierre-Luc-Charles Ciceri. He was also the grandson of the painter Jean-Baptiste Isabey, and his mother's brother was the painter Eugene Isabey. Here is 1…

96

Luigi Loir, a French painter and lithographer, born in Austria. He amongst other illustrated one of Jules Verne's book. Here are 2 of his paintings he made in Trouville-sur-Mer, Normandy we found;

96

Johan Barthold Jongkind was a Dutch painter and printmaker. He painted marine landscapes in a free manner and is regarded as a forerunner of Impressionism. Here is 1 painting which he made in Trouville-sur-Mer, Normandy.