This page forms part of a series of pages dedicated to the many artists who worked in Trouville-sur-Mer. A full list of all the artists with a link to their works can be found at the bottom of this page.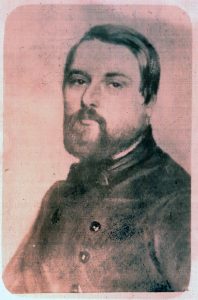 Charles-Louis Mozin was born into a family of musicians, he studied with Xavier Leprince. Primarily a painter and lithographer of coastal landscapes, harbour views and seascapes, he exhibited at the Salons in Paris between 1824 and 1861.
Along with Eugene Isabey and Richard Parkes Bonington, Mozin was one of the first artists to paint landscapes depicting the beach and fishing port of Trouville in Normandy, which he discovered around 1825, and where he settled in 1839.
He also travelled in Germany and The Netherlands, where he frequently exhibited his work between 1840 and 1850.
Landscape paintings by Mozin are today in the museums of Amiens, Honfleur, Rouen, Toulon, Trouville-sur-Mer, Versailles, and elsewhere, while a number of views of Paris are in the Musee Carnavalet in Paris.
NOTE: Click on any image below for a bigger version (no new window will open).
NOTE: A black box like this one, means that there is an explanation text about today's situation of the painting above it.
NOTE: Click on this photo icon
anywhere below a painting to see a photo of what the area looks like today.
NOTE: A blue box like this one, means there is an explanation or a note.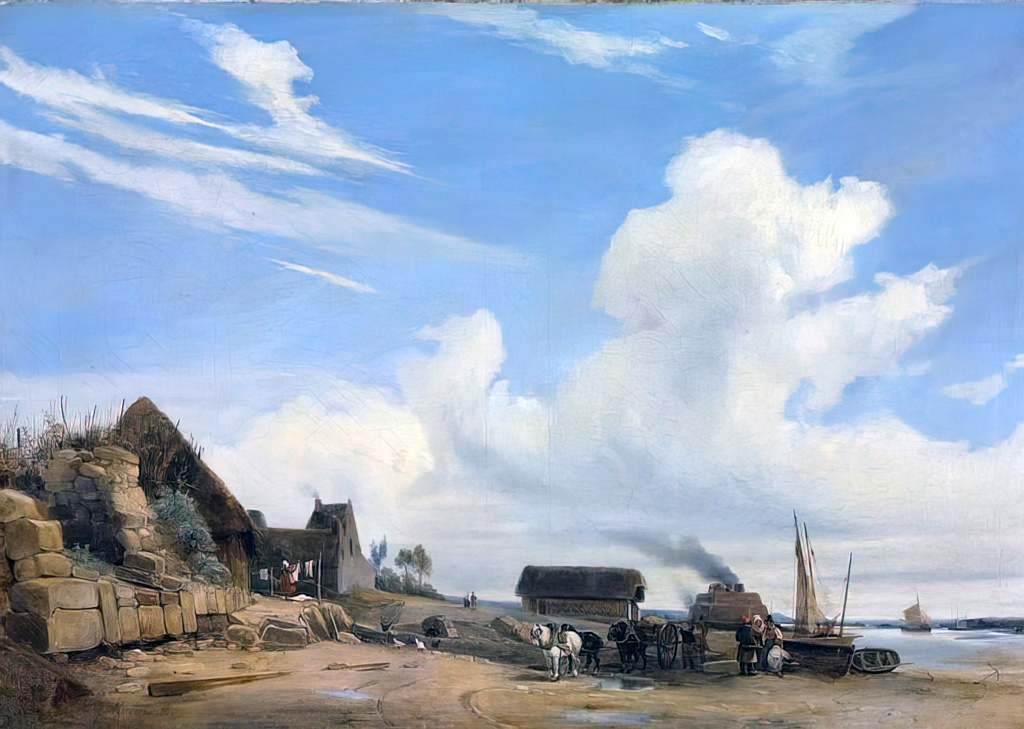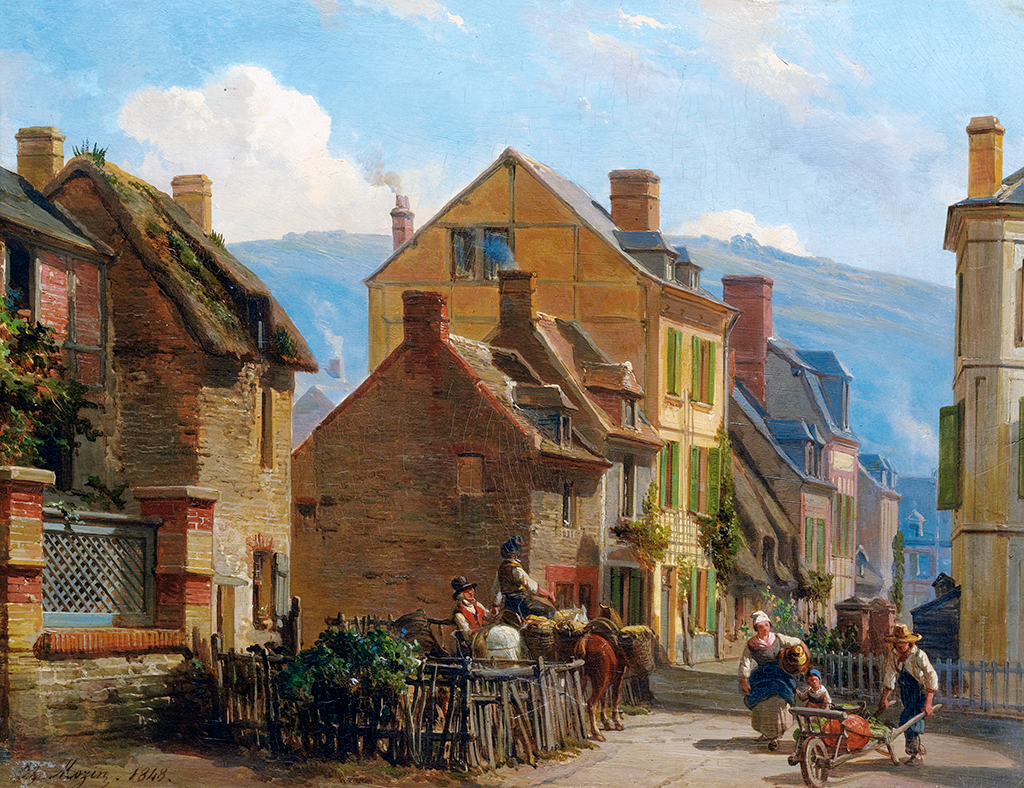 NOTE: The Rue des Rosiers still exists today.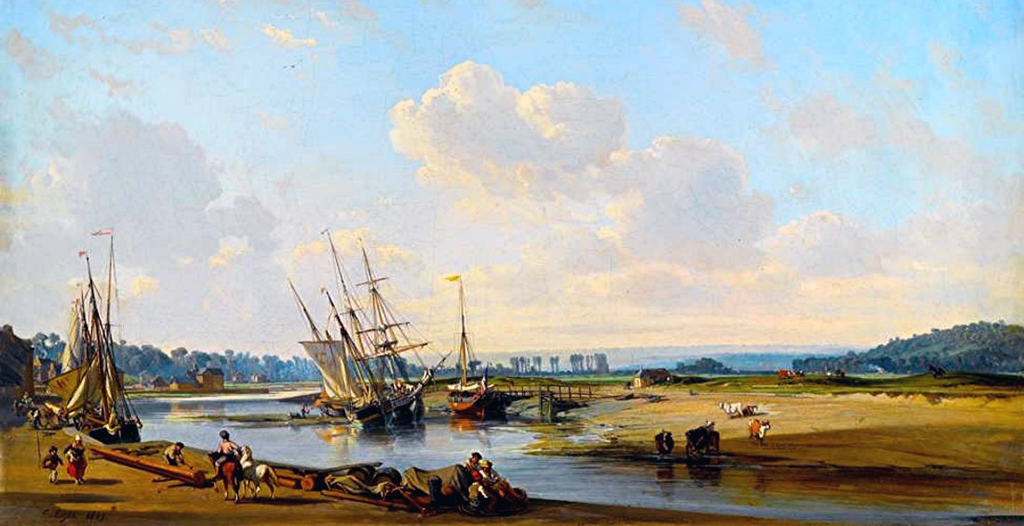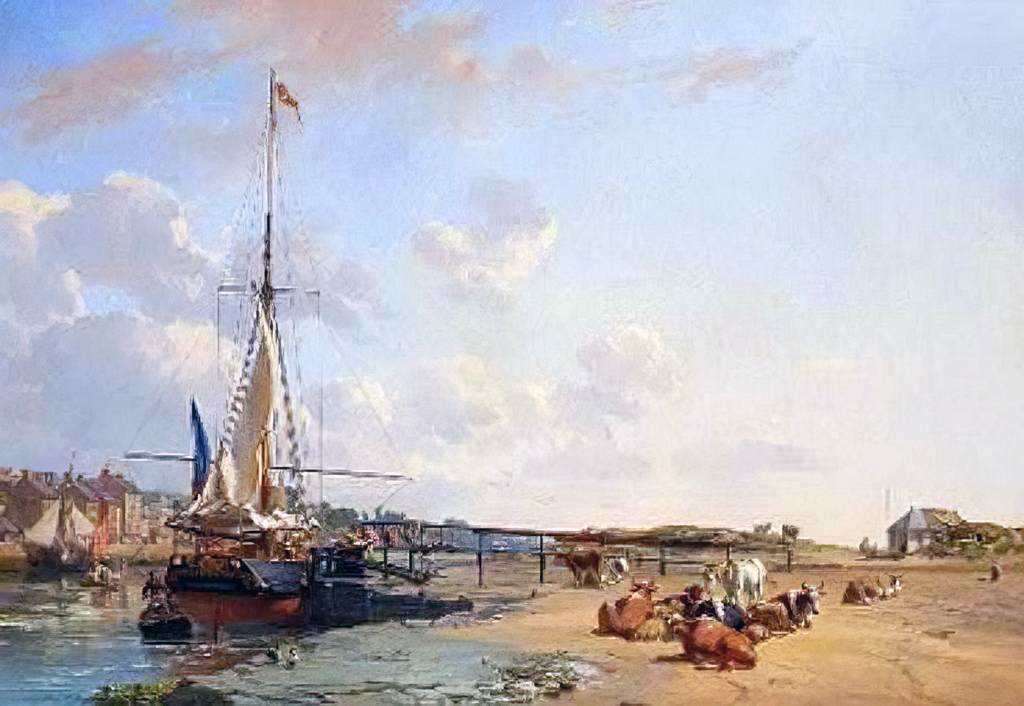 NOTE: The Touques is the river that divides Trouville from Deauville.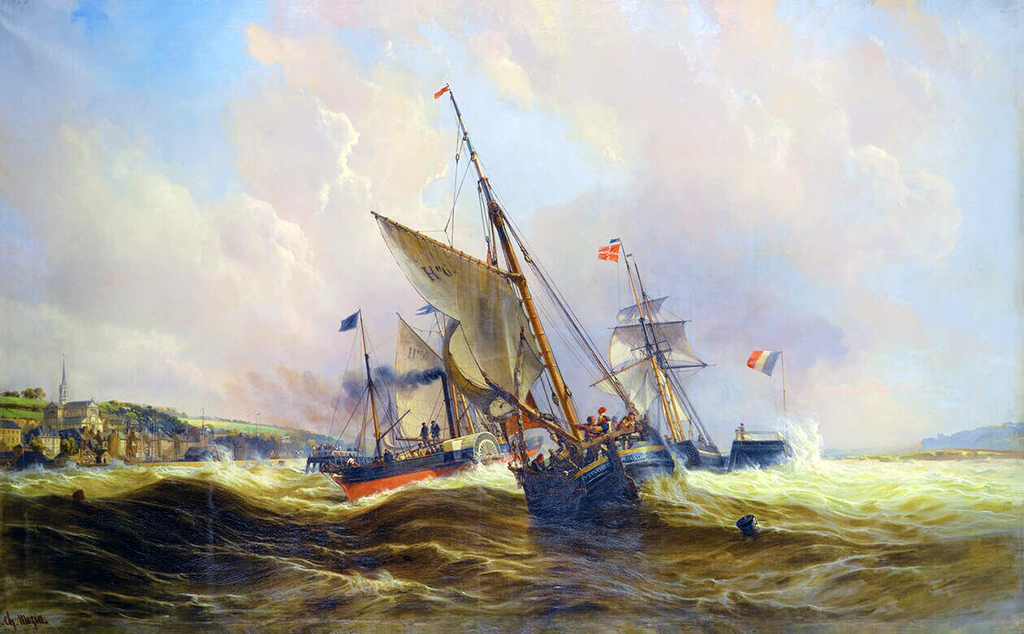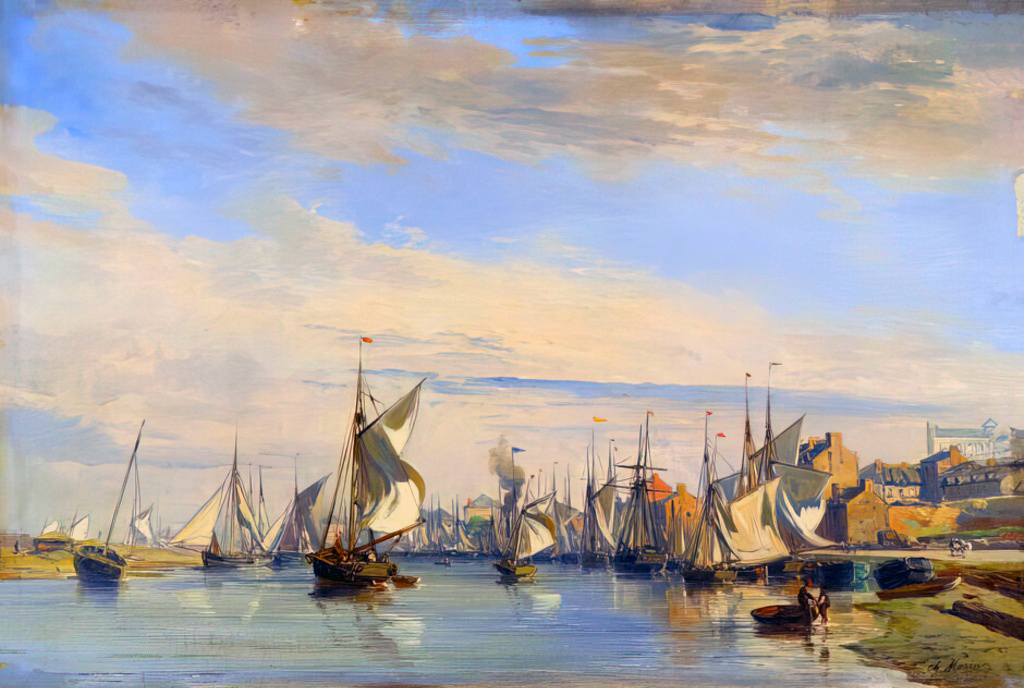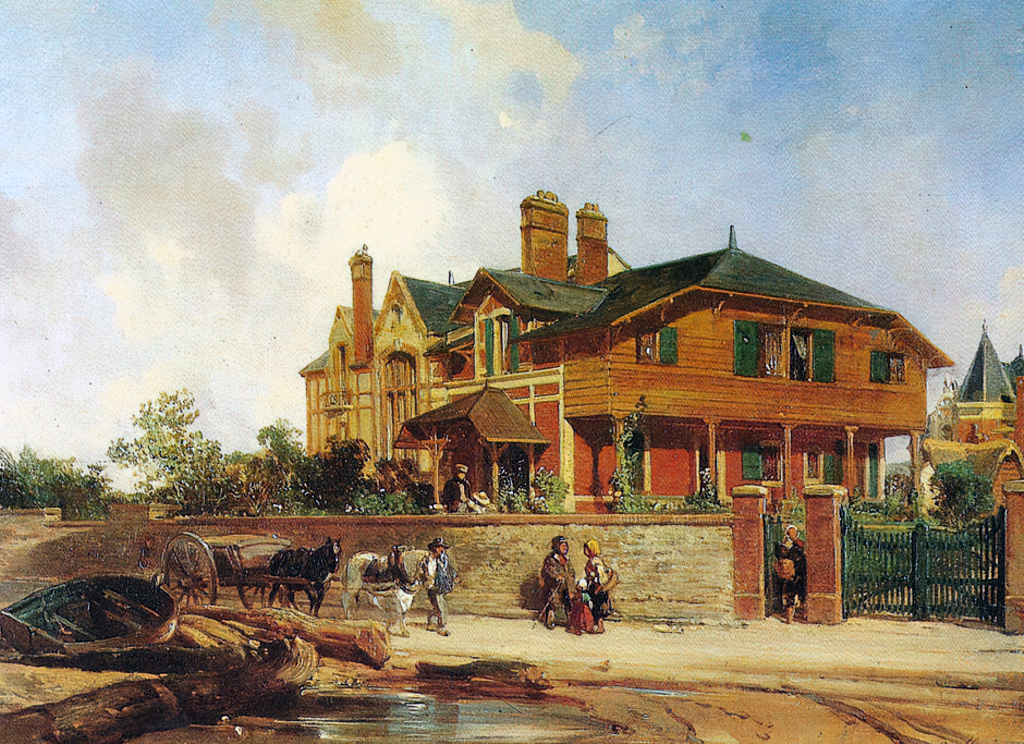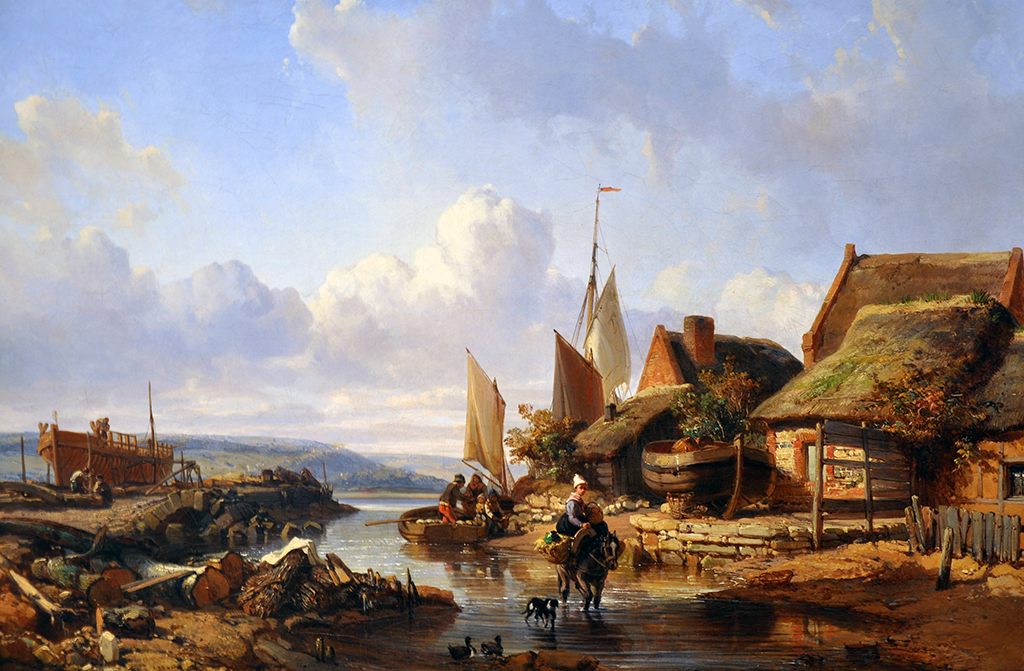 NOTE: The Calenville stream enters the Touques river very close to the main bridge between Deauville and Trouville.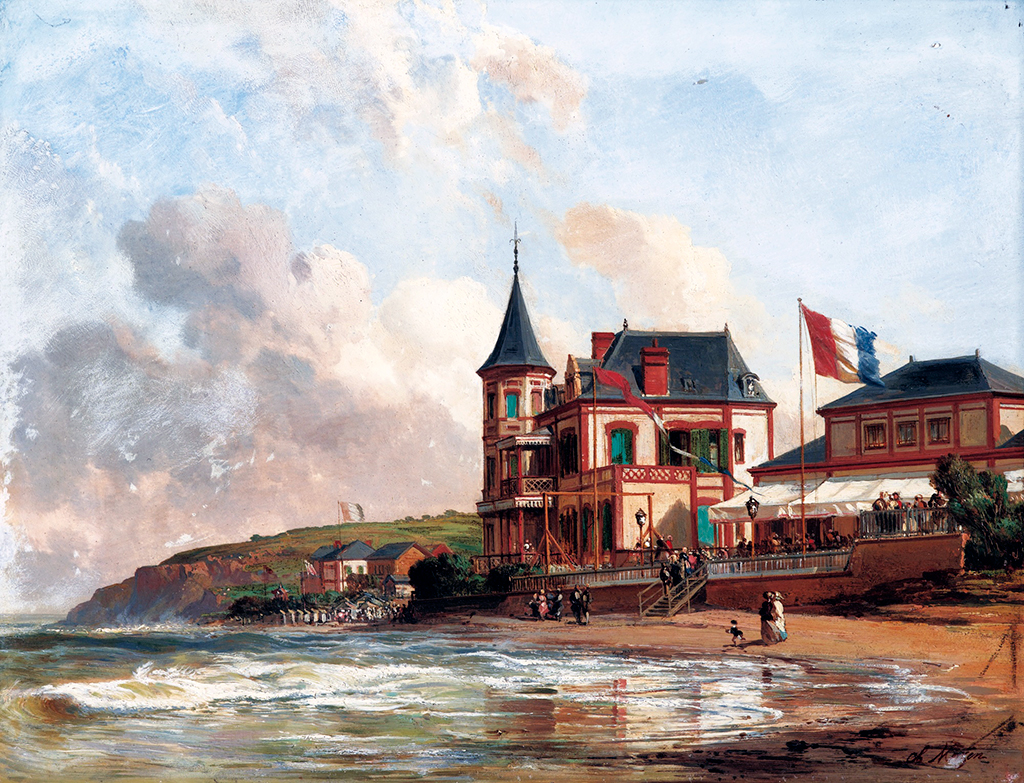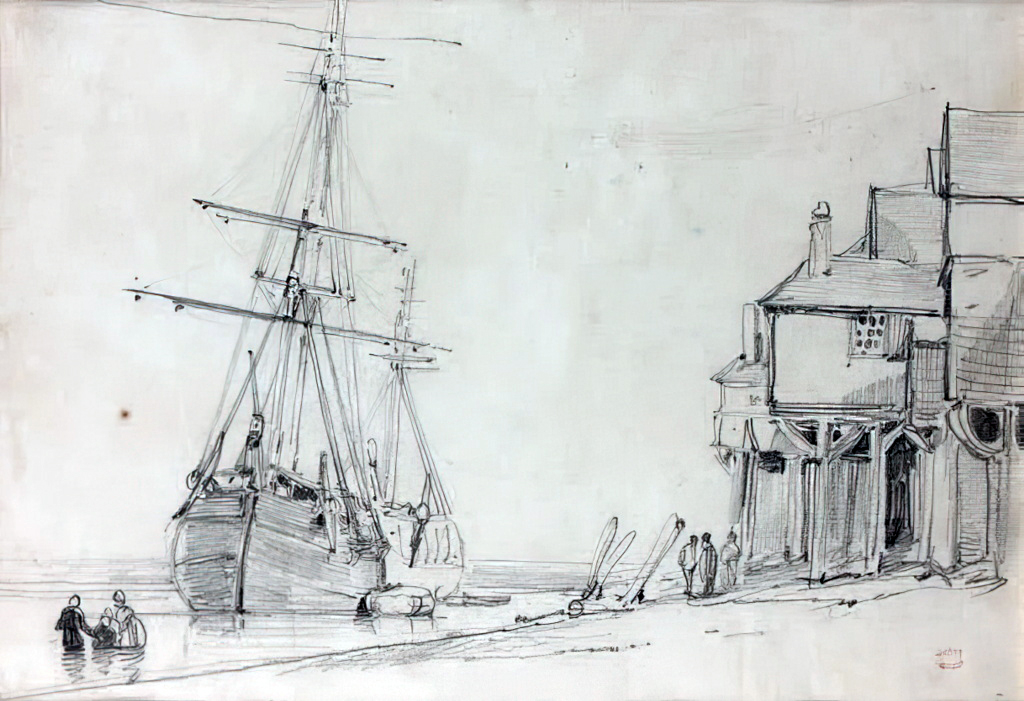 NOTE: The Cahotte area is at the port entry of Trouville, where nowadays stands an enormous luxury hotel and casino.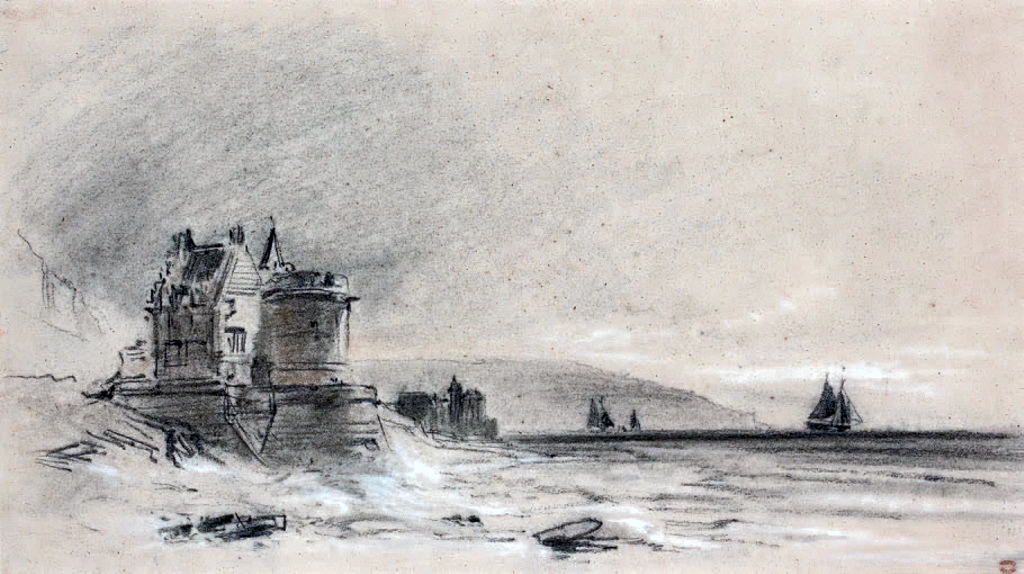 TODAY: The Malakoff Tower still stands today and can be seen from the beach. The tower (and house) was built in 1855 by Charles Mozin (a painter) who discovered Trouville and wanted to return.
Mozin painted several other places in France, which will be featured eventually on this site. A link "⇠" to those cities will appear below when published.
Hauts-de-France

Boulogne-sur-Mer
Saint-Valery-sur-Somme

Normandy
Nouvelle-Aquitaine
Trouville-sur-Mer has been an in-spot for artists and wealthy patrons. Located next to Deauville and sharing the same railway station,many artists came here to work and mingle with the high-societe folks.
Here is a list of artists who working in Trouville (a link "⇠" to that artist's works will appear when published). An "*" after an artist's name means that the artist did not work in Trouville itself, but in a nearby town.
NOTE: You can subscribe to our new articles by entering your email address in the box on the right column (or at the very bottom of this article) and clicking on the button "Subscribe".

You will need to check your incoming emails and validate your subscription. If you can't see an email from us, check your Spam folder. Without validating your email address, you will not get notifications from us. WE WILL NEVER GIVE YOUR EMAIL ADDRESSES TO ANYONE!
Related Posts
96

Pierre Chapuis was a French painter who was also known for his theatre decors and his water paintings of Deauville and Trouville. Not much else is known about this artist. Here are his works for Trouville-sur-Mer, Normandy.

95

Johan Barthold Jongkind was a Dutch painter and printmaker. He painted marine landscapes in a free manner and is regarded as a forerunner of Impressionism. Here is 1 painting which he made in Trouville-sur-Mer, Normandy.

95

Paul Huet was a French painter and printmaker born in Paris. He met the English painter Richard Parkes Bonington. Bonington's example influenced Huet to reject neoclassicism and instead paint landscapes based on close observation of nature. Huet's works, which include oil paintings, watercolors, etchings, and lithographs, are Romantic in feeling.…