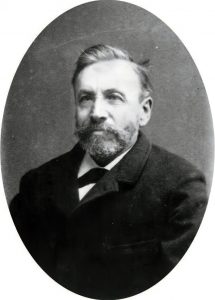 Movement(s): –
Stanislas Victor Edouard Lepine (1835 – 1892) was a French Impressionist painter, known for his landscapes and marine scenes. He was born in 1835 in Caen and began his artistic training at the École des Beaux-Arts. He later studied under the prominent landscape painter, Camille Corot.
Lepine is best known for his peaceful and idyllic landscapes, often depicting the countryside and coastal areas of France. His paintings are characterized by their bright colors and bold brushstrokes, which convey a sense of light and movement. He was particularly drawn to the landscapes of Normandy, Brittany and the Loire Valley, and often painted the sea and boats.
He was a member of the Société des Artistes Français, and exhibited his work at the Paris Salon throughout his career. He also had a strong influence on the development of Impressionism in France, and was a close friend of Monet, Renoir, and Pissarro.
In addition to his paintings, Lepine also created etchings and lithographs, and was known for his skill in capturing the beauty and serenity of the natural world. Today, his works can be found in major art museums and private collections around the world.
Click here to read Lepine's full bio on Wikipedia.
Lepine painted in several other cities in France, see the list below (a link "⇠" to his works will appear below when published):
Brittany
Centre-Val de Loire
Normandy
Related Posts