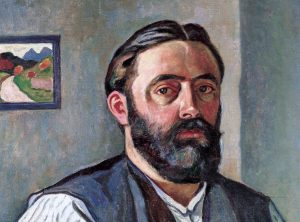 Movement(s): –
Henri de Saint-Delis (Marie Isidore Henri Lienard de Saint-Delis) was born in 1878 and died in 1949 in Honfleur.
He was born in the North of France, but as the death of his father, the family moved to Le Havre in 1882. In Le Havre he went to school, and became good friends with now famous artists like Othon Friesz, Raoul Dufy, and others. His older brother, Rene de Saint-Delis, also attended the schools and was on his way to become a reputable painter.
He decided to move to Paris with his artist friends to attend the Academy of arts, but tuberculose prevented him from finishing. He moved to Switzerland because of his illness and spent time there making paintings of the mountains.
In 1920 he moved back to Normandy, and while earning a modest income from teaching, he continued painting.
Henri never sold any of his paintings! He kept them for himself and his artist friends (Othon Friesz had stated that he was the best artist of them all). The public only discovered his works of art in 1954 during an exposition.
He died in Honfleur, where the Eugene Boudin museum has a permanent exposition of his and his brother's works.
Click here to read his full bio (in French only) on Wikipedia.
Henri de Saint-Delis painted in these places in Normandy (a link "⇠" will be placed to his works below when published):
Related Posts
10000

Henri de Saint-Delis (brother of Rene) was a French painter who never wanted to sell his paintings, and kept them all for himself. The public only discovered his paintings in 1954. He went to school in Le Havre where he befriended several (now) famous painters. Here are his works we…

96

Maxime Maufra was a French landscape and marine painter, etcher and lithographer. He painted quite a few paintings in Normandy.

95

John Cotman, a British painter, was quite active in Normandy. He spent a lot of time painting in Caen and Ouistreham (suburb of Caen).

95

Stanislas Victor Edouard Lepine was a French painter who specialized in landscapes, especially views of the Seine. He was born in Caen, Normandy.