This page forms part of a series of pages dedicated to the many artists who worked in Honfleur. A full list of all the artists with a link to their works can be found at the bottom of this page.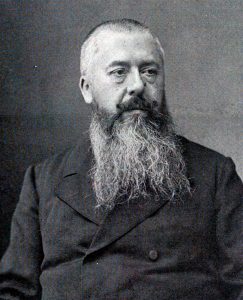 Movement: –
Marie Anatole Gaston Roullet (1847 – 1925), is a French painter and illustrator, appointed official painter of the Colonies and the Navy in 1885. He is the father of the playwright and theater and cinema director Jacques Roullet (1878-1946) and the uncle of the painter Marie-Therese Dethan-Roullet (1870-1945).
Son of Marie Zelie Boullineau and Auguste Roullet, court clerk, Marie Anatole Gaston Roullet was a pupil of Jules Noel, whose daughter, Marie-Caroline, he married in 1874. He ended up falling out with Jules Noel, wanting to prohibit frequenting gambling halls.
Roullet was known for his landscapes and cityscapes, often capturing the bustling energy of Paris in his paintings. He was influenced by the works of the Impressionist painters, including Monet and Pissarro, and his work features light, color, and movement.
In addition to his paintings, Roullet was also a prolific illustrator and lithographer, contributing illustrations to magazines and books. He was also an active member of the Salon des Indépendants and participated in several exhibitions throughout his career.
Appointed painter to the Navy and the departments of the Colonies, Roullet took part in the military campaigns of Tonkin in 1885 and 1886 with an artistic mission given by the State to execute drawings; then he left for Tunisia (1889-1890), New Caledonia (1889), Senegal and Sudan (1891).
He became the correspondent for Le Monde Illustre for which he executed scenes from Africa, Oceania, Indochina and Canada, but also inspired by many sites on the coasts of Brittany and Normandy.
Click here to read Roullet's bio on Wikipedia (in French only).
NOTE: Click on any image below for a bigger version (no new window will open).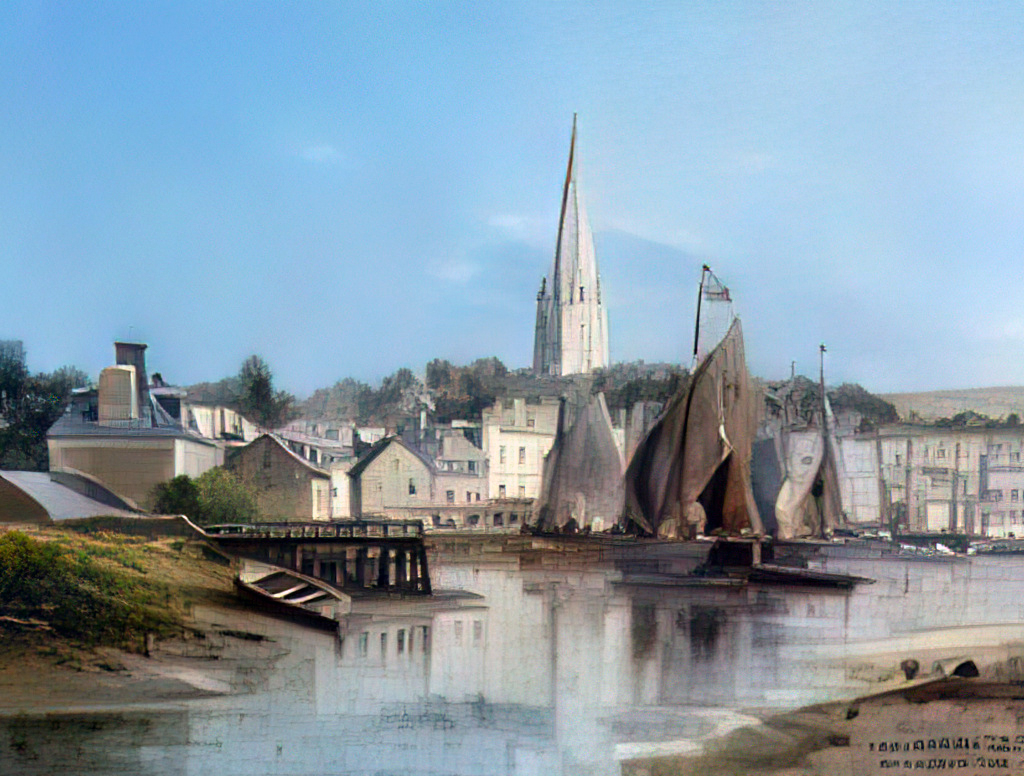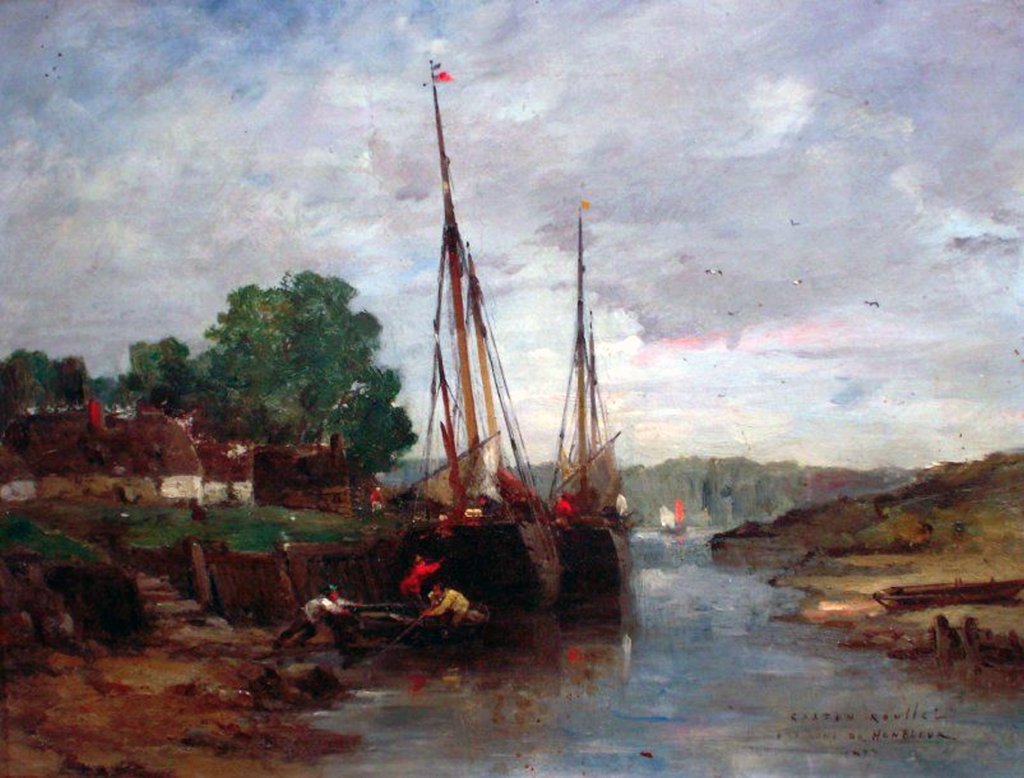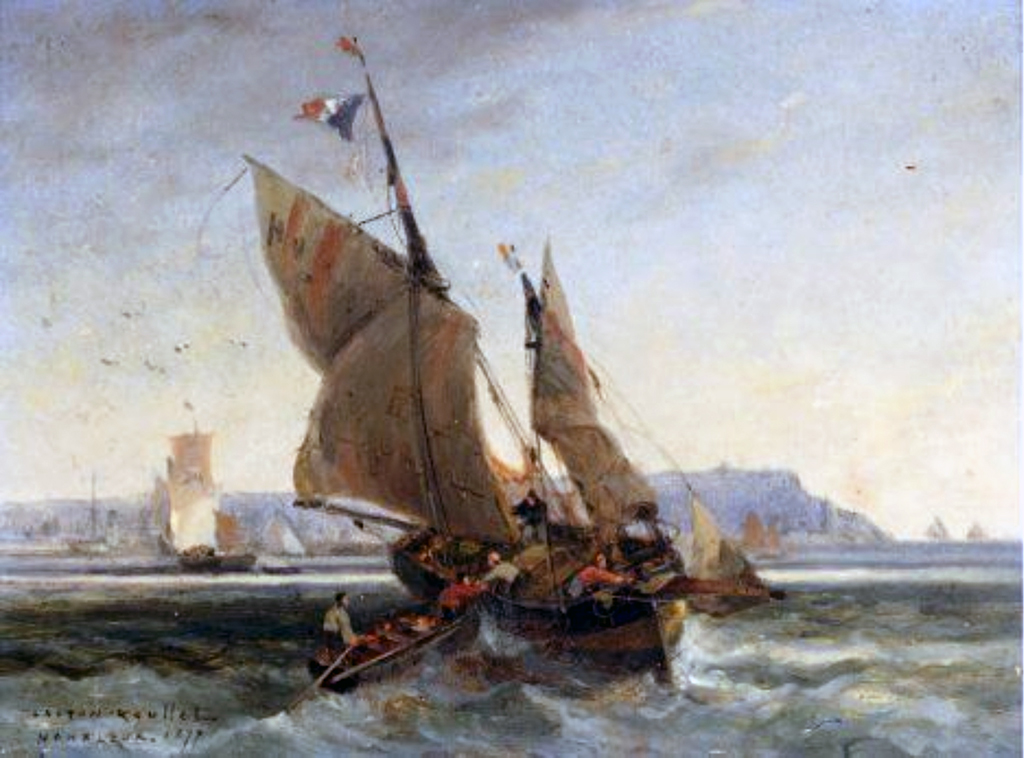 Gaston Roullet painted all over the world, but here are the places he painted in France (a link "⇠" will appear next to each place when published):
Brittany

Fougeres
Larmor-Plage
Pont-Aven
Quimper
Treboul

Hauts-de-France
Normandy
Provence-Alpes-Cote d'Azur
Honfleur was (and is) a very picturesque town, so it saw many artists capturing the beauty of this very scenic town. The reason it has so many tourists is obvious…. it's very pretty. Here are some of the artists that have come to apply their art in the town (a link, symbolized by a "⇠", to the artist's works will appear when published. A "*" indicates that the artist did not work directly in Honfleur but instead worked outside of Honfleur in a nearby town).
NOTE: You can subscribe to our new articles by entering your email address in the box on the right column (or at the very bottom of this article) and clicking on the button "Subscribe".

You will need to check your incoming emails and validate your subscription. If you can't see an email from us, check your Spam folder. Without validating your email address, you will not get notifications from us. WE WILL NEVER GIVE YOUR EMAIL ADDRESSES TO ANYONE!
Related Posts