This page forms part of a series of pages dedicated to the many artists who worked in Honfleur. A full list of all the artists with a link to their works can be found at the bottom of this page.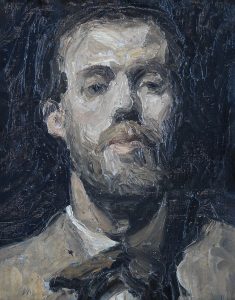 Movement(s): –
Ronald Ossory Dunlop RA (1894 – 1973) was an Irish author and painter in oil of landscapes, seascapes, figure studies, portraits and still life. Dunlop was born in Dublin, Ireland, to a Scottish-Irish Anthroposophical-Quaker family. His mother painted in watercolour. He studied at Manchester School of Art, at Wimbledon College of Art and in Paris, having spent some time working in an advertising agency.
Most of his life was spent in England, latterly at Barnham, West Sussex, close to Chichester. He achieved fame in his lifetime, having been elected a full member of the Royal Academy in 1950, and his work is instantly recognisable, as are the many fakes which have appeared on the market over the past thirty years or so!
Dunlop's mother, Eleanor (née Fitzpatrick) was herself a watercolour artist. His father Daniel Nicol Dunlop (1868–1935), was a great friend of W. B. Yeats, James Stephens and George Russell. Yeats, Russell, and Daniel Nicol Dunlop had together published The Irish Theosophist from the home of Eleanor's father, the Shakespearean scholar R. H. Fitzpatrick.
He maintained his Irish connections, returning periodically to paint in Dublin and submitting a number of works to the RHA in the 1940s and 1950s.
Click here to read Dunlop's full bio on Wikipedia.
NOTE: Click on any image below for a bigger version (no new window will open).
NOTE: A black box like this one, means that there is an explanation text about today's situation of the painting above it.
NOTE: Click on this photo icon
anywhere below a painting to see a photo of what the area looks like today.
NOTE: A blue box like this one, means there is an explanation or a note.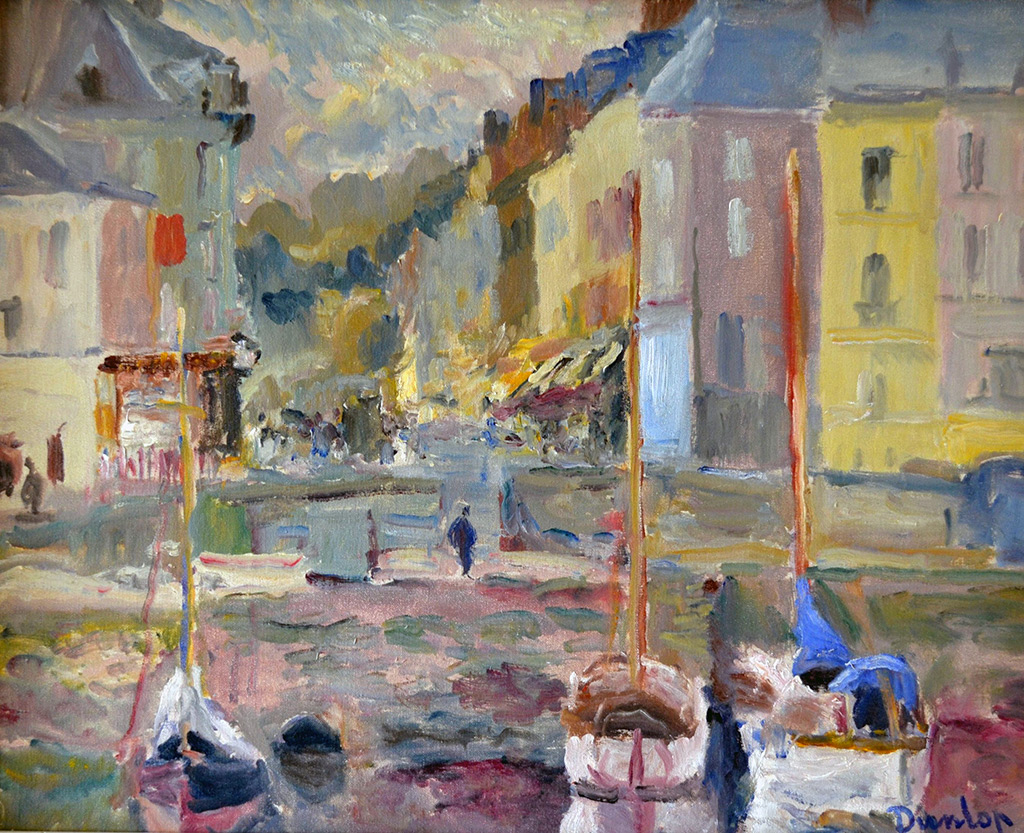 TODAY: The Vieux Bassin (the Old Basin) is the center of Honfleur's attractions. Around it you will find many restaurants and art galleries, the Lieutenancy and cobblestone streets leading into town. In the basin itself you will see many pleasure boats moored.

NOTE: On the left you can see the Sainte-Catherine church and in the middle, the Lieutenancy building.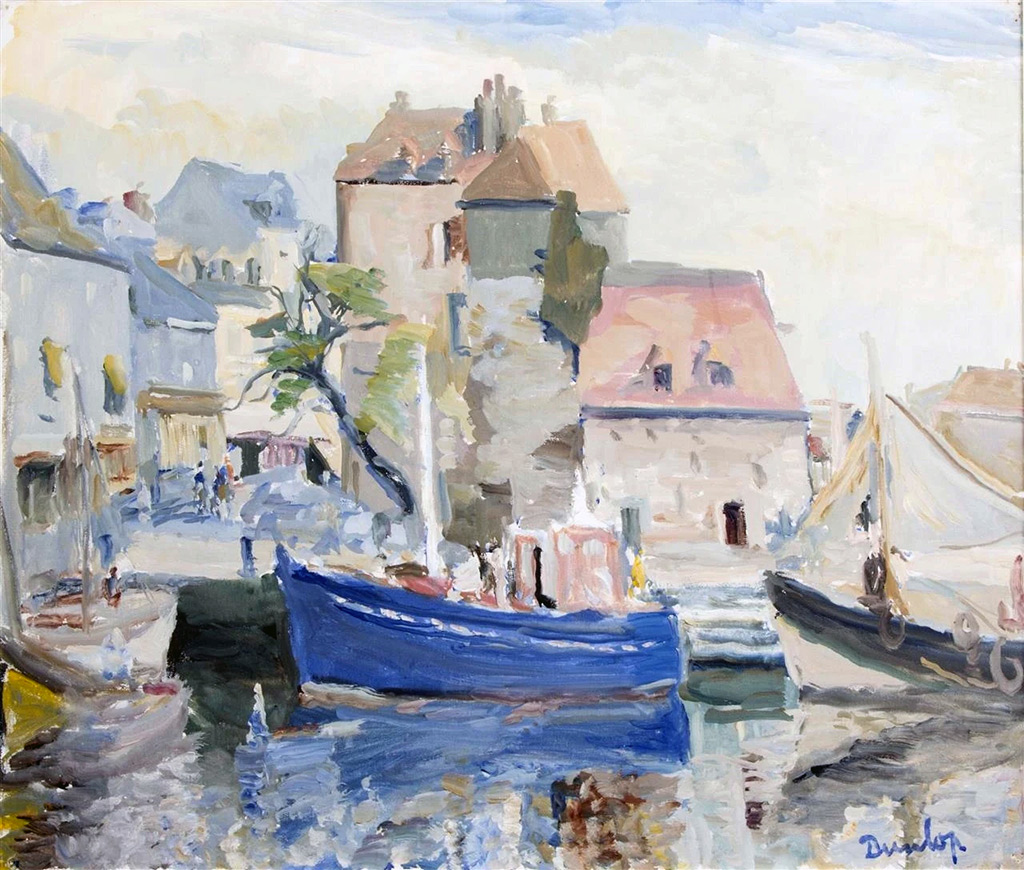 TODAY: The Lieutenancy building still stands today.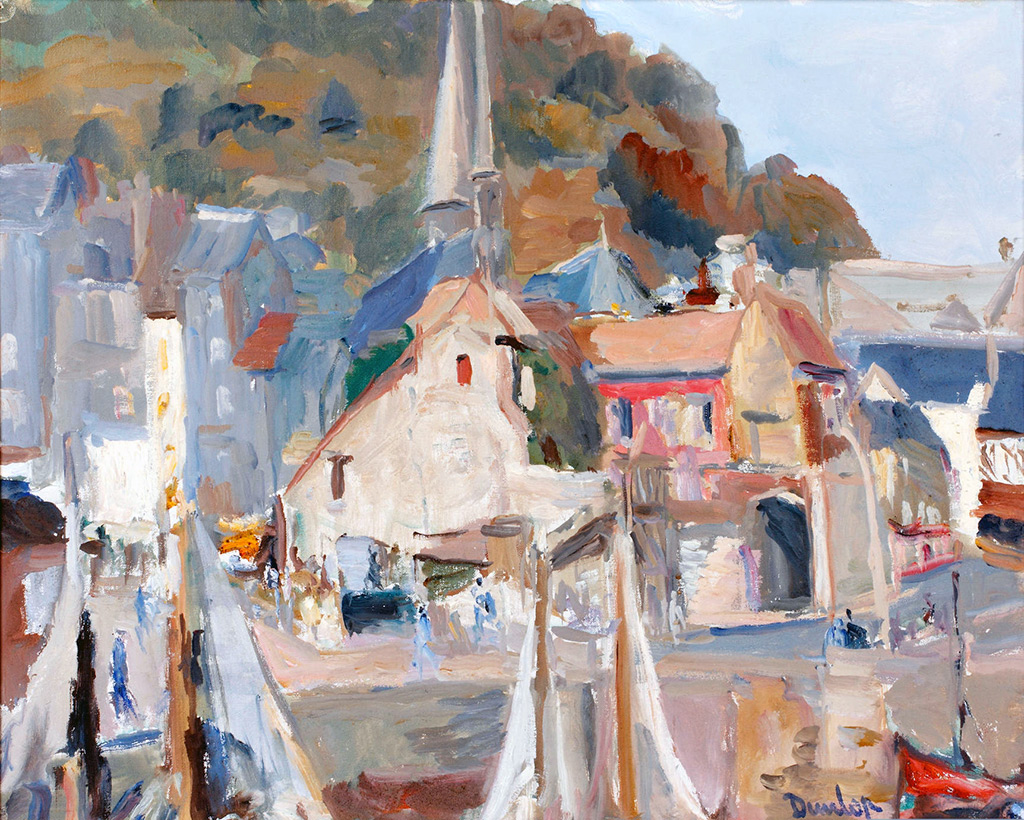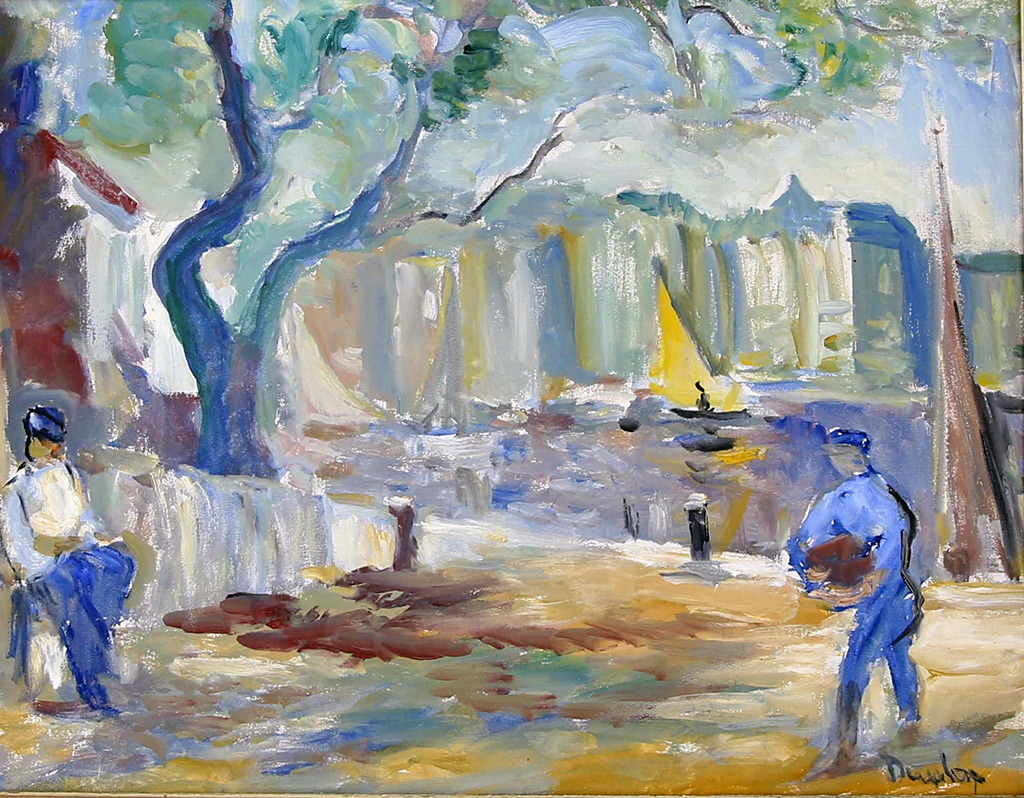 Dunlop travelled quite a lot through France to paint. Here are the places he painted in (a link "⇠" will appear when published):
Bourgogne-Franche-Comte (Burgundy)
Brittany
Normandy
Provence-Alpes-Cote d'Azur

Cagnes
Cannes
Martigues
Nice
Saint-Tropez
Honfleur was (and is) a very picturesque town, so it saw many artists capturing the beauty of this very scenic town. The reason it has so many tourists is obvious…. it's very pretty. Here are some of the artists that have come to apply their art in the town (a link, symbolized by a "⇠", to the artist's works will appear when published. A "*" indicates that the artist did not work directly in Honfleur but instead worked outside of Honfleur in a nearby town).
NOTE: You can subscribe to our new articles by entering your email address in the box on the right column (or at the very bottom of this article) and clicking on the button "Subscribe".

You will need to check your incoming emails and validate your subscription. If you can't see an email from us, check your Spam folder. Without validating your email address, you will not get notifications from us. WE WILL NEVER GIVE YOUR EMAIL ADDRESSES TO ANYONE!
Related Posts