This page forms part of a series of pages dedicated to the many artists who worked in Honfleur. A full list of all the artists with a link to their works can be found at the bottom of this page.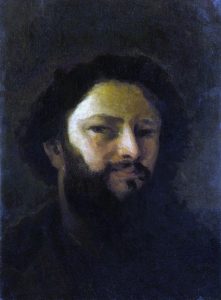 Movements: Realism
Jean Desire Gustave Courbet (1819 – 1877) was a French painter who led the Realism movement in 19th-century French painting. Born in a prosperous farming family, anti-monarchical feelings prevailed in the household (His maternal grandfather fought in the French Revolution.) Courbet's sisters, Zoe, Zelie and Juliette, were his first models for drawing and painting. After moving to Paris he often returned home to Ornans to hunt, fish and find inspiration.
Committed to painting only what he could see, he rejected academic convention and the Romanticism of the previous generation of visual artists. His independence set an example that was important to later artists, such as the Impressionists and the Cubists. Courbet occupies an important place in 19th-century French painting as an innovator and as an artist willing to make bold social statements through his work.
Courbet's paintings of the late 1840s and early 1850s brought him his first recognition. They challenged convention by depicting unidealized peasants and workers, often on a grand scale traditionally reserved for paintings of religious or historical subjects. Courbet's subsequent paintings were mostly of a less overtly political character: landscapes, seascapes, hunting scenes, nudes, and still lifes.
Courbet, a socialist, was active in the political developments of France. Courbet associated his ideas of realism in art with political anarchism, and, having gained an audience, he promoted democratic and socialist ideas by writing politically motivated essays and dissertations. His familiar visage was the object of frequent caricature in the popular French press. He was imprisoned for six months in 1871 for his involvement with the Paris Commune, and lived in exile in Switzerland from 1873 until his death.
Click here to read Courbet's full bio on Wikipedia.
NOTE: Click on any image below for a bigger version (no new window will open).
NOTE: A black box like this one, means that there is an explanation text about today's situation of the painting above it.
NOTE: Click on this photo icon
anywhere below a painting to see a photo of what the area looks like today.
NOTE: A blue box like this one, means there is an explanation or a note.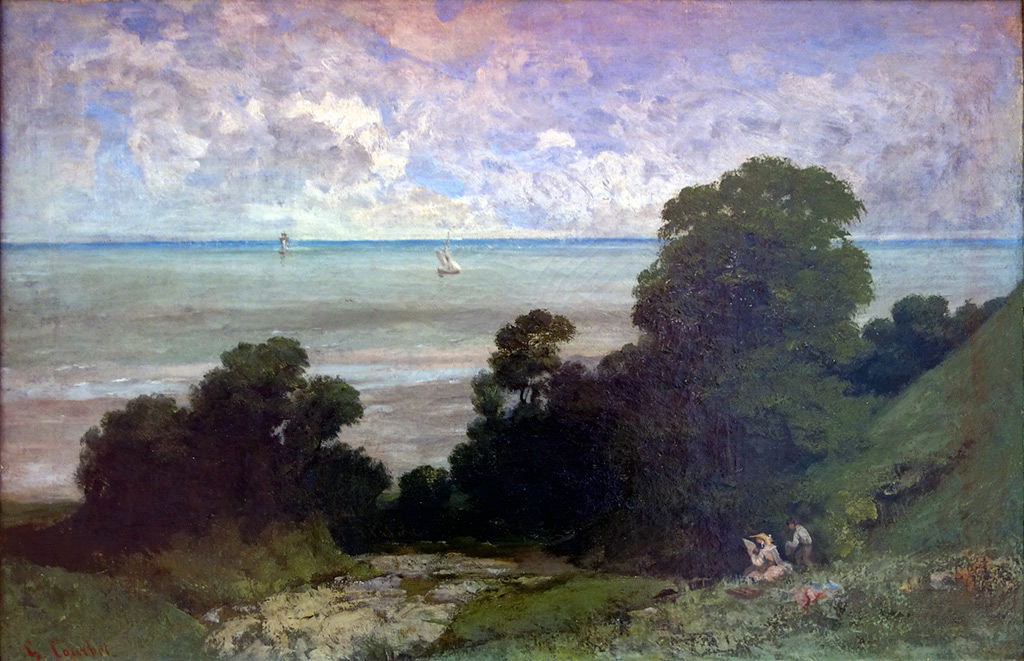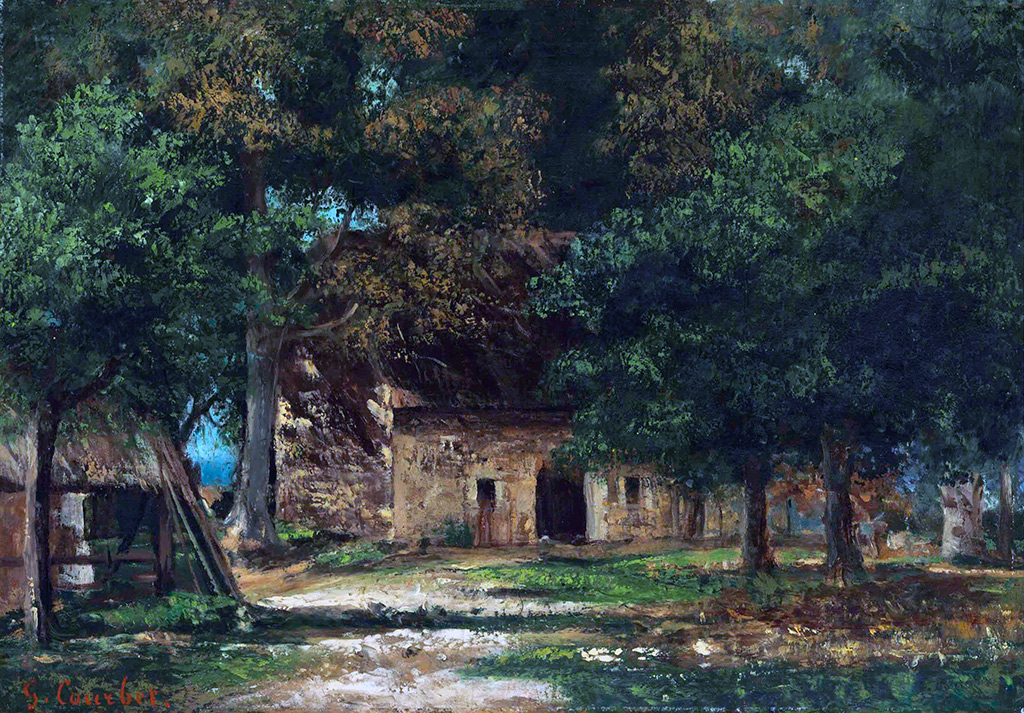 NOTE: Mother Toutain was the nickname given to the Ferme Saint Simeon, named after the woman who cooked for the sailors and artists.
TODAY: The Saint-Simeon farm was, and still is, a popular gathering spot of artists. Today the farm has been turned into a luxury hotel and spa with spectacular views. Click here to access the Saint-Simeon's web site.

Click here to read our review of the Ferme Saint Simeon.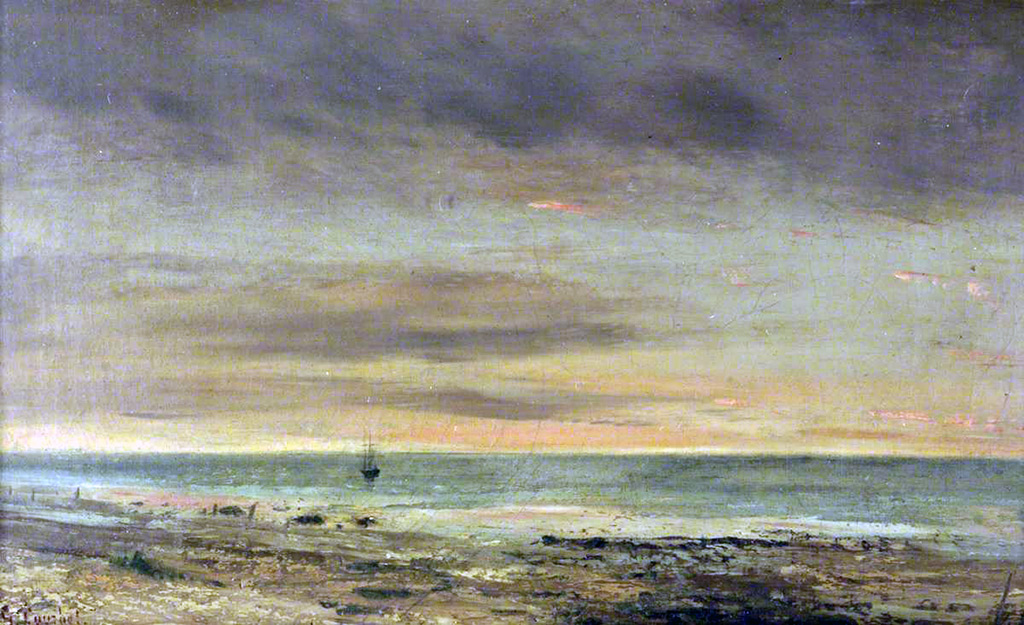 Courbet painted throughout France, but notably a lot in Normandy. Here are the places he painted in France ( a link "⇠" to his works will appear below when published):
Bourgogne-Franche-Comte (Burgundy)

Mouthiers-Haute-Pierre
Ornans
Scey-Maisieres
Thoraise

Brittany
Normandy
Occitanie
Honfleur was (and is) a very picturesque town, so it saw many artists capturing the beauty of this very scenic town. The reason it has so many tourists is obvious…. it's very pretty. Here are some of the artists that have come to apply their art in the town (a link, symbolized by a "⇠", to the artist's works will appear when published. A "*" indicates that the artist did not work directly in Honfleur but instead worked outside of Honfleur in a nearby town).
NOTE: You can subscribe to our new articles by entering your email address in the box on the right column (or at the very bottom of this article) and clicking on the button "Subscribe".

You will need to check your incoming emails and validate your subscription. If you can't see an email from us, check your Spam folder. Without validating your email address, you will not get notifications from us. WE WILL NEVER GIVE YOUR EMAIL ADDRESSES TO ANYONE!
Related Posts