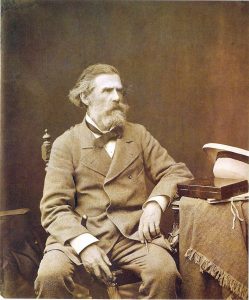 Movement(s): –
Alexey Petrovich Bogolyubov (1824 – 1896) was a Russian landscape painter. Bogolyubov was born in the Pomeranie village of Novgorod Gubernia. His father was retired colonel Pyotr Gavriilovich Bogolyubov. Bogolyubov's maternal grandfather was the well-known philosopher and social critic Alexander Radishchev.
In 1841, Alexey graduated from military school, serving in the Russian Navy and travelling with the fleet to many countries. In 1849, he started to attend classes of the Saint Petersburg Academy of Arts, where he studied under Maxim Vorobiev. The young painter was greatly influenced by Ivan Ayvazovsky. In 1853, he finished the Academy with a major Gold medal. He retired as a navy officer and was appointed an artist to the Navy headquarters.
From 1854 to 1860, he travelled around Europe and worked prolifically. In Paris, he admired the artists of the Barbizon School. French painters Camille Corot and Charles-François Daubigny were good friends and collaborators with Bogolyubov.
He was Nikolay Nikolayevich Gritsenko's professor in art.
After 1873, Bogolyubov lived primarily in Paris, because of his heart condition. His house was like a Russian colony: frequent visitors included Ivan Turgenev, Ilya Yefimovich Repin, Vasily Polenov, Mark Antokolski, Vasili Vasilyevich Vereshchagin.
Bogolyubov died on 3 February 1896 in Paris. After his death, Bogolyubov left all his money and capital (around 200 thousand Russian rubles approximately US$6 million) to the museum and its painting school. The school was opened after Bogolyubov's death and named Bogolyubov's Painting School. Among painters who attended Bogolyubov's School were such important modernist painters as Victor Borisov-Musatov, Alexei Karev and Pavel Kuznetsov.
Click here to read Bogolyubov's full bio on Wikipedia.
Alexeu (Alexei) painted in the following cities (links "⇠" to his paintings will appear below when published):
Auvergne-Rhone-Alpes
Brittany
Normandy
Nouvelle-Aquitaine
Pays de la Loire
Provence-Alpes-Cote d'Azur
Related Posts