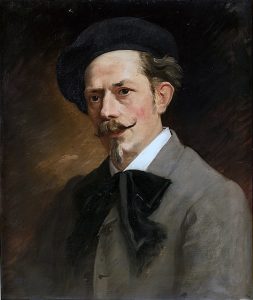 Louis-Etienne Timmermans (1846 – 1910) was a Belgian painter, specialized in marine paintings and landscapes.
He was a pupil of the Academie de Bruxelles and the Ecole des Beaux Arts de Paris.
Timmermans worked mostly in France, painting small coastal harbours, which he painted with a precise realism.
He died in 1910 in Paris. Not much else is known about him.
Timmermans painted in several places in France, and more notably in Normandy. These are the places he painted (a link "⇠" to his works will appear below when published):
Brittany

Camaret
Landerneau
Saint-Servan
Trinite-sur-Mer

Normandy
Related Posts
94

William Frome Smallwood (1806 - 1834) was a British artist who made several paintings in France and the United Kingdom. However, almost nothing else is known about this artist.

94

Russian artist Alexey (Alexei) Bogolyubov painted all over the world, but many of his works were centered along the Normandy coastlines.

94

Fernand-Fortune Truffault was a French painter. He was born in Trouville-sur-Mer. He studied art in Rouen, but not much is known about this artist.

94

Claude-Joseph Vernet (1714 – 1789) was a French painter. His son, Antoine Charles Horace Vernet, was also a painter.