This page forms part of a series of pages dedicated to the many artists who painted in Caen. A full list of all the artists with a link to their works can be found at the bottom of this page.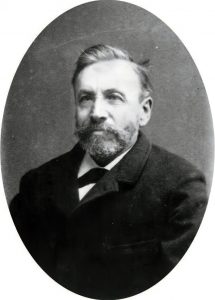 Movement(s): –
Stanislas Victor Edouard Lepine (1835 – 1892) was a French Impressionist painter, known for his landscapes and marine scenes. He was born in 1835 in Caen and began his artistic training at the École des Beaux-Arts. He later studied under the prominent landscape painter, Camille Corot.
Lepine is best known for his peaceful and idyllic landscapes, often depicting the countryside and coastal areas of France. His paintings are characterized by their bright colors and bold brushstrokes, which convey a sense of light and movement. He was particularly drawn to the landscapes of Normandy, Brittany and the Loire Valley, and often painted the sea and boats.
He was a member of the Société des Artistes Français, and exhibited his work at the Paris Salon throughout his career. He also had a strong influence on the development of Impressionism in France, and was a close friend of Monet, Renoir, and Pissarro.
In addition to his paintings, Lepine also created etchings and lithographs, and was known for his skill in capturing the beauty and serenity of the natural world. Today, his works can be found in major art museums and private collections around the world.
Click here to read Lepine's full bio on Wikipedia.
Here are some of his paintings of Caen and Caen's harbour city Ouistreham.
NOTE: Click on any image below for a bigger version (no new window will open).
NOTE: A black box like this one, means that there is an explanation text about today's situation of the painting above it.
NOTE: Click on this photo icon
anywhere below a painting to see a photo of what the area looks like today.
NOTE: A blue box like this one, means there is an explanation or a note.
NOTE: The Basin of Saint-Pierre still exists, but is used mostly by leisure boats. The Abbaye-aux-Dames mentoned, and that is visible in the distance in the painting, not only still exists but forms part of the regional government.
NOTE: The harbour of Caen still exists but has shrunk. It's mostly pleasure boats. The "real" harbour is now in Ouistreham.
TODAY: Rue de Calix still exists, but it's bigger and wider. It's located next to the Abbey and park.
Ouistreham
Ouistreham is a suburb of Caen and it's the main harbour for Caen. It is also the city that sees the ferry to the UK (click here for more info on our site).
TODAY: The Saint-Samson church, building started in the 12th century, still exists and is used today.
TODAY: The harbor of Ouistreham sees a daily ferry service to the UK.
Lepine painted in several other cities in France, see the list below (a link "⇠" to his works will appear below when published):
Brittany
Centre-Val de Loire
Normandy
Artists featured here who painted in Caen (but not limited to) are (a link "⇠" will be placed next to an artist name when their works are published. A "*" means that the artist did NOT work in Caen itself, instead worked in nearby villages and towns):
NOTE: You can subscribe to our new articles by entering your email address in the box on the right column (or at the very bottom of this article) and clicking on the button "Subscribe".

You will need to check your incoming emails and validate your subscription. If you can't see an email from us, check your Spam folder. Without validating your email address, you will not get notifications from us. WE WILL NEVER GIVE YOUR EMAIL ADDRESSES TO ANYONE!
Related Posts