This page forms part of a series of pages dedicated to the many artists who painted in Caen. A full list of all the artists with a link to their works can be found at the bottom of this page.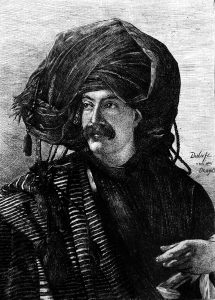 Movement(s): Orientalism
Adrien Dauzats (1804 – 1868) was a French landscape, genre painter and painter of Oriental subject matter. He travelled extensively throughout the Middle East and illustrated a number of books for the travel writer, Baron Taylor.
Adrien Dauzats was born at Bordeaux in 1804. His father was a scenery painter at a Bordeaux theatre, and the boy grew up dreaming of becoming a scene painter. He became a pupil of Lacour at the Ecole de Dessin. He was a frequent exhibitor at the Salon of genre subjects and interiors of churches, and was also a lithographer.
After completing his studies, in around 1829, he accompanied, Baron Taylor, a playwright, soldier and archaeologist to the Middle East and visited Egypt, Syria, Mount Sinai, Palestine and other locations, for the purpose of making illustrations for Baron Taylor's travel books, including: Voyages Pittoresques et Romantiques de l'ancienne France: 1820-63; Voyage Pittoresque en Espagne, en Portugal, et sur la côte d'Afrique, de Tanger à Tetouan: 1826-32; La Syrie, I'Egypte, la Palestine et la Judée: 1835-39, and other books.
After visiting Palestine, Syria, Mount Sinai and other locations, he began to produce works with Oriental themes. He was one of the first artists to paint the Orient "with scrupulous exactitude and impartiality." Following his second trip to the Middle East, he published a book, Quinze Jours au Sinai, which he co-authored with the novelist, Alexandre Dumas Snr, in which Dauzat's artistic vision set it apart from other Dumas works, and also separated it from most other travel books of the period.
In 1868, the artist accepted a commission to produce four illustrations of characters from the Arabian folktale, One Thousand and One Nights for a fixed price of 2,000 francs each. Madame Aldema, who commissioned the works, paid a 1,000 franc advance when the artist commenced the first work, Sinbad the Sailor, however, the artist died in Paris in 1868 before he could finish the work. There followed a curious litigation, where the artist's estate refused to hand over the unfinished work, on the grounds that his will had stipulated that incomplete works were not to be shown publicly. However, Madame Aldema was able to satisfy the court that the work had already been exhibited and was thus successful in taking ownership of the sketch.
Click here to read Adrien Dauzats full bio on Wikipedia.
NOTE: Click on any image below for a bigger version (no new window will open).
Adrien Dauzats painted mostly in the Middle East, however, he did manage to paint a lot in France as well. Here are all the places he painted in (a link "⇠" to his works will appear here when published):
Bourgogne-Franche-Comte
Centre-Val de Loire
Grand Est
Hauts-de-France
Normandy

Eu
Rouen (and surroundings)

Nouvelle-Aquitaine
Artists featured here who painted in Caen (but not limited to) are (a link "⇠" will be placed next to an artist name when their works are published. A "*" means that the artist did NOT work in Caen itself, instead worked in nearby villages and towns):
NOTE: You can subscribe to our new articles by entering your email address in the box on the right column (or at the very bottom of this article) and clicking on the button "Subscribe".

You will need to check your incoming emails and validate your subscription. If you can't see an email from us, check your Spam folder. Without validating your email address, you will not get notifications from us. WE WILL NEVER GIVE YOUR EMAIL ADDRESSES TO ANYONE!
Related Posts
96

David Roberts was a Scottish painter. He started as a decorator and house painter, but got an interest in paintings. He travelled extensively in the Middle East, and to reach the Middle East he travelled through France. Here are some of his detailed paintings he made of Caen.

90

One of the very few female artists we've been able to find that painted in Normandy. Anne Rushout is British and was a Lady. Not much else is known about her. Here are two of her Caen works.

90

Here are all the artists featured on our site that have painted in Caen and its immediate surroundings. There's a map with one location per artist per city. Use the map to look at that artist's works of art.

89

Samuel Prout was a British watercolourist, and one of the masters of watercolour architectural painting. Prout secured the position of Painter in Water-Colours in Ordinary to King George IV in 1829 and afterwards to Queen Victoria. To earn a living, he painted marine pieces for Palser the printseller, took students,…