This page forms part of a series of pages dedicated to the many artists who painted in Caen. A full list of all the artists with a link to their works can be found at the bottom of this page.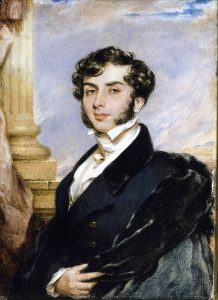 Movement(s): –
Francois Gabriel Theodore Basset de Jolimont (1787 – 1854) was a French artist, lithographer, painter and antiquary. de Jolimont was born at Martainville, not far from Rouen, on 8 February 1787, son of an advocate at the Norman parliament. He became interested in drawing at an early age. When his father died the family fortune was swallowed up by legal fees, and he had to live by his work as an artist. de Joliment acquired considerable talent in painting with gouache and watercolor, and used this skill in reproducing and restoring ancient illustrated manuscripts. He became a writer on art, water-colorist and paleographer. He became director of the Gymnase central de Paris.
He had a love of the ancient monuments of France, which he wished to preserve for ever. He created a great number of illustrations of buildings in Paris, Rouen, Moulins and Dijon, and as both artist and author published a number of illustrated works on the monuments in different cities.
King Louis-Philippe awarded him a gold medal for his 1845 book on the main buildings in Rouen of the year 1525.
Despite his talent and the volume of his work, de Jolimont always struggled with poor fortune. He died in Dijon on 27 October 1854.
Click here to read de Jolimont's full bio on Wikipedia.
Here are many of his drawing which he made in Caen and its surroundings.
NOTE: Click on any image below for a bigger version (no new window will open).
NOTE: A black box like this one, means that there is an explanation text about today's situation of the painting above it.
NOTE: Click on this photo icon
anywhere below a painting to see a photo of what the area looks like today.
NOTE: A blue box like this one, means there is an explanation or a note.
TODAY: The Saint-Sauveur church still exists in Caen, and can be visited.
TODAY: The Saint-Etienne abbey now forms part of the city hall, but is still used as church. It can be visited.
Francois de Malherbe was a famous French poet who was born in Caen.
TODAY: Not much is left of the church, already in ruins in the 1800's. The Sainte-Paix church (not to be confused with the Sainte-Paix chapel in Caen) was built in the 11th century but destroyed after the revolution.
TODAY: The "Abbey of Men" (Homme, there is a Woman abbey as well) is part of City Hall.
TODAY: The tower no longer exists today, it was destroyed in 1830 (it was built in 1350).
TODAY: The William the Conqueror (Guillaume le Roi), also known as the Leroy tower, still exists today. It used to be part of the fortifications of Caen. It was built in the 14th century.
Creully sur Seulles
The village of Creully sur Seulles (population: 2,270) lies a bit along the way from Caen on the North/West in between Caen and Bayeau.
Fontaine-Henry
The village of Fontaine-Henry (population: 480) lies in between Caen to the North West and the city of Bayeux (to its North East). Fontaine-Henry is known for its 15th century castle.
TODAY: The castle, built in the 15th century, is in private hands, but can be visited. In fact, the castle was NEVER sold or taken over. It is still in the hands of the original family (Marquis d'Oilliamson). Click here to access the castle's website (in French only)
Lion-sur-Mer
The town of Lion-sur-Mer (population: 2,400), as the name indicates, lies on the sea, North of Caen. The town was part of the Sword Beach during D-Day (WWII).
TODAY: The original castle of Lion-sur-Mer was built in the 11th century, but the current one dates from the 16th century. The castle is in private hands, can NOT be visited.
de Jolimont applied his arts all over France. He loved old monuments and buildings, and made many drawings of them. Here are the places he painted in (a link "⇠" to his works will appear here when published):
Auvergne-Rhone-Alpes
Bourgogne-Franche-Comte (Burgundy)
Centre-Val de Loire
Normandy

Caen (and surroundings) ⇠

Charmenay
Dieppe (and surroundings) ⇠
Eu
Fecamp (surroundings ONLY) ⇠
Forges-les-Eaux (and surroundings)

Beaubec-la-Rosiere
Le Thil-Riberpre

Les Yveteaux
Notre-Dame-de-Bondeville
Ouville-l'Abbaye
Rouen (and surroundings)

Canteleu
Jumieges
Saint-Martin-de-Boscherville
Villers-Ecalles
Artists featured here who painted in Caen (but not limited to) are (a link "⇠" will be placed next to an artist name when their works are published. A "*" means that the artist did NOT work in Caen itself, instead worked in nearby villages and towns):
NOTE: You can subscribe to our new articles by entering your email address in the box on the right column (or at the very bottom of this article) and clicking on the button "Subscribe".

You will need to check your incoming emails and validate your subscription. If you can't see an email from us, check your Spam folder. Without validating your email address, you will not get notifications from us. WE WILL NEVER GIVE YOUR EMAIL ADDRESSES TO ANYONE!
Related Posts