This page forms part of a series of pages dedicated to the many artists who worked in Fecamp. A full list of all the artists with a link to their works can be found at the bottom of this page.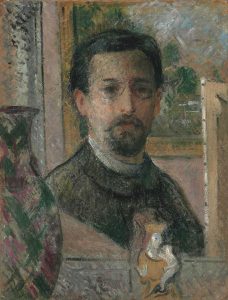 Movement(s): Post Impressionism
Gustave Loiseau (1865 – 1935) was a French Post-Impressionist painter, remembered above all for his landscapes and scenes of Paris streets. He was born in Paris and was brought up there, and at Pontoise, by parents who owned a butchers shop.
He served an apprenticeship with a decorator who was a friend of the family. In 1887, when a legacy from his grandmother allowed him to concentrate on painting, he enrolled at the "Ecole des arts decoratifs" where he studied life-drawing. However, a year later he left the school after an argument with his teacher.
While working as a decorator, Loiseau redecorated the apartment of the landscape painter Fernand Quigon (1854-1941). After he left the "Ecole des arts decoratifs", he invited Quignon tutor him in painting.
In 1890, he went to Pont-Aven in Brittany for the first time, fraternizing with the artists there, especially Paul Gauguin and Emile Bernard. After experimenting with Pointillism, he adopted his own approach to Post-Impressionism, painting landscapes directly from nature. His technique known as en treillis or cross-hatching gave his works a special quality, now recognized as his speciality.
Loiseau's paintings, revealing his passion for the seasons from the beginning of spring to the harvests later in the autumn, often depict the same orchard or garden scene as time goes by. Series of this kind, which also include cliffs, harbours or churches, are reminiscent of Claude Monet.
Click here to read more about Loiseau on Wikipedia.
NOTE: Click on any image below for a bigger version (no new window will open).
NOTE: A black box like this one, means that there is an explanation text about today's situation of the painting above it.
NOTE: Click on this photo icon
anywhere below a painting to see a photo of what the area looks like today.
NOTE: A blue box like this one, means there is an explanation or a note.
TODAY: The outer port of Fecamp is now used for pleasure boats. Where you see the houses on the left (former herring smokers factories), now stands a fishing museum.
TODAY: There are still two lighthouses and two piers marking the entrance to the Fecamp Harbor.
TODAY: The little house on the left is the lock keeper (harbor master), which is opened at high tide to let the boats out of the Berigny Basin.
TODAY: Freshly caught fish is still being sold on this spot shown in the painting above.
Grainval
The hamlet of Grainval lies to the immediate South-West of Fecamp, in between Fecamp and Yport along the coast.
NOTE: You can see the pier of Fecamp in the distance, as well as the Chapel (Chapelle Notre-Dame-du-Salut de Fecamp) of the farm (now a hotel) on top of the cliffs.
Les Petites-Dalles
The hamlet of Les Petites-Dalles lies a few villages to the North of Fecamp along the coast. It is a small but popular resort village. Many famous people (Gustave Eiffel, Jules Verne, Claude Monet, Brad Pitt) have stayed here. And yes, there is a Les Grandes-Dalles a little further towards Fecamp but less popular.
Yport
Yport (population: 850), a small fishing village (with no harbour), lies close to Fecamp on the South-West alongside the coast. Today it's a seaside resort village with a casino, restaurants and hotels.
Loiseau painted several other places in France (a link "⇠" to his works will appear below on this site when published):
Bourgogne-Franche-Comte (Burgundy)
Brittany

Cap Frehel
Pont-Aven
Saint-Lunaire

Centre-Val de Loire
Normandy
Pays de la Loire
Fecamp is a picturesque fishing town which made for a great backdrop for many artist. Here are all the artists who applied their arts in the town and its surroundings (a link "⇠" will appear when we have published an article on this artist's works in Fecamp):
NOTE: a "*" besides the artist's name indicates that the artist did NOT work directly in Fecamp, instead worked in Fecamp's surroundings only.
🇺🇸 Boggs, Frank Myers ⇠
🇫🇷 Boudan, Louis * ⇠
🇫🇷 Boudin, Eugene-Louis ⇠
🇫🇷 Bourgeois, Constant ⇠
🇫🇷 Burel, Henry E. ⇠
🇬🇧 Callow, William ⇠
🇬🇧 Conder, Charles * ⇠
🇬🇧 Cotman, John Sell ⇠
🇫🇷 Cyr, Georges Albert ⇠
🇫🇷 de Jolimont, Theodore Basset * ⇠
🇫🇷 Dufy, Raoul ⇠
🇫🇷 Gernez, Paul-Elie ⇠
🇫🇷 Loiseau, Gustave ⇠
🇫🇷 Maclet, Elisee ⇠
🇫🇷 Marquet, Albert ⇠
🇫🇷 Maufra, Maxime * ⇠
🇫🇷 Monet, Claude ⇠
🇫🇷 Morisot, Berthe ⇠
🇫🇷 Noel, Jules Achille
🇫🇷 Pissarro, Camille * ⇠
🇫🇷 Renoir, Pierre-Auguste * ⇠
🇫🇷 Roullet, Gaston ⇠
🇫🇷 Schuffenecker, Claude-Emile * ⇠
🇫🇷 Signac, Paul
NOTE: You can subscribe to our new articles by entering your email address in the box on the right column (or at the very bottom of this article) and clicking on the button "Subscribe".

You will need to check your incoming emails and validate your subscription. If you can't see an email from us, check your Spam folder. Without validating your email address, you will not get notifications from us. WE WILL NEVER GIVE YOUR EMAIL ADDRESSES TO ANYONE!
Related Posts