This page forms part of a series of pages dedicated to the many artists who worked in Fecamp. A full list of all the artists with a link to their works can be found at the bottom of this page.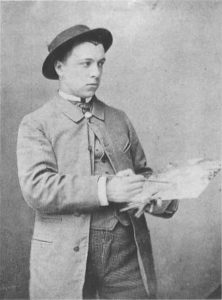 Movements: Post Impressionism, Pointillism
Paul Signac (1863 – 1935) was a French Post-Impressionist painter. He followed a course of training in architecture before, at the age of 18, deciding to pursue a career as a painter, after attending an exhibit of Monet's work. He sailed on the Mediterranean Sea, visiting the coasts of Europe and painting the landscapes he encountered. In later years, he also painted a series of watercolors of French harbor cities.
In 1884 he met Claude Monet and Georges Seurat. He was struck by the systematic working methods of Seurat and by his theory of colors and he became Seurat's faithful supporter, friend, and heir with his description of Neo-Impressionism and Divisionism method. Under Seurat's influence he abandoned the short brushstrokes of Impressionism to experiment with scientifically-juxtaposed small dots of pure color, intended to combine and blend not on the canvas, but in the viewer's eye, the defining feature of Pointillism.
In 1886 Signac met Vincent van Gogh in Paris. During 1887 the two artists regularly went to Asnières-sur-Seine together, where they painted such subjects as river landscapes and cafés. Initially, van Gogh chiefly admired Signac's loose painting technique. In March 1889, Signac visited van Gogh at Arles. The next year he made a short trip to Italy, seeing Genoa, Florence, and Naples.
Signac loved sailing and began to travel in 1892, sailing a small boat to almost all the ports of France, to the Netherlands, and on the Mediterranean Sea as far as Constantinople, basing his boat at St. Tropez, which he later would make popular to other artists. From his various ports of call, Signac brought back vibrant, colorful watercolors, sketched rapidly from nature. From these sketches, he painted large studio canvases that are carefully composed of small, mosaic-like squares of color quite different from the tiny, variegated dots introduced and used by Seurat.
On 7 November 1892, Signac married Berthe Robles at the town hall of the 18th arrondissement of Paris. The witnesses at the wedding were Alexandre Lemonier, Maximilien Luce, Camille Pissarro, and Georges Lecomte.
Signac wrote several important works on the theory of art, among them, From Eugene Delacroix to Neo-Impressionism, published in 1899. It is a monograph devoted to Johan Barthold Jongkind (1819–1891), and was published in 1927. He also authored several introductions to the catalogues of art exhibitions and many other writings yet to be published.
Politically, he was an anarchist, as were many of his friends, including Felix Feneon and Camille Pissarro.
Click here to read more about Paul Signac on Wikipedia.
NOTE: Click on any image below for a bigger version (no new window will open).
NOTE: A black box like this one, means that there is an explanation text about today's situation of the painting above it.
NOTE: Click on this photo icon
anywhere below a painting to see a photo of what the area looks like today.
NOTE: A blue box like this one, means there is an explanation or a note.
NOTE: You can see the pier on the left and on top of the cliff, the chapel and farm that still exist today.
TODAY: The boats are moored at the Berigny Quai in the Berigny Basin. On the quai you will still find many shops and restaurants.
Signac painted several other places in France, which will be featured eventually on this site. A link "⇠" to those cities will appear below.
Auvergne-Rhone-Alpes
Bourgogne-Franche-Comte (Burgundy)
Brittany

Audierne
Cancale
Ile-de-Brehat
Landerneau
Lezardrieux
Port-Louis
Quimper
Saint-Briac-sur-Mer

Corsica
Hauts-de-France
Normandy
Nouvelle-Aquitaine
Occitanie
Pays de la Loire
Provence-Alpes-Cote d'Azur

Antibes
Avignon
Cannes
Cassis
Castellane
Menton
Nice
Saint-Tropez
Sete
Toulon
Villefranche-sur-Mer
Fecamp is a picturesque fishing town which made for a great backdrop for many artist. Here are all the artists who applied their arts in the town and its surroundings (a link "⇠" will appear when we have published an article on this artist's works in Fecamp):
NOTE: a "*" besides the artist's name indicates that the artist did NOT work directly in Fecamp, instead worked in Fecamp's surroundings only.
🇺🇸 Boggs, Frank Myers ⇠
🇫🇷 Boudan, Louis * ⇠
🇫🇷 Boudin, Eugene-Louis ⇠
🇫🇷 Bourgeois, Constant ⇠
🇫🇷 Burel, Henry E. ⇠
🇬🇧 Callow, William ⇠
🇬🇧 Conder, Charles * ⇠
🇬🇧 Cotman, John Sell ⇠
🇫🇷 Cyr, Georges Albert ⇠
🇫🇷 de Jolimont, Theodore Basset * ⇠
🇫🇷 Dufy, Raoul ⇠
🇫🇷 Gernez, Paul-Elie ⇠
🇫🇷 Loiseau, Gustave ⇠
🇫🇷 Maclet, Elisee ⇠
🇫🇷 Marquet, Albert ⇠
🇫🇷 Maufra, Maxime * ⇠
🇫🇷 Monet, Claude ⇠
🇫🇷 Morisot, Berthe ⇠
🇫🇷 Noel, Jules Achille
🇫🇷 Pissarro, Camille * ⇠
🇫🇷 Renoir, Pierre-Auguste * ⇠
🇫🇷 Roullet, Gaston ⇠
🇫🇷 Schuffenecker, Claude-Emile * ⇠
🇫🇷 Signac, Paul
NOTE: You can subscribe to our new articles by entering your email address in the box on the right column (or at the very bottom of this article) and clicking on the button "Subscribe".

You will need to check your incoming emails and validate your subscription. If you can't see an email from us, check your Spam folder. Without validating your email address, you will not get notifications from us. WE WILL NEVER GIVE YOUR EMAIL ADDRESSES TO ANYONE!
Related Posts