This page forms part of a series of pages dedicated to the many artists who worked in Fecamp. A full list of all the artists with a link to their works can be found at the bottom of this page.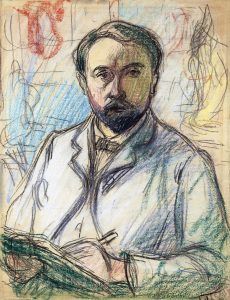 Movements: Post-Impressionists
Claude-Emile Schuffenecker (1851 – 1934) was a French Post-Impressionist artist, painter, art teacher and art collector. A friend of Paul Gauguin and Odilon Redon, and one of the first collectors of works by Vincent van Gogh, Schuffenecker was instrumental in establishing The Volpini exhibition, in 1889.
His own work, however, tends to have been neglected since his death—and even worse, recent season campaigns in the media have reactivated resentments virulent since the late 1920s, when Schuffenecker was suspected to have imitated the work of other contemporary artists, among them, Van Gogh.
Claude-Emile Schuffenecker, son of Nicolas Schuffenecker (1829–1854) and Anne Monnet (1836–1907) was born in Fresne-Saint-Mames (Haute-Saone). His father, a tailor originating from Guewenheim (Alsace, today Haut-Rhin), died when Emile was little more than two years old; the same year his brother Amedee was born in Charentenay (Haut-Rhin). The widow with her two boys moved to Meudon, close to Paris, where part of her mother's family lived, and where she had found work at a laundry. In the years to follow Emile was raised by his mother's sister, Anne Fauconnet Monnet, and her husband Pierre Cornu in Paris, educated by the Freres des Ecoles chretiennes, and started work in his uncle's business, a chocolate and coffee-roasting facility in the Les Halles quarter.
On 28 February 1872, Schuffenecker joined the broker Bertin, where he met Paul Gauguin; they became close friends. Both used to study the Old Masters at the Louvre, and worked at the Academie Colarossi.
By 1880, both Schuffenecker and Gauguin evidently had gained enough money to leave Bertin – just in time before the French Panama canal project began to turn into a disaster – and to try to stand on their own feet: Both opted for a career in the arts, and probably for additional income at the stock exchange. Then, in January 1882, the Paris Bourse crashed, and while Gauguin chose to remain independent, Schuffenecker decided to apply for the diploma to teach. Two years later, he was appointed to teach drawing at the Lycee Michelet in Vanves, with the painter Louis Roy as a collegial friend.
Schuffenecker died in Paris, 33 rue Olivier de Serres, and was buried at the Montparnasse cemetery on 3 August.
Click here to read Schuffenecker's full bio on Wikipedia.
NOTE: Click on any image below for a bigger version (no new window will open).
NOTE: To our knowledge, Schuffenecker never painted in Fecamp itself but instead painted in the nearby village of Yport.
Yport
Yport (population: 850), a small fishing village (with no harbour), lies close to Fecamp on the South-West alongside the coast. Today it's a seaside resort village with a casino, restaurants and hotels.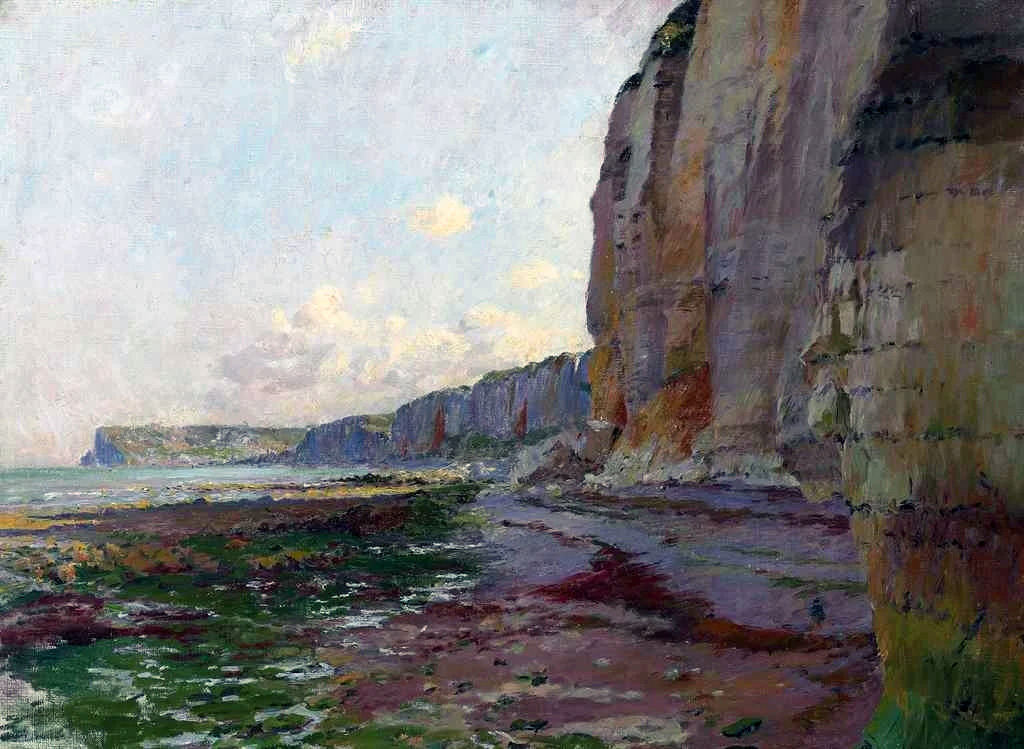 NOTE: You can see Fecamp in the distance.
Schuffenecker spent most of his artists days between Normandy, Brittany and Paris. Here are most of the places he painted in (a link "⇠" to his works will appear when published):
Fecamp is a picturesque fishing town which made for a great backdrop for many artist. Here are all the artists who applied their arts in the town and its surroundings (a link "⇠" will appear when we have published an article on this artist's works in Fecamp):
NOTE: a "*" besides the artist's name indicates that the artist did NOT work directly in Fecamp, instead worked in Fecamp's surroundings only.
🇺🇸 Boggs, Frank Myers ⇠
🇫🇷 Boudan, Louis * ⇠
🇫🇷 Boudin, Eugene-Louis ⇠
🇫🇷 Bourgeois, Constant ⇠
🇫🇷 Burel, Henry E. ⇠
🇬🇧 Callow, William ⇠
🇬🇧 Conder, Charles * ⇠
🇬🇧 Cotman, John Sell ⇠
🇫🇷 Cyr, Georges Albert ⇠
🇫🇷 de Jolimont, Theodore Basset * ⇠
🇫🇷 Dufy, Raoul ⇠
🇫🇷 Gernez, Paul-Elie ⇠
🇫🇷 Loiseau, Gustave ⇠
🇫🇷 Maclet, Elisee ⇠
🇫🇷 Marquet, Albert ⇠
🇫🇷 Maufra, Maxime * ⇠
🇫🇷 Monet, Claude ⇠
🇫🇷 Morisot, Berthe ⇠
🇫🇷 Noel, Jules Achille
🇫🇷 Pissarro, Camille * ⇠
🇫🇷 Renoir, Pierre-Auguste * ⇠
🇫🇷 Roullet, Gaston ⇠
🇫🇷 Schuffenecker, Claude-Emile * ⇠
🇫🇷 Signac, Paul
NOTE: You can subscribe to our new articles by entering your email address in the box on the right column (or at the very bottom of this article) and clicking on the button "Subscribe".

You will need to check your incoming emails and validate your subscription. If you can't see an email from us, check your Spam folder. Without validating your email address, you will not get notifications from us. WE WILL NEVER GIVE YOUR EMAIL ADDRESSES TO ANYONE!
Related Posts
94

Gustave Loiseau was a French Post-Impressionist painter, remembered above all for his landscapes and scenes of Paris streets. However he did paint a lot in Normandy, Here are his many works for Fecamp and surrounding Yport, Les Petites-Dalles and Grainval.

89

Russian artist Alexey (Alexei) Bogolyubov painted all over the world, but many of his works were centered along the Normandy coastlines. Here are his works for Fecamp and its surroundings.

89

Frank Boggs was an American (and later French) painter (born in the USA, died in France). He studied art in Paris, and travelled between France (Normandy), The Netherlands, Italy and Belgium. He naturelized to French citizenship. He is buried next to his artist son in Paris. Here are his works…

89

Edward William Cooke was an English landscape and marine painter, and gardener. Cooke was born in London, the son of well-known line engraver George Cooke; his uncle, William Bernard Cooke, was also a line engraver of note, and Edward was raised in the company of artists. He spent many years…