This page forms part of a series of pages dedicated to the many artists who worked in Fecamp. A full list of all the artists with a link to their works can be found at the bottom of this page.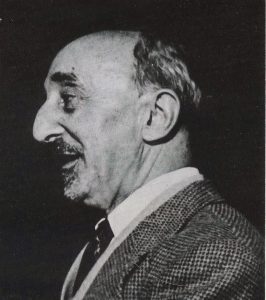 Movement(s): –
Georges Albert Cyr (1880 – 1964) is a Lebanese painter of French origin. He started his artistic career on the advice of the painter Guillaumin. As from 1924, Cyr was exhibiting at the Salon des Independents in Paris.
In 1934, following a personal tragedy, he decided to leave France and tour the Middle East and the Far East.
Having spent a few weeks in Beirut, he fell in love with the city and decided to settle in Ain El Mraisse.
He spent 27 years living in Lebanon. Cyr was not only a painter. He also worked with mosaics, ceramics, and stained glass.
He taught painting and history of art, wrote numerous essays and lectured on the subject. Many see him as the true pioneer of modern art in Lebanon.
Click here to read George Cyr's full bio on Wikipedia (in French only).
NOTE: Click on the image below for a bigger version (no new window will open).
NOTE: A black box like this one, means that there is an explanation text about today's situation of the painting above it.
NOTE: Click on this photo icon
anywhere below a painting to see a photo of what the area looks like today.
NOTE: A blue box like this one, means there is an explanation or a note.
TODAY: The fishing boat docks and its fish storage area remains the same.
Although George Cyr painted mostly in the Middle East, he did spend quite some time in France. Here are the places he painted in (a link "⇠" to his works for each place will follow when published).
Fecamp is a picturesque fishing town which made for a great backdrop for many artist. Here are all the artists who applied their arts in the town and its surroundings (a link "⇠" will appear when we have published an article on this artist's works in Fecamp):
NOTE: a "*" besides the artist's name indicates that the artist did NOT work directly in Fecamp, instead worked in Fecamp's surroundings only.
🇺🇸 Boggs, Frank Myers ⇠
🇫🇷 Boudan, Louis * ⇠
🇫🇷 Boudin, Eugene-Louis ⇠
🇫🇷 Bourgeois, Constant ⇠
🇫🇷 Burel, Henry E. ⇠
🇬🇧 Callow, William ⇠
🇬🇧 Conder, Charles * ⇠
🇬🇧 Cotman, John Sell ⇠
🇫🇷 Cyr, Georges Albert ⇠
🇫🇷 de Jolimont, Theodore Basset * ⇠
🇫🇷 Dufy, Raoul ⇠
🇫🇷 Gernez, Paul-Elie ⇠
🇫🇷 Loiseau, Gustave ⇠
🇫🇷 Maclet, Elisee ⇠
🇫🇷 Marquet, Albert ⇠
🇫🇷 Maufra, Maxime * ⇠
🇫🇷 Monet, Claude ⇠
🇫🇷 Morisot, Berthe ⇠
🇫🇷 Noel, Jules Achille
🇫🇷 Pissarro, Camille * ⇠
🇫🇷 Renoir, Pierre-Auguste * ⇠
🇫🇷 Roullet, Gaston ⇠
🇫🇷 Schuffenecker, Claude-Emile * ⇠
🇫🇷 Signac, Paul
NOTE: You can subscribe to our new articles by entering your email address in the box on the right column (or at the very bottom of this article) and clicking on the button "Subscribe".

You will need to check your incoming emails and validate your subscription. If you can't see an email from us, check your Spam folder. Without validating your email address, you will not get notifications from us. WE WILL NEVER GIVE YOUR EMAIL ADDRESSES TO ANYONE!
Related Posts