This page forms part of a series of pages dedicated to the many artists who worked in Fecamp. A full list of all the artists with a link to their works can be found at the bottom of this page.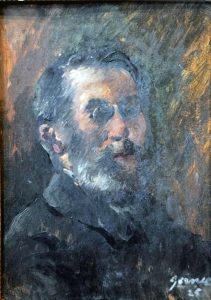 Movement(s): Cubism
Paul-Elie Gernez born in Onnaing on January 27, 1888 and died in Honfleur on September 6, 1948 is a French painter, watercolourist, engraver and illustrator.
Paul-Elie Gernez let himself be tempted at the start of his career by Cubism, then returned to a more classical figuration, to the landscape, to still life, to seascapes, to still lifes of flowers.
He mainly draws his inspiration from Honfleur where he stays there a lot. He quickly understands that he found there what he was looking for: calm, a job that allows him to live, but gives him time to paint and above all that estuary atmosphere so loved by Eugene Boudin.
Gernez works a lot and wants to accomplish his "ranges" every day by making many drawings. In the same spirit, he produces two to four watercolors per day. He works from nature: nudes, still lifes and landscapes. Gernez divides his time between Paris and Honfleur, which he never leaves for long. In 1923, he was named Knight of the Legion of Honor.
In 1942, illness forced him to rest. His pace slows down, but he continues to work. After a serious operation in 1946, Gernez passed away in 1948 in Honfleur.
Click here to read his bio on Wikipedia (in French only)
NOTE: Click on the image below for a bigger version (no new window will open).
Paul-Elie Gernez painted most of his life in Normandy, but he did manage to visit some other parts of France. Here are all the places we've found where he painted (a link "⇠" to his works will appear when published):
Normandy
Provence-Alpes-Cote d'Azur
Fecamp is a picturesque fishing town which made for a great backdrop for many artist. Here are all the artists who applied their arts in the town and its surroundings (a link "⇠" will appear when we have published an article on this artist's works in Fecamp):
NOTE: a "*" besides the artist's name indicates that the artist did NOT work directly in Fecamp, instead worked in Fecamp's surroundings only.
🇺🇸 Boggs, Frank Myers ⇠
🇫🇷 Boudan, Louis * ⇠
🇫🇷 Boudin, Eugene-Louis ⇠
🇫🇷 Bourgeois, Constant ⇠
🇫🇷 Burel, Henry E. ⇠
🇬🇧 Callow, William ⇠
🇬🇧 Conder, Charles * ⇠
🇬🇧 Cotman, John Sell ⇠
🇫🇷 Cyr, Georges Albert ⇠
🇫🇷 de Jolimont, Theodore Basset * ⇠
🇫🇷 Dufy, Raoul ⇠
🇫🇷 Gernez, Paul-Elie ⇠
🇫🇷 Loiseau, Gustave ⇠
🇫🇷 Maclet, Elisee ⇠
🇫🇷 Marquet, Albert ⇠
🇫🇷 Maufra, Maxime * ⇠
🇫🇷 Monet, Claude ⇠
🇫🇷 Morisot, Berthe ⇠
🇫🇷 Noel, Jules Achille
🇫🇷 Pissarro, Camille * ⇠
🇫🇷 Renoir, Pierre-Auguste * ⇠
🇫🇷 Roullet, Gaston ⇠
🇫🇷 Schuffenecker, Claude-Emile * ⇠
🇫🇷 Signac, Paul
NOTE: You can subscribe to our new articles by entering your email address in the box on the right column (or at the very bottom of this article) and clicking on the button "Subscribe".

You will need to check your incoming emails and validate your subscription. If you can't see an email from us, check your Spam folder. Without validating your email address, you will not get notifications from us. WE WILL NEVER GIVE YOUR EMAIL ADDRESSES TO ANYONE!
Related Posts