This page forms part of a series of pages dedicated to the many artists who worked in Mont Saint-Michel. A full list of all the artists with a link to their works can be found at the bottom of this page.
NOTE: To our knowledge, Guillaumin did not work in Mont Saint-Michel itself, but instead worked in nearby Carolles.
Movement(s): Impressionism
Armand Guillaumin (1841 – 1927) was a French impressionist painter and lithographer. Born Jean-Baptiste Armand Guillaumin in Paris, he worked at his uncle's lingerie shop while attending evening drawing lessons. He also worked for a French government railway before studying at the Academie Suisse in 1861.
There, he met Paul Cezanne and Camille Pissarro with whom he maintained lifelong friendships. While he never achieved the stature of these two, his influence on their work was significant. Cezanne attempted his first etching based on Guillaumin paintings of barges on the River Seine.
In 1886, he became a friend of Vincent van Gogh whose brother, Theo sold some of his works. He was finally able to quit his government job and concentrate on painting full-time in 1891, when he won 100,000 francs in the state lottery. Noted for their intense colours, Guillaumin's paintings are represented in major museums around the world.
He is best remembered for his landscapes of Paris, the Creuse departement, and the area around Les Adrets-de-l'Esterel near the Mediterranean coast in the Provence-Alpes-Cote d'Azur region of France. Guillaumin was called the leader of the Ecole de Crozant, a diverse group of painters who came to depict the landscape in the region of the Creuse around the village of Crozant.
Click here to read more of Guillaumin's bio on Wikipedia.
NOTE: Click on any image below for a bigger version (no new window will open).
Carolles
The village of Carolles (population: 750) lies to the North of Mont Saint-Michel along the coast.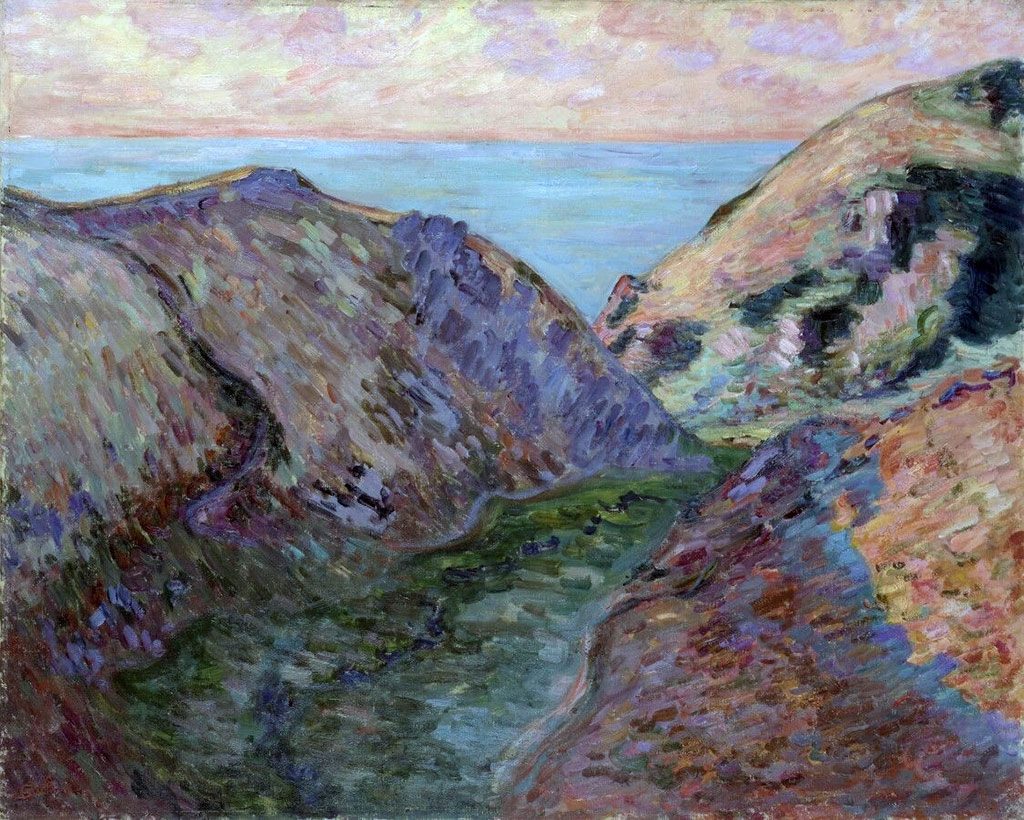 Guillaumin painted all over France. Here are most of the places he painted in (a link "⇠" to his works will appear when published):
Auvergne-Rhone-Alpes

Peschadoires
Pontcharra
Pontgibaud

Bourgogne-Franche-Comte (Burgundy)

Nouvelle-Aquitaine

Crozant
Poitiers
Saint-Palais

Provence-Alpes-Cote d'Azur

Agay
Esterel
Saint-Raphael
Saint-Tropez
The Mont Saint-Michel is a very impressive village, used as backdrop for many artists travelling in the region. Here are the artists that we have found that worked in the area (a link "⇠" will appear next to an artist name when we published their works of art. A "*" next to a name indicates that the artist did NOT work in Mont Saint-Michel itself, but closeby).
🇬🇧 Bonington, Richard Parkes
🇬🇧 Callow, William
🇬🇧 Cooke, Edward William
🇬🇧 Cotman, John Sell
🇬🇧 Fergusson, John Duncan
🇫🇷 Gudin, Theodore
🇫🇷 Guillaumin, Armand *
🇫🇷 Huet, Paul *
🇫🇷 Isabey, Eugene
🇬🇧 Kay, James
🇫🇷 Letellier, Emile-Andre
🇬🇧 Meadows, Arthur Joseph
🇫🇷 Michallon, Achille-Etna
🇫🇷 Parrott, William *
NOTE: You can subscribe to our new articles by entering your email address in the box on the right column (or at the very bottom of this article) and clicking on the button "Subscribe".

You will need to check your incoming emails and validate your subscription. If you can't see an email from us, check your Spam folder. Without validating your email address, you will not get notifications from us. WE WILL NEVER GIVE YOUR EMAIL ADDRESSES TO ANYONE!
Related Posts