This page forms part of a series of pages dedicated to the many artists who worked in Mont Saint-Michel. A full list of all the artists with a link to their works can be found at the bottom of this page.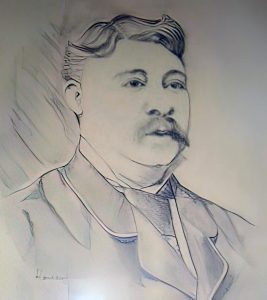 Movements: –
Arthur Joseph Meadows (1843 – 1907) was a British painter of coastal scenes and marines who was greatly influenced by Clarkson Frederick Stanfield. Arthur Joseph is generally considered to be the best of the Meadows family of marine artists, he was the younger brother of James Edwin Meadows Jnr. and the son of James Meadows Snr.
His work compares favourably with most of the major nineteenth century maritime painters producing seas, which look as if they might be subject to all the vagaries of the tidal forces. He had the ability to convey the depth and immensity of the ocean. His shoreline scenes with beached boats lying close to the water's edge, while fishermen unload their catch, were also very effectively executed.
Meadows was a prolific artist, producing many paintings, drawings and etchings throughout his career. His work is characterized by its attention to detail and his ability to capture the beauty of the natural world. He was particularly known for his paintings of the sea and coast, often depicting ships and boats in rough seas.
His work was well-received during his lifetime and he was a member of several art societies, including the Royal Society of British Artists and the Royal Institute of Painters in Watercolours. He exhibited at the Royal Academy and at other major exhibitions in London, including the Grosvenor Gallery and the New Gallery.
Meadows painted harbours and coastal scenes in England, France and Holland.
Not much else is known about this artist.
NOTE: Click on any image below for a bigger version (no new window will open).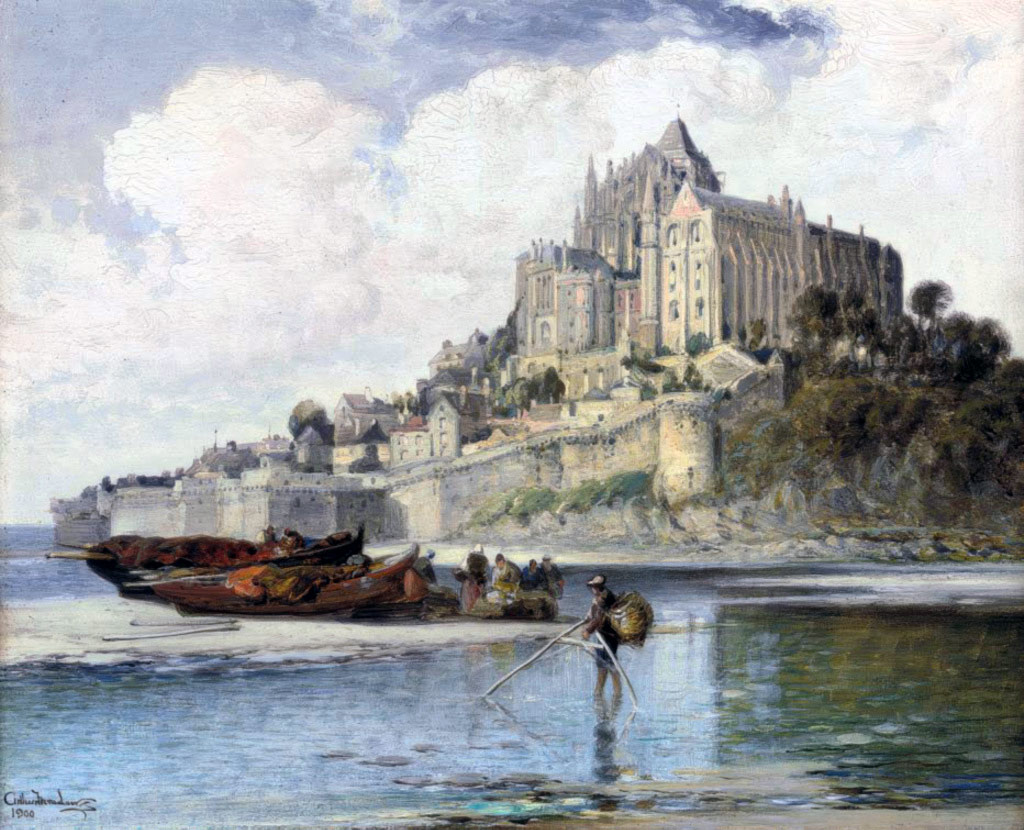 Arthur Meadows painted in many places in France. Here's a list of places we found (a link "⇠" will appear next to a place when we have published his works).
Brittany
Centre-Val de Loire
Hauts-de-France
Normandy
Provence-Alpes-Cote d'Azur

Avignon
Cannes
Menton
Nice
The Mont Saint-Michel is a very impressive village, used as backdrop for many artists travelling in the region. Here are the artists that we have found that worked in the area (a link "⇠" will appear next to an artist name when we published their works of art. A "*" next to a name indicates that the artist did NOT work in Mont Saint-Michel itself, but closeby).
🇬🇧 Bonington, Richard Parkes
🇬🇧 Callow, William
🇬🇧 Cooke, Edward William
🇬🇧 Cotman, John Sell
🇬🇧 Fergusson, John Duncan
🇫🇷 Gudin, Theodore
🇫🇷 Guillaumin, Armand *
🇫🇷 Huet, Paul *
🇫🇷 Isabey, Eugene
🇬🇧 Kay, James
🇫🇷 Letellier, Emile-Andre
🇬🇧 Meadows, Arthur Joseph
🇫🇷 Michallon, Achille-Etna
🇫🇷 Parrott, William *
NOTE: You can subscribe to our new articles by entering your email address in the box on the right column (or at the very bottom of this article) and clicking on the button "Subscribe".

You will need to check your incoming emails and validate your subscription. If you can't see an email from us, check your Spam folder. Without validating your email address, you will not get notifications from us. WE WILL NEVER GIVE YOUR EMAIL ADDRESSES TO ANYONE!
Related Posts