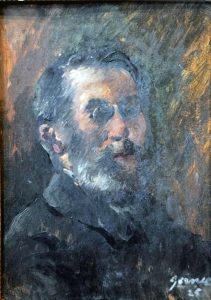 Movement(s): Cubism
Paul-Elie Gernez born in Onnaing on January 27, 1888 and died in Honfleur on September 6, 1948 is a French painter, watercolourist, engraver and illustrator.
Paul-Elie Gernez let himself be tempted at the start of his career by Cubism, then returned to a more classical figuration, to the landscape, to still life, to seascapes, to still lifes of flowers.
He mainly draws his inspiration from Honfleur where he stays there a lot. He quickly understands that he found there what he was looking for: calm, a job that allows him to live, but gives him time to paint and above all that estuary atmosphere so loved by Eugene Boudin.
Gernez works a lot and wants to accomplish his "ranges" every day by making many drawings. In the same spirit, he produces two to four watercolors per day. He works from nature: nudes, still lifes and landscapes. Gernez divides his time between Paris and Honfleur, which he never leaves for long. In 1923, he was named Knight of the Legion of Honor.
In 1942, illness forced him to rest. His pace slows down, but he continues to work. After a serious operation in 1946, Gernez passed away in 1948 in Honfleur.
Click here to read his bio on Wikipedia (in French only)
Paul-Elie Gernez painted most of his life in Normandy, but he did manage to visit some other parts of France. Here are all the places we've found where he painted (a link "⇠" to his works will appear when published):
Normandy
Provence-Alpes-Cote d'Azur
Related Posts
95

Conrad Kickert, was a self-taught painter, an art critic and a Dutch art collector. Between 1903 and 1910, he worked in Dombourg with, in particular, Jan Toorop and in Bergen. He was one of the first cubists in the Netherlands. In 1910, he founded the Modern Art Circle in Amsterdam,…

86

George Braque (1882 1963) was a major 20th-century French painter. His most notable contributions were in his alliance with Fauvism from 1905, and the role he played in the development of Cubism. Braque's work is closely associated with that of his colleague Pablo Picasso.

84

Fernand-Fortune Truffault was a French painter. He was born in Trouville-sur-Mer. He studied art in Rouen, but not much is known about this artist.