This page forms part of a series of pages dedicated to the many artists who painted in Deauville. A full list of all the artists with a link to their works can be found at the bottom of this page.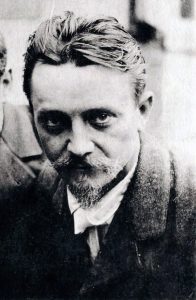 Movements: –
Felix Edouard Vallotton (1865 – 1925) was a Swiss and French painter and printmaker associated with the group of artists known as Les Nabis. He was an important figure in the development of the modern woodcut. He painted portraits, landscapes, nudes, still lifes, and other subjects in an unemotional, realistic style.
He developed a simpler style during his association with Les Nabis during the 1890s, and produced woodcuts which brought him international recognition. He was also active as a writer.
He published art criticism during the 1890s, and his novel La Vie meurtriere (The Murderous Life) was published posthumously.
Vallotton was born into a conservative middle-class family in Lausanne, the third of four children. His father owned a pharmacy, and later purchased a chocolate factory. His mother, Emma, was the daughter of a furniture craftsman. His family environment was warm but strict, in the Swiss Protestant tradition.
Click here to read Vallotton's full bio on Wikipedia.
NOTE: Click on any image below for a bigger version (no new window will open).
Houlgate
The town of Houlgate lies in between Deauville and Caen, and is a popular weekend destination.
Valloton had a studio in Honfleur, so he painted quite a lot in Normandy. Here are the places he painted in France (links "⇠" to his works will follow below when published):
Bourgogne-Franche-Comte (Burgundy)
Brittany

Dinan
Locquirec
Ploumanach
Tregastel

Normandy
Nouvelle-Aquitaine
Pays de la Loire
Provence-Alpes-Cote d'Azur
Deauville was (and still is) a popular place to paint. Here are the artists we found that worked in the city and its surroundings. When an artist's work is published by us, we'll show a link ("⇠") to their works of art. A "*" indicates that the artist did NOT paint directly in Deauville, instead worked in Deauville's surroundings.
NOTE: You can subscribe to our new articles by entering your email address in the box on the right column (or at the very bottom of this article) and clicking on the button "Subscribe".

You will need to check your incoming emails and validate your subscription. If you can't see an email from us, check your Spam folder. Without validating your email address, you will not get notifications from us. WE WILL NEVER GIVE YOUR EMAIL ADDRESSES TO ANYONE!
Related Posts
93

Here are all the artists featured on our site that have painted in Deauville in Normandy. There's a map with one location per artist per city. Use the map to look at all that artist's works of art.

86

Fernand-Fortune Truffault was a French painter. He was born in Trouville-sur-Mer. He studied art in Rouen, but not much is known about this artist. Here are his artworks he made in Deauville.

86

Frank Boggs was an American (and later French) painter (born in the USA, died in France). He studied art in Paris, and travelled between France (Normandy), The Netherlands, Italy and Belgium. He naturelized to French citizenship. He is buried next to his artist son in Paris. Here is the one…

85

Pierre Chapuis was a French painter who was also known for his theatre decors and his water paintings of Deauville and Trouville. Not much else is known about this artist. Here are his works for Deauville.