This page forms part of a series of pages dedicated to the many artists who painted in Deauville. A full list of all the artists with a link to their works can be found at the bottom of this page.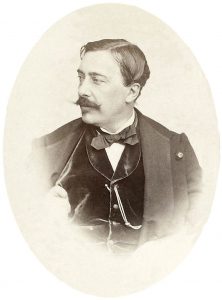 Alfred Emile Leopold Stevens (1823 – 1906) was a Belgian painter born in Brussels, who became famous for his paintings of elegant women. His family were all in the art world; his older brother and his son were both painters, while another brother was an art dealer and critic. Alfred's father was an art collector while his mother's parents ran Cafe de l'Amitie in Brussels, a meeting place for politicians, writers, and artists.
Alfred studied art in Brussels and Paris. Although he lived between Brussels and Paris, he spent quite some times at the Normandy coast, on doctor's orders.
Click here to read Stevens full bio on Wikipedia.
NOTE: Click on the image below for a bigger version (no new window will open).
Stevens painted in the following other places in Normandy (a link "⇠" to his works will appear below for each city when published):
Normandy
Provence-Alpes-Cote d'Azur
Deauville was (and still is) a popular place to paint. Here are the artists we found that worked in the city and its surroundings. When an artist's work is published by us, we'll show a link ("⇠") to their works of art. A "*" indicates that the artist did NOT paint directly in Deauville, instead worked in Deauville's surroundings.
NOTE: You can subscribe to our new articles by entering your email address in the box on the right column (or at the very bottom of this article) and clicking on the button "Subscribe".

You will need to check your incoming emails and validate your subscription. If you can't see an email from us, check your Spam folder. Without validating your email address, you will not get notifications from us. WE WILL NEVER GIVE YOUR EMAIL ADDRESSES TO ANYONE!
Related Posts
10000

Alfred Emile Leopold Stevens was a Belgian painter, known for his paintings of elegant modern women. He painted several places in Normandy.

90

Jean Desire Gustave Courbet (1819 – 1877) was a French painter who led the Realism movement in 19th-century French painting. Committed to painting only what he could see, he rejected academic convention and the Romanticism of the previous generation of visual artists. Courbet, a socialist, was active in the political…

86

Alfred Emile Leopold Stevens was a Belgian painter, known for his paintings of elegant modern women. Here are his paintings he made in Honfleur, Normandy.

85

Gustave Caillebotte (1848 – 1894) was a French painter who was a member and patron of the Impressionists, although he painted in a more realistic manner than many others in the group. Caillebotte was known for his early interest in photography as an art form. Caillebotte earned a law degree…