This page forms part of a series of pages dedicated to the many artists who painted in Deauville. A full list of all the artists with a link to their works can be found at the bottom of this page.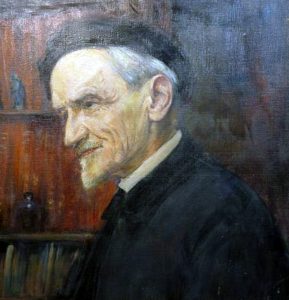 Movement(s): –
Pierre Chapuis (1863 – 1942) was born in a modest family in Paris. He started his career as an apprentice for decorators.
He became quite known for his theatre decors until he was discovered as an artist.
His aquarelle paintings of Deauville and Trouville-sur-Mer are well known.
Not much else is know about this French painter.
NOTE: A black box like this one, means that there is an explanation text about today's situation of the painting above it.
NOTE: Click on this photo icon
anywhere below a painting to see a photo of what the area looks like today.
NOTE: A blue box like this one, means there is an explanation or a note.
NOTE: Click on any image below for a bigger version (no new window will open).
TODAY: The Contaut-Bidon road is still THE place to walk in Deauville. You can compare it with the Champs Elysee in Paris, stacked with high-end shops.
Chapuis painted in several places in France, however, his works in Normandy are the best known. Here are the places he painted (a link "⇠" to his works will appear below when published):
Brittany
Centre-Val de Loire
Grand Est
Hauts-de-France
Normandy
Pays de la Loire
Deauville was (and still is) a popular place to paint. Here are the artists we found that worked in the city and its surroundings. When an artist's work is published by us, we'll show a link ("⇠") to their works of art. A "*" indicates that the artist did NOT paint directly in Deauville, instead worked in Deauville's surroundings.
NOTE: You can subscribe to our new articles by entering your email address in the box on the right column (or at the very bottom of this article) and clicking on the button "Subscribe".

You will need to check your incoming emails and validate your subscription. If you can't see an email from us, check your Spam folder. Without validating your email address, you will not get notifications from us. WE WILL NEVER GIVE YOUR EMAIL ADDRESSES TO ANYONE!
Related Posts
98

Fernand-Fortune Truffault was a French painter. He was born in Trouville-sur-Mer. He studied art in Rouen, but not much is known about this artist. Here are his artworks he made in Deauville.

97

Here are all the artists featured on our site that have painted in Deauville in Normandy. There's a map with one location per artist per city. Use the map to look at all that artist's works of art.

96

Conrad Wise Chapman (1842 – 1910) was an American painter who served in the Confederate States Army from 1861 to 1865. Conrad Wise Chapman was born in Washington, D.C. and grew up in Europe where his father, John Gadsby Chapman, was working as an artist. After the end of the…

95

Frank Boggs was an American (and later French) painter (born in the USA, died in France). He studied art in Paris, and travelled between France (Normandy), The Netherlands, Italy and Belgium. He naturelized to French citizenship. He is buried next to his artist son in Paris. Here is the one…