This page forms part of a series of pages dedicated to the many artists who worked in Mont Saint-Michel. A full list of all the artists with a link to their works can be found at the bottom of this page.
Movement(s): –
John Duncan Fergusson (1874 – 1961) was a Scottish artist and sculptor, regarded as one of the major artists of the Scottish Colourists school of painting.
Fergusson was born in Leith, Edinburgh. He was the first of 4 children. Although he briefly trained as a naval surgeon, Fergusson soon realised that his vocation was painting and he enrolled at the Trustees Academy, an Edinburgh-based art school. He rapidly became disenchanted with the rigid teaching style, however, and elected to teach himself to paint. To this end, he began to travel to Morocco, Spain and France, where he became acquainted with other artists of the day. Amongst them was Samuel Peploe, another of the group of artists who would later become identified as the Scottish Colourists.
In 1898, Fergusson took his first trip to Paris to study at the Louvre. He was highly influenced by the impressionist paintings at the Salle Caillebotte and these were an important influence on his developing style. Later he would also be influenced by Fauvism and the fauvist principles of using colour would become a strong feature of his art.
Fergusson became part of the enormous growth in artistic talent that Paris was home to at the beginning of the twentieth century. There he mingled with artists like Matisse and Picasso in the café society for which the city was renowned. In addition, he and his friend Samuel Peploe regularly painted together at Paris Plage (Le Touquet) and other places along the coast between 1904–9. It was at this period too that he commenced his relationship with the American illustrator Anne Estelle Rice (1879–1959), whom he encouraged to take up painting. She had been sent to Paris to provide drawings for articles on theatre, ballet, opera and race meetings published in the North American magazine and was to figure in many of Fergusson's canvases.
Click here to read Fergusson's full bio on Wikipedia.
NOTE: Click on the image below for a bigger version (no new window will open).
Granville
The city of Granville (population: 13,000) is located to the North of Mont Saint-Michel along the coast.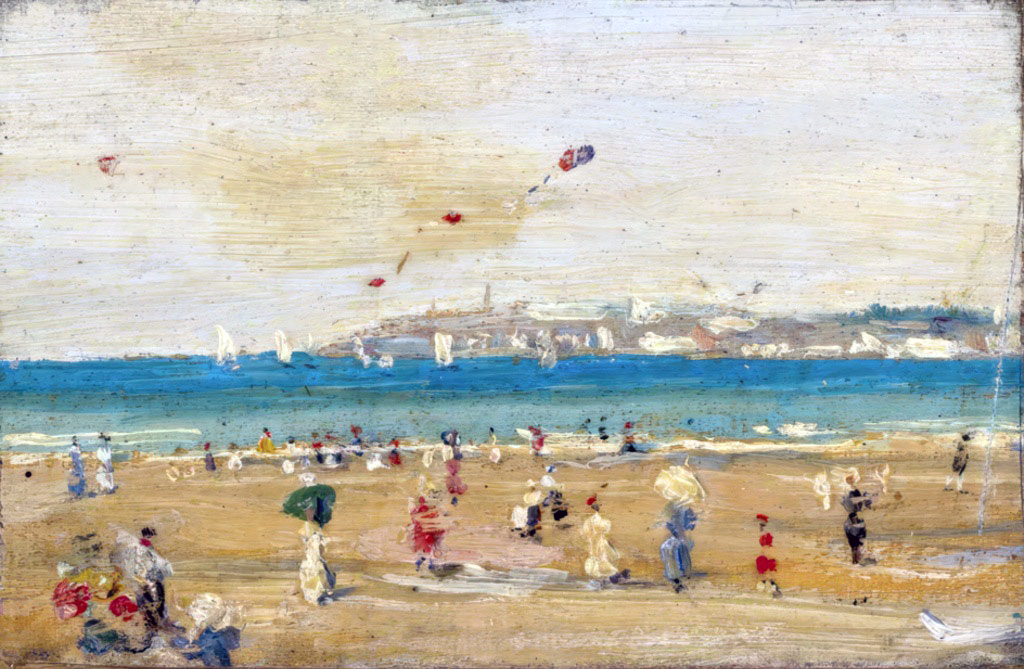 John Duncan Fergusson painted mostly in the South of France, but he did paint in a few places in Normandy (a link "⇠" to his art will be displayed when published):
Brittany
Hauts-de-France
Nouvelle-Aquitaine
Provence-Alpes-Cote d'Azur

Antibes
Cap d'Antibes
Cassis
Golfe-Juan
Juan-les-Pins
The Mont Saint-Michel is a very impressive village, used as backdrop for many artists travelling in the region. Here are the artists that we have found that worked in the area (a link "⇠" will appear next to an artist name when we published their works of art. A "*" next to a name indicates that the artist did NOT work in Mont Saint-Michel itself, but closeby).
🇬🇧 Bonington, Richard Parkes
🇬🇧 Callow, William
🇬🇧 Cooke, Edward William
🇬🇧 Cotman, John Sell
🇬🇧 Fergusson, John Duncan
🇫🇷 Gudin, Theodore
🇫🇷 Guillaumin, Armand *
🇫🇷 Huet, Paul *
🇫🇷 Isabey, Eugene
🇬🇧 Kay, James
🇫🇷 Letellier, Emile-Andre
🇬🇧 Meadows, Arthur Joseph
🇫🇷 Michallon, Achille-Etna
🇫🇷 Parrott, William *
NOTE: You can subscribe to our new articles by entering your email address in the box on the right column (or at the very bottom of this article) and clicking on the button "Subscribe".

You will need to check your incoming emails and validate your subscription. If you can't see an email from us, check your Spam folder. Without validating your email address, you will not get notifications from us. WE WILL NEVER GIVE YOUR EMAIL ADDRESSES TO ANYONE!
Related Posts