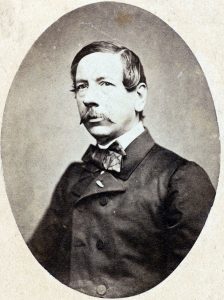 Movement(s): –
Eugene Lepoittevin (1806-1870) was a French landscape painter, lithographer and caricaturist. He was appointed as Peintre de la Marine for the French Ministry of Defence in 1849. His work is exhibited in many museums in France and at the Victoria & Albert Museum in London.
He was born as Eugene Modeste Edmond Poidevin on 31 July 1806 in Paris, France. His cousin was not Guy de Maupassant as many writers confused them, Guy de Maupassant cousin's was Louis Lepoittevin, a landscape painter namesake. Eugene was trained as a painter by Louis Hersent and Xavier Leprince.
He did many landscape paintings of Etretat in Normandy. For example, Empress Eugenie de Montijo, the wife of Emperor Napoleon III, acquired his "Les bains de mer a Entretat".
Click here to read Lepoittevin's full bio on Wikipedia.
Lepoittevin painted in several other places in Normandy, see the list below (a link "⇠" to his works for each city will appear below when published):
Related Posts