This page forms part of a series of pages dedicated to the many artists who worked in Veules-les-Roses. A full list of all the artists with a link to their works can be found at the bottom of this page.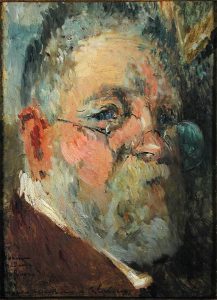 Movement(s): Impressionism, Post Impressionism
Albert Lebourg (1849 – 1928), birth name Albert-Marie Lebourg, also called Albert-Charles Lebourg and Charles Albert Lebourg, was a French Impressionist and Post-Impressionist landscape painter of the Rouen School (l'Ecole de Rouen). Member of the Societe des Artistes Francais, he actively worked in a luminous Impressionist style, creating more than 2,000 landscapes during his lifetime.
Lebourg remained occupied in all four seasons painting animated scenes of the Seine in and near Rouen and Paris. He energetically painted in Auvergne, Normandy and Ile-de-France, finally settling in Puteaux where he remained from 1888 to 1895, availing himself to the surroundings of Paris, painting what he would regard as his best works.
At the home of Impressionist art collector François Depeaux (1853–1920), Lebourg had the opportunity to converse many times with Camille Pissarro, Claude Monet, and Robert Antoine Pinchon (an artist who greatly admired him).
He suffered a stroke in September 1920 that paralyzed the left side of his body. He nevertheless remarried in February 1921.
Albert Lebourg died in Rouen on 7 January 1928. Lebourg's works are exhibited at the Musee d'Orsay, Petit-Palais and Carnavalet in Paris, as well as museums in Bayonne, Clermont-Ferrand, Le Havre, Dunkerque, Lille, Strasbourg, Sceaux and above all Rouen at the Musée des Beaux-Arts de Rouen.
Click here to read Lebourg's full bio on Wikipedia.
NOTE: Click on any image below for a bigger version (no new window will open).
NOTE: To our knowledge, Lebourg did not paint in Veules-les-Roses instead spent time nearby in Saint-Valery-en-Caux and Veulettes-sur-Mer.
Saint-Valery-en-Caux
The town of Saint-Valery-en-Caux (population: 4,200) is located a few kilometres next to Veules-les-Roses at the West alongside the coast.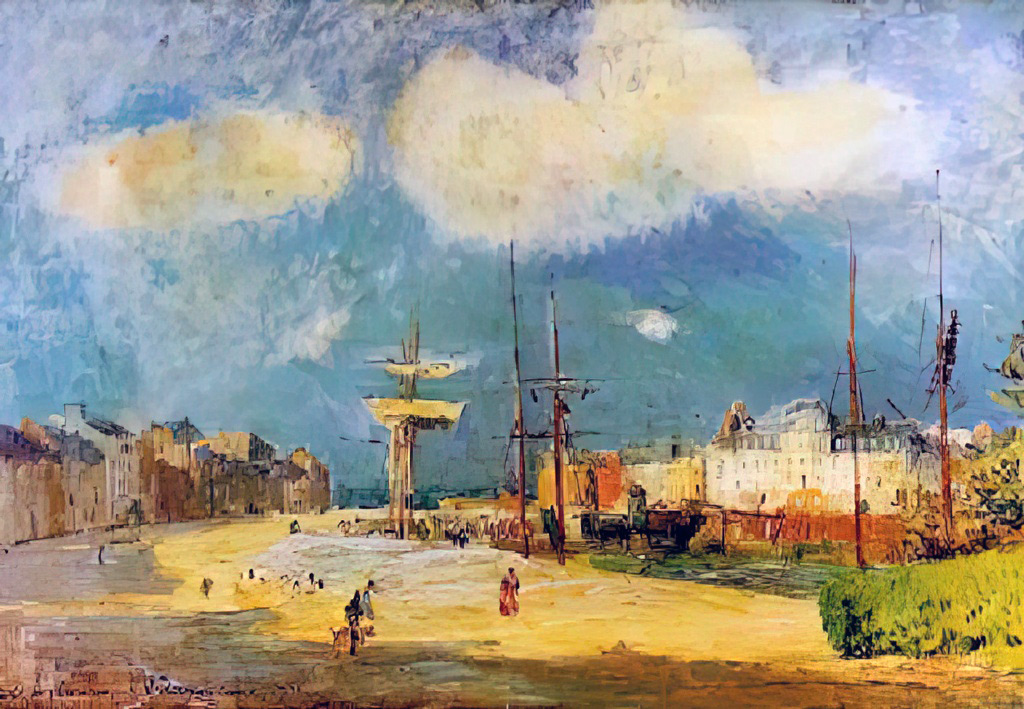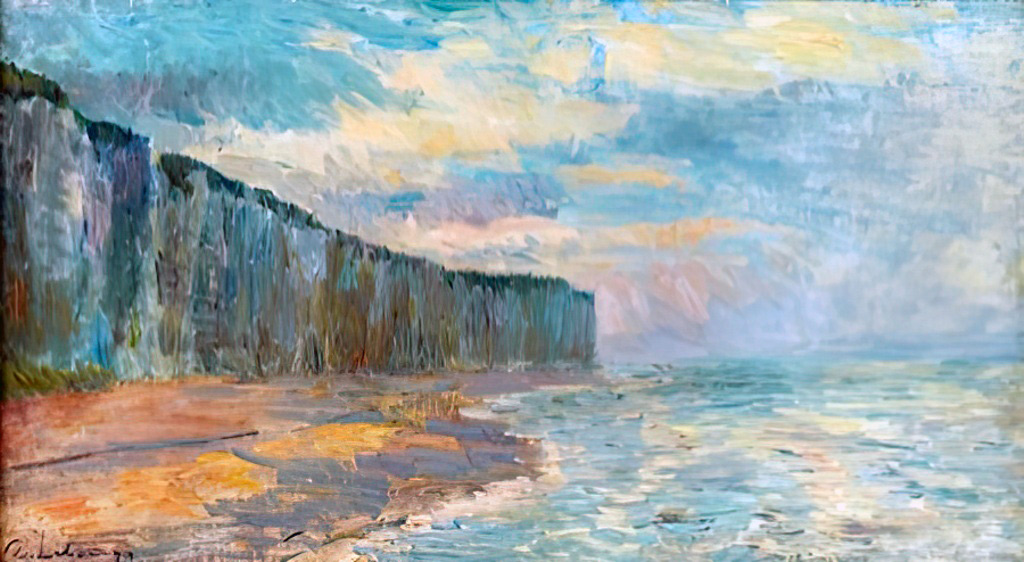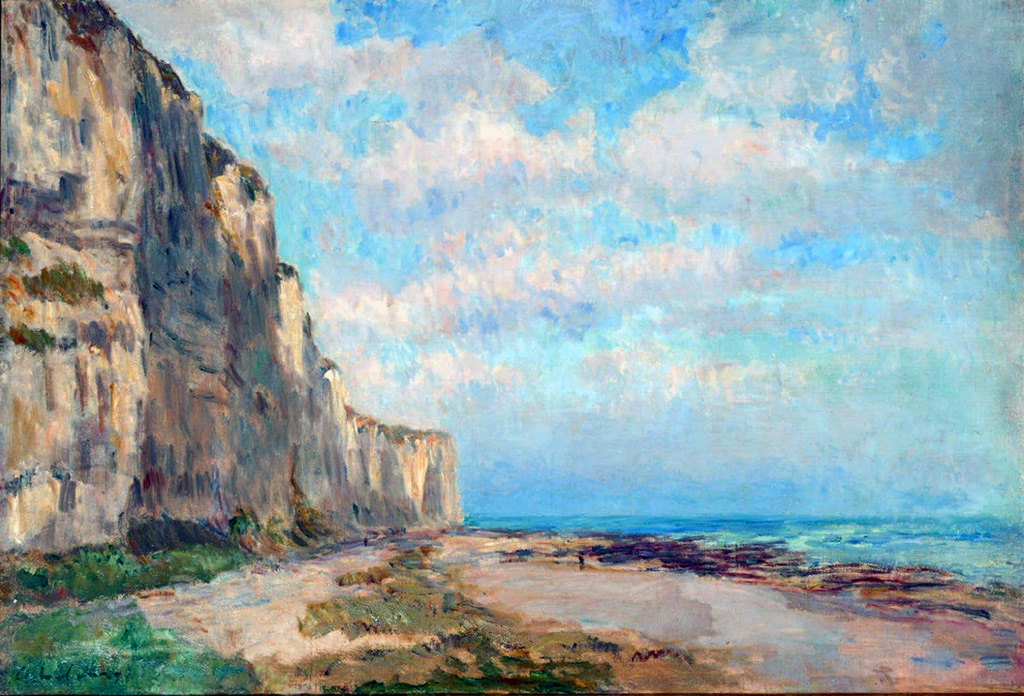 Veulettes-sur-Mer
Veulettes-sur-Mer is a village (population: 275) located alongside the coast. it is mostly inhabited during the summer, with several restaurants and shops. The river the Veulettes joins the river the Durdent and both enter the sea in this village.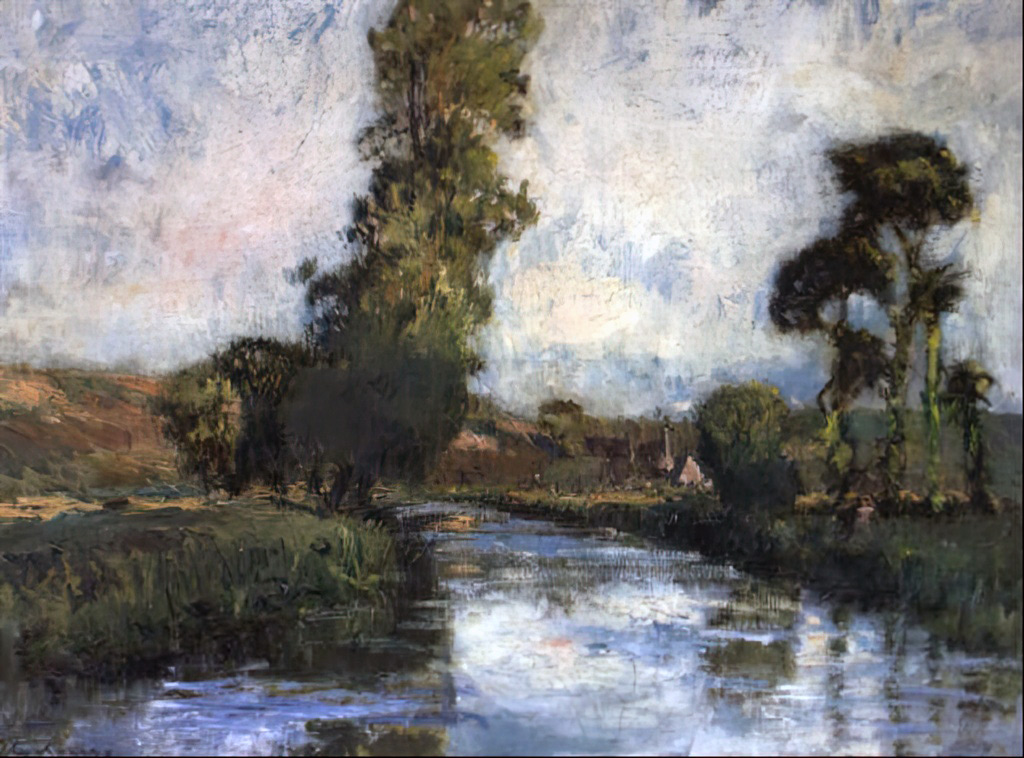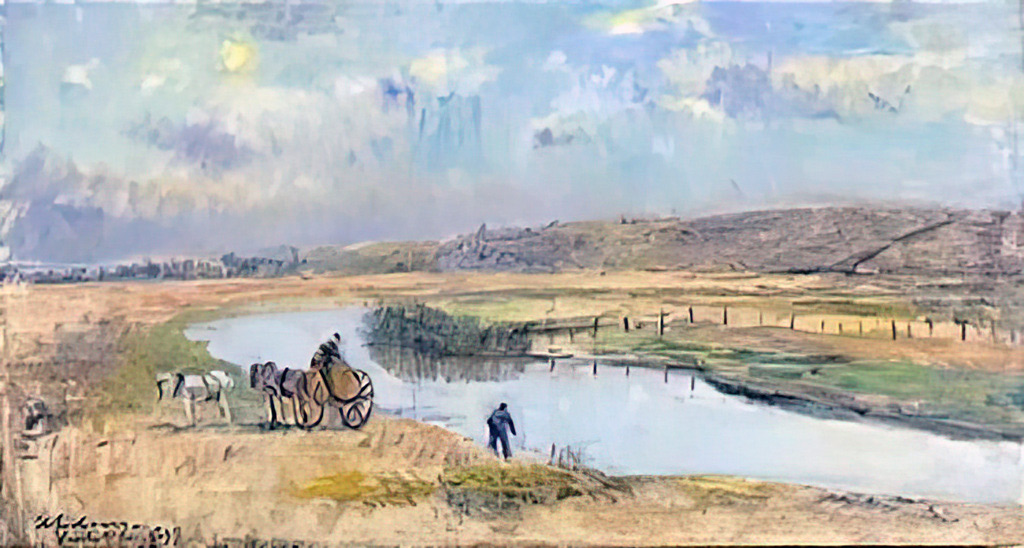 NOTE: The Durdent river, a small but fast flowing river enters the sea at Veulettes-sur-Mer.
Lebourg painted in the following cities in Normandy ( links "⇠" to his other works will also appear below when published):
Auvergne-Rhone-Alpes

Clermont-Ferrand
Mont-Dore
Montaigut-le-Blanc
Pont du Chateau
Saint-Paul-de-Varax

Hauts-de-France
Normandy

Evreux (and surroundings)

HondouvilleLa Bonneville-sur-Iton

Le Havre ⇠
Les Andelys
Rouen (and surroundings)

Amfreville-la-Mi-Voie
Croisset
Dieppedalle
Duclair
Elbeuf
La Bouille
Val-de-la-Haye

Veules-les-Roses (surrounding only) ⇠

Nouvelle-Aquitaine
Provence-Alpes-Cote d'Azur
Veules-les-Roses was, and still is, a popular place for artists since it's very pretty, with France's smallest river running through it, several watermills, watercrest fields and most thatched roof houses that are still intact after centuries. The town owns its name thanks to the many roses planted here.
Here are all the artists that have worked in Veules-les-Roses and its surroundings (a link "⇠" will appear next to their names when published):
NOTE: A "*" next to their name means the artist did NOT work in the Veules itself, instead worked nearby.
NOTE: You can subscribe to our new articles by entering your email address in the box on the right column (or at the very bottom of this article) and clicking on the button "Subscribe".

You will need to check your incoming emails and validate your subscription. If you can't see an email from us, check your Spam folder. Without validating your email address, you will not get notifications from us. WE WILL NEVER GIVE YOUR EMAIL ADDRESSES TO ANYONE!
Related Posts