This page forms part of a series of pages dedicated to the many artists who worked in Veules-les-Roses. A full list of all the artists with a link to their works can be found at the bottom of this page.
Samuel John Peploe (1871 – 1935) was a Scottish Post-Impressionist painter (the son of a bank manager, Robert Luff Peploe), noted for his still life works and for being one of the group of four painters that became known as the Scottish Colourists. The other colourists were John Duncan Fergusson, Francis Cadell and Leslie Hunter.
He studied at the Royal Scottish Academy schools from 1893 to 1894, and then at the Academie Julian and Academie Colarossi in Paris, where he shared a room with Robert Brough. He visited the Netherlands in 1895, returning with reproductions of work by Rembrandt and Frans Hals. From 1901, he undertook painting trips to northern France and the Hebrides with his friend J. D. Fergusson, another of the Scottish Colourists. Inspired by the bright sunlight, he experimented with the bold use of colour, and the influence of the rustic realism of French painters is evident in his landscapes.
In 1910 Peploe married Margaret MacKay (1873–1958), whom he had known since 1894. He also moved to Paris in 1910, a period which saw him concentrate increasingly on still life and landscape painting. His still-life works show the influence of Manet, with combinations of fluid brushwork, thick impasto and dark backgrounds with strong lighting. Returning to Scotland in 1912 he found that his usual dealer refused his work and he was obliged to stage his own exhibition.
Peploe was strongly influenced by French painting throughout his life. Although his work never became overly abstract, it was notable for its use of strong colour, tight composition, and meticulous execution. Influences are said to include de Segonzac, Cezanne, Matisse and Van Gogh. He died in Edinburgh in 1935. Peploe's younger son Denis followed his father's career.
Click here to read Peploe's bio on Wikipedia.
NOTE: Click on the image below for a bigger version (no new window will open).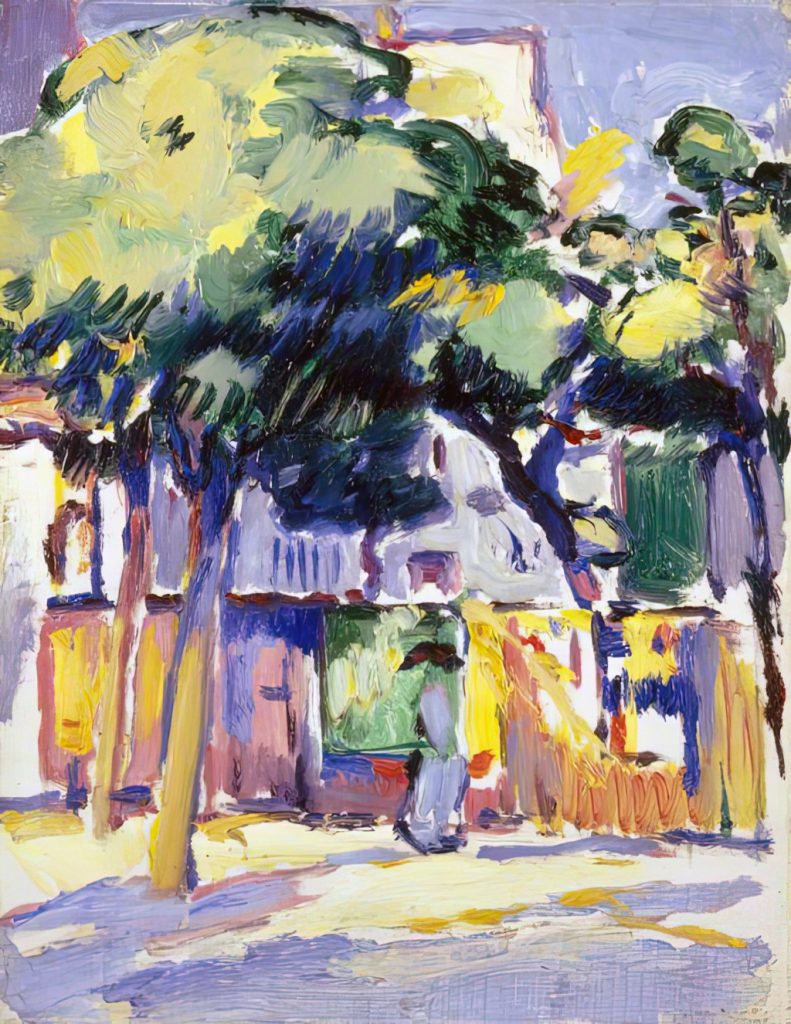 Samuel Peploe painted a lot in France. Here are most of the places he painted in (a link "⇠" to his works for that place will appear when published):
Brittany
Hauts-de-France
Normandy
Nouvelle-Aquitaine
Provence-Alpes-Cote d'Azur
Veules-les-Roses was, and still is, a popular place for artists since it's very pretty, with France's smallest river running through it, several watermills, watercrest fields and most thatched roof houses that are still intact after centuries. The town owns its name thanks to the many roses planted here.
Here are all the artists that have worked in Veules-les-Roses and its surroundings (a link "⇠" will appear next to their names when published):
NOTE: A "*" next to their name means the artist did NOT work in the Veules itself, instead worked nearby.
NOTE: You can subscribe to our new articles by entering your email address in the box on the right column (or at the very bottom of this article) and clicking on the button "Subscribe".

You will need to check your incoming emails and validate your subscription. If you can't see an email from us, check your Spam folder. Without validating your email address, you will not get notifications from us. WE WILL NEVER GIVE YOUR EMAIL ADDRESSES TO ANYONE!
Related Posts