This page forms part of a series of pages dedicated to the many artists who painted in Cherbourg. A full list of all the artists with a link to their works can be found at the bottom of this page.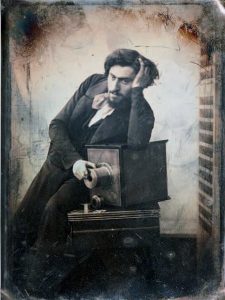 Movement(s): Photography
Jean-Baptiste Gustave Le Gray (1820 – 1884) has been called "the most important French photographer of the nineteenth century" because of his technical innovations, his instruction of other noted photographers, and "the extraordinary imagination he brought to picture making." He was an important contributor to the development of the wax paper negative.
Gustave Le Gray was born in 1820 in Villiers-le-Bel, Val-d'Oise. He was originally trained as a painter, studying under François-Edouard Picot and Paul Delaroche. He lived in Italy between 1843-1846 and painted portraits and scenes of the countryside. Le Gray exhibited his paintings at the salon in 1848 and 1853. He then crossed over to photography in the early years of its development.
In 1855, Le Gray opened a "lavishly furnished" studio. At that time, becoming progressively the official photographer of Napoleon III, he became a successful portraitist. His most famous work dates from this period, 1856 to 1858, especially his seascapes. The studio was a fancy place, but in spite of his artistic success, his business was a financial failure: the business was poorly managed and ran into debts. He therefore "closed his studio, abandoned his wife and children, and fled the country to escape his creditors."
His technical innovations included:
Improvements on paper negatives, specifically waxing them before exposure "making the paper more receptive to fine detail".
A collodion process published in 1850 but which was "theoretical at best". The invention of the wet collodion method to produce a negative on a glass plate is now credited to Frederick Scott Archer who published his process in 1851.
Combination printing, creating seascapes by using one negative for the water and one negative for the sky
He was a successful portrait photographer, capturing figures such as Napoleon III and Edward VII. He also became famous for his seascapes, or marine. He spent 20 years in Cairo, Egypt, but there are few works from this period.
In October 1999, Sotheby's sold a Le Gray albumen print "Beech Tree, Fontainebleau" for £419,500, which was a world record for the most expensive single photograph ever sold at auction, to an anonymous buyer. At the same auction, an albumen print of "The Great Wave, Sete" by Le Gray was sold for a new world record price of £507,500 or $840,370 to "the same anonymous buyer" who was later revealed to be Sheik Saud Al-Thani of Qatar.
Click here to read Le Gray's full bio on Wikipedia.
NOTE: Click on any image below for a bigger version (no new window will open).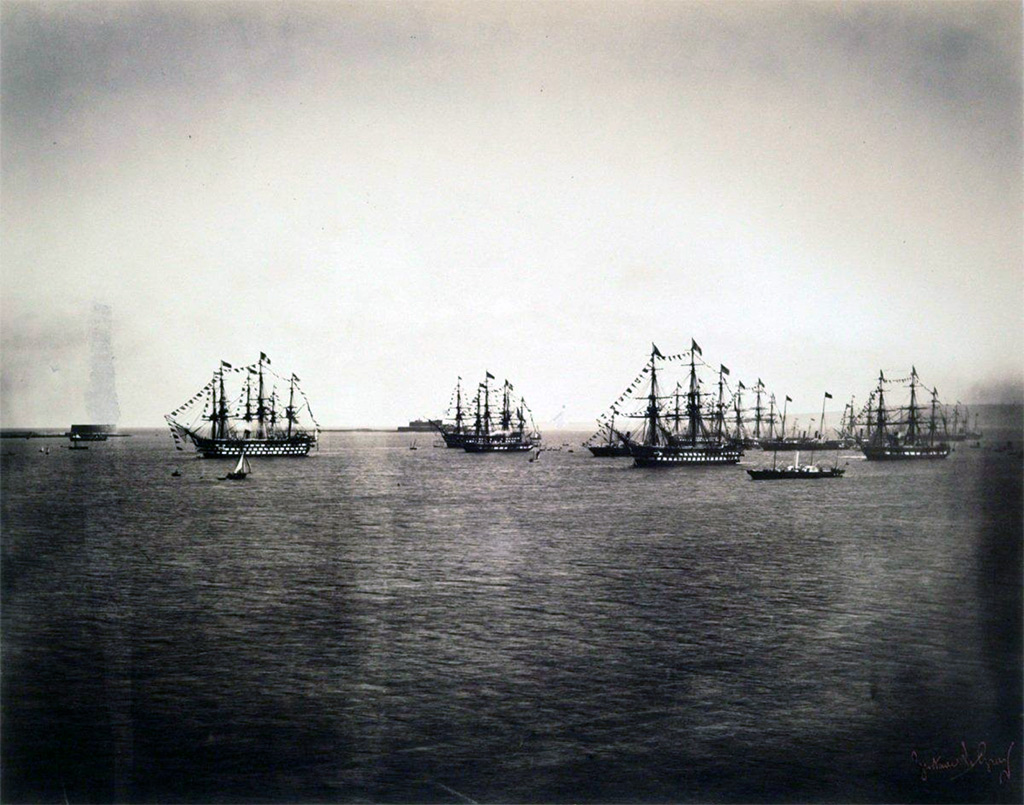 Le Gray photographed in different places in France, which will be featured eventually on this site. A link "⇠" to those cities will appear below when published.
Auvergne-Rhone-Alpes
Bourgogne-Franche-Comte (Burgundy)
Brittany
Centre-Val de Loire
Normandy
Occitanie

Cahors
Carcassonne
Sete
Toulouse
Here are the artists we found who worked in Cherbourg. A link "⇠" will show when that artist's works has been published on our site. A "*" indicates that the artist did not work in Cherbourg itself, instead worked in nearby places.
🇺🇸 Boggs, Frank Myers * ⇠
🇷🇺 Bogolyubov, Alexey (Alexei) * ⇠
🇫🇷 Boudin, Eugene-Louis ⇠
🇫🇷 Bourgeois, Constant ⇠
🇬🇧 Cotman, John Sell ⇠
🇫🇷 Friesz, Othon ⇠
🇷🇺 Gritsenko, Nikolai ⇠
🇫🇷 Gudin, Theodore ⇠
🇫🇷 Le Gray, Gustave ⇠
🇫🇷 Mathon, Emile-Louis ⇠
🇫🇷 Matisse, Henri ⇠
🇫🇷 Mozin, Charles Louis ⇠
🇫🇷 Noel, Jules Achille ⇠
🇫🇷 Signac, Paul ⇠
🇬🇧 Turner, William * ⇠
NOTE: You can subscribe to our new articles by entering your email address in the box on the right column (or at the very bottom of this article) and clicking on the button "Subscribe".

You will need to check your incoming emails and validate your subscription. If you can't see an email from us, check your Spam folder. Without validating your email address, you will not get notifications from us. WE WILL NEVER GIVE YOUR EMAIL ADDRESSES TO ANYONE!
Related Posts