This page forms part of a series of pages dedicated to the many artists who painted in Cherbourg. A full list of all the artists with a link to their works can be found at the bottom of this page. Movement(s): –
Emile Louis Mathon (1855 – 1887) was a French painter and a student of Charles-Francois Daubigny, master of the Barbizon school, and Louis Arban.
During his career, he painted Paris and the Seine, country scenes and maritime views (fishing scenes, warships, port views), Normandy and the Channel coast.
A frequent traveller, particularly in Russia (1879), Spain (1882), Algiers with his fresco painter friend Tony Vergnolet (1842-1900) in 1891, and Tunis (1891, 1894), he brought back highly colourful works with rigorous drawing.
In its port scenes, Mathon mainly uses elongated formats, which give a particular panoramic view.
Through his work, the viewer can admire ancient views, now disappeared, of the cities of Dieppe (Pollet district) or Dunkirk.
No further information could be found for Mathon.
NOTE: Click on the image below for a bigger version (no new window will open).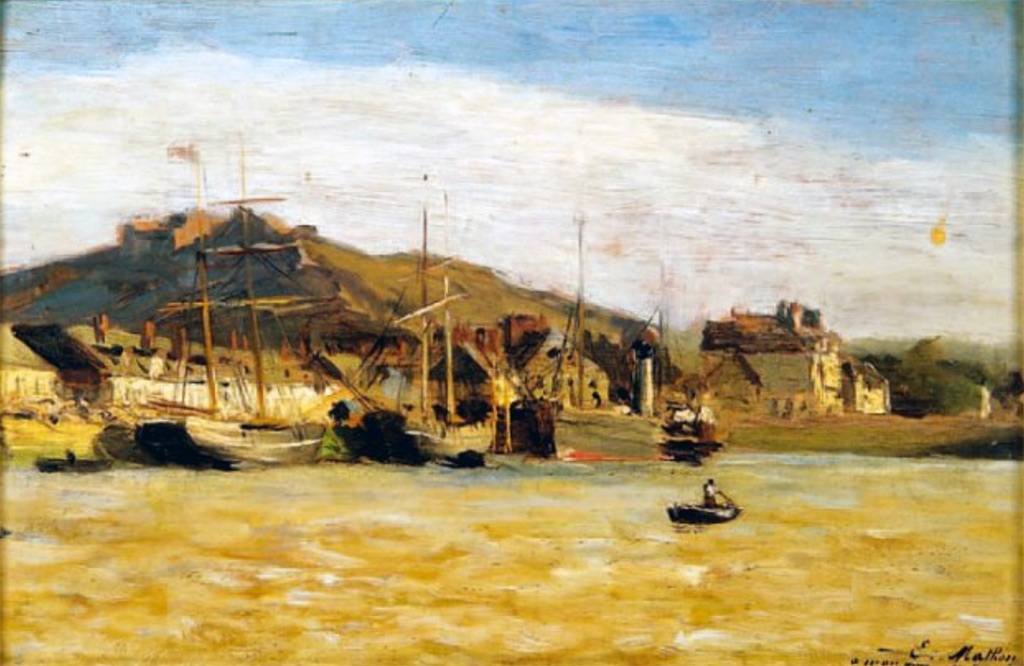 Emile Mathon painted mostly in Dieppe but other places in Normandy as well. Here are the places he painted (a link "⇠" to his work will appear below when published):
Here are the artists we found who worked in Cherbourg. A link "⇠" will show when that artist's works has been published on our site. A "*" indicates that the artist did not work in Cherbourg itself, instead worked in nearby places.
🇺🇸 Boggs, Frank Myers * ⇠
🇷🇺 Bogolyubov, Alexey (Alexei) * ⇠
🇫🇷 Boudin, Eugene-Louis ⇠
🇫🇷 Bourgeois, Constant ⇠
🇬🇧 Cotman, John Sell ⇠
🇫🇷 Friesz, Othon ⇠
🇷🇺 Gritsenko, Nikolai ⇠
🇫🇷 Gudin, Theodore ⇠
🇫🇷 Le Gray, Gustave ⇠
🇫🇷 Mathon, Emile-Louis ⇠
🇫🇷 Matisse, Henri ⇠
🇫🇷 Mozin, Charles Louis ⇠
🇫🇷 Noel, Jules Achille ⇠
🇫🇷 Signac, Paul ⇠
🇬🇧 Turner, William * ⇠
NOTE: You can subscribe to our new articles by entering your email address in the box on the right column (or at the very bottom of this article) and clicking on the button "Subscribe".

You will need to check your incoming emails and validate your subscription. If you can't see an email from us, check your Spam folder. Without validating your email address, you will not get notifications from us. WE WILL NEVER GIVE YOUR EMAIL ADDRESSES TO ANYONE!
Related Posts