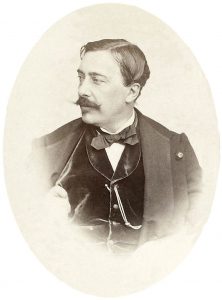 Alfred Emile Leopold Stevens (1823 – 1906) was a Belgian painter born in Brussels, who became famous for his paintings of elegant women. His family were all in the art world; his older brother and his son were both painters, while another brother was an art dealer and critic. Alfred's father was an art collector while his mother's parents ran Cafe de l'Amitie in Brussels, a meeting place for politicians, writers, and artists.
Alfred studied art in Brussels and Paris. Although he lived between Brussels and Paris, he spent quite some times at the Normandy coast, on doctor's orders.
Click here to read Stevens full bio on Wikipedia.
Stevens painted in the following other places in Normandy (a link "⇠" to his works will appear below for each city when published):
Normandy
Provence-Alpes-Cote d'Azur
Related Posts