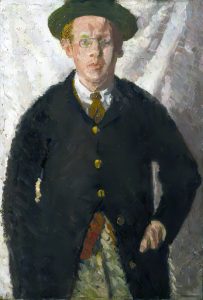 Sir Matthew Smith, CBE (1879 – 1959) was a British painter of nudes, still-life and landscape. His father was a wire-manufacturer and musician who invited visiting musicians to his home. He studied design at the Manchester School of Art and art at the Slade School of Art. Smith studied under Henri Matisse in Paris and acquired an interest in Fauvism. During World War I, he was wounded at the Battle of Passchendaele. In 1949, Smith was appointed a Commander of the Order of the British Empire (CBE). He was knighted in 1954.
He studied design at the Manchester School of Art from 1901 to 1905 and painting at the Slade School of Art in London from 1905 to 1907.
In 1908, Smith went to Pont-Aven in Brittany, France. In 1911 he was in Paris where he studied under Henri Matisse at his short-lived school and was influenced by him and other Fauves. This influence can be seen in paintings such as Fitzroy Street Nude No. 1 (1916) and his series of Cornish landscapes.
Smith met fellow artist Gwen Salmond in 1907 in Whitby and she became his "greatest mentor". They married and had two sons together. The marriage was short and it was Salmond who raised the boys, Frederic Mark Smith and Dermott Smith, born in 1915 and 1916 respectively. Smith left his wife and sons because he felt that they were "stifling his career." Both sons served in the Royal Air Force during World War II and were killed during the war.
Smith met fellow artist Vera Cuningham in 1922 or 1923 and moved to Paris, where they lived at 6 bis Villa Brune. The British Museum states that they both exhibited in 1922 at the Société des Artistes Indépendants and at the Amis de Montparnasse. Smith and Cuningham were in Woolhope, near Hereford, in 1932. Smith's paintings of Vera between 1923 and 1926 include Vera Cuningham, Head and Shoulders, Vera Cuningham in a Chair, Vera Reclining in a Pink Slip, and Vera in a Yellow Dress, all of which are in the Corporation of London Collection. She died in 1955.
Smith stayed in France until the outbreak of World War I in 1914, which prevented him from returning to England, but was able later to get to Cornwall, England. He trained for the army in Herfortshire in 1916. He was made temporary second lieutenant for the Labour Company. He was wounded in September 1917 at the Battle of Passchendaele. After having been hospitalised, he returned to active duty in 1918, was made lieutenant, and was posted at the Abbeville prisoner-of-war camp. Between World War I and World War II he lived often in Paris and Aix-en-Provence, France. During this period he had poor mental and physical health. His work, however, reflects use of "colour in a bold, unnaturalistic manner echoing the Fauves."
In 1949 he was awarded a Commander of the Most Excellent Order of the British Empire (CBE). He was knighted in 1954. He died on 29 September 1959, in London.
Click here to read Sir Matthew Smith's full bio on Wikipedia.
Matthew Smith painted mostly in the South of France, but he did paint in a few other places. Here are the areas he painted in France (a link "⇠" to his works will appear here when published):
Brittany
Normandy
Provence-Alpes-Cote d'Azur

Aix-en-Provence
Antibes
Avignon
Cagnes-sur-Mer
Saint Paul-du-Var
Var
Related Posts
95

Othon Friesz, a Le Havre born artist and lifelong friend of Raoul Dufy, painted between Normandy and Paris.

86

Henri Emile Benoit Matisse (1869 – 1954) was a French visual artist, known for both his use of colour and his fluid and original draughtsmanship. Matisse is commonly regarded, along with Pablo Picasso, as one of the artists who best helped to define the revolutionary developments in the visual arts…

84

Claude-Emile Schuffenecker (1851 – 1934) was a French Post-Impressionist artist, painter, art teacher and art collector. A friend of Paul Gauguin and Odilon Redon, and one of the first collectors of works by Vincent van Gogh.

84

Gustave Loiseau was a French Post-Impressionist painter, remembered above all for his landscapes and scenes of Paris streets. However he did paint a lot in Normandy,